Himalayan Cafe & Grill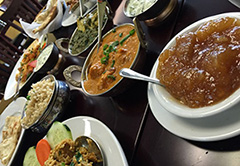 The Himalayan Cafe & Grill is a special treat. Sometimes you need to be whisked away from the stress of school— even if only for 30 minutes.
The menu features traditional Indian curries, tandoori grilled meats with a variety of naan breads, fried noodles and Asian-style dumplings called Himalayan momos.
The mid-day lunch specials are a money saver. Start off with wonderfully spicy vegetarian samosas for $5.99. Try them chaat style with tangy apples and onions and a yogurt sauce instead of the traditional mint-cilantro sauce and tamarind chutney. The pakoras, vegan-friendly and gluten-free fritters of mixed vegetables in besan or gram flour, are also a nice starter for $4.99. 
Curries make a great entrée. Get the chicken tikka masala curry, yogurt marinated tandoori roasted chicken breast in a mild creamy sauce, or the matar paneer masala curry, fresh homemade cheese cubes with peas cooked in a mild cream sauce. Lamb aloo curry and tandoori grilled marinated pork ribs are also great choices. Lunch specials range from $9-10, which include rice and a cup of yellow lentil soup called dal.
Finish the meal with a hot or iced chai and it's a done deal.