Pints and bites to die for
Flagship Taproom has officially launched its maiden voyage and is a few weeks into the journey.
With new owners and a newly renovated interior from its previous establishment, the Yacht Club, it's now a more relaxed, cozy and inviting place despite the industrial décor.
The idea with the space was to create a comfortable place within the neighborhood that was in close proximity to what is known as the "Cotati Crawl," and still be family friendly.  It is definitely a low key environment that allows you to have a conversation with anyone and not worry about the busy hubbub that the "Crawl" is known for.
The charm here is the beer offerings.  The owners make it a priority to offer a well-rounded selection to cover many bases.  This isn't a place where you will find Coors on tap. To stand out from the crowd, they offer 20 draft specialty brews, most of which people  never have tried before, unless you are an avid connoisseur.  They also have a variety of 17 beers to choose from if nothing on draft suits you.
Try the light Herbst Blauer by Old Redwood Brewery, a pale ale aged in sauvignon blanc wine barrels. Or for a great winter brew, I would recommend the Nuckin Futs by Track 7 Brewery; an imperial peanut butter chocolate cream porter.
With a constantly changing selection, don't be surprised if those aren't even there the next time you go. The few times I have been there since opening, they've changed out four different beers, so you are bound to have something new to try almost every visit, which is something rarely seen in bars today.
The menu offers comfort-style bites for anyone hungry. It's nothing extravagant so I wouldn't plan your dinner here, but they are great to have a few pints with. Try a chicken bacon ranch pretzel sliders or a build-your-own grilled cheese. Food you might make at home but Flagship does it with  restaurant quality.
For anyone looking to save a little money, you may want to sail in on Tuesdays and Thursdays. Tuesdays are $3 for their draft beers all day and on Thursdays Lagunitas IPAs are only $2.50, which is a steal.
Before going on an evening adventure, I would definitely recommend Flagship Taproom to start your voyage. It won't break your bank and you can discover a new beer that may even become your favorite.
Located at 8099 La Plaza, Cotati.  Hours are Sun-Wed 11 a.m.-11 p.m. and Thur-Sat 11-1:30 a.m.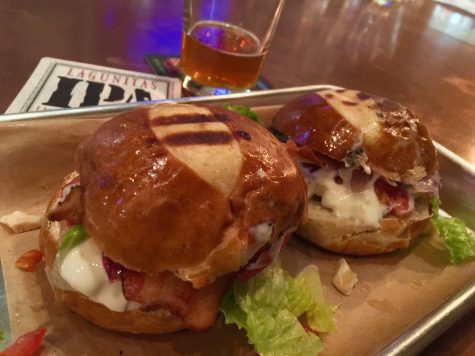 Oak Leaf/Kevin Lipe