Quick Bites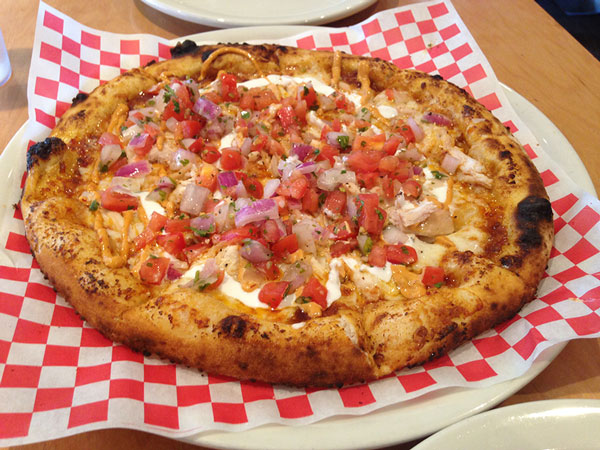 Persona Pizzeria
701 Fourth St., Santa Rosa
If you want pizza that tastes fresh at a convenient price, Persona Wood Fired Pizzeria may be the place for you.
The pizzeria is located in the heart of downtown Santa Rosa on the corner of Fourth and D Streets. Open from 11 a.m. to 9 p.m. on weekdays, they are well known for pizzas baked in fiery ovens. Most importantly, their pizza is made fresh and prepared quickly. You can choose from a wide array of their specialty pizzas or make your own recipe.
Persona pizza tends to serve whole pizzas instead of mere slices. The menu consists mostly of pizza with a small selection of side salads.
One of their specialty pizzas feature the chipotle chicken topped with chipotle sauce, shredded mozzarella, roasted chicken and pico de gallo. If you'd rather make your own pizza, they offer a wide array of fresh ingredients to choose from. To start, they provide a 12 inch canvas of handmade neapolitan dough. You have a choice of four sauces, a variety of meats, cheeses and veggies.
Persona will give away pizza to students with IDs on National Pepperoni Day Sept. 20.
So if you crave pizza that tastes fresh and gives you ultimate freedom in crafting your own pie, stop by Personas.
-Celine Gossage
Old Chicago Pizza
41 Petaluma Blvd North, Petaluma
If you love pizza that's as thick as your hand, then in an old brick building in historic Petaluma lies a restaurant called Old Chicago Pizza. Located on Petaluma Boulevard North, Old Chicago gets its name from its specialty: deep-dish style pizza.
The restaurant itself is a little cramped and almost always busy. For those with mobility issues, be aware you must go up a flight of stairs to get to the restaurant.
Since it's nestled in a room of "historic significance," don't expect much in terms of modern decor. What it lacks in chic style, it makes up for with the warm glow of old-timey humility. Humble, but not run down.
The double crust pizza with Canadian bacon and sausage, essentially a pizza atop another pizza, is six slices of heaven.
Be warned that all pizzas take time to make, even upwards of 45 minutes. The pizza, however, is well worth the wait.
Imagine biting into a pillow made of dough that's stuffed with meat and perfectly melted cheese. That's what it's like to eat a slice of Old Chicago pizza. Even the crust, which to some people is the worst part of a pizza, is divine due to it being filled with a healthy dose of cheese. After two slices of cheesy goodness, you'll be stuffed.
Such flaky joy doesn't come cheap. Depending on size and toppings, you could be spending anywhere from $11 to $30 for a pizza. But if you got the dough, Old Chicago Pizza is the place to go.
-Grant Wetmore
Haku Sushi
528 Seventh St., Santa Rosa
If you have an insatiable craving for the most creative sushi around, then Haku Sushi is where you want to be.
Haku is located on Seventh Street in Santa Rosa, a convenient spot for Santa Rosa Junior College students who are looking for a quick bite to eat off-campus. With lunch entrees and boxes starting at just $8, eating here won't break the bank. Paying with cash will even give you an extra 10 percent discount off your total bill.
From the moment you walk through the door you'll feel like you've been transported to Japan. The interior's bright wood fixtures and paper-style walls mimic the classic feel of Japanese architecture.
Haku has some of the most creatively inspired signature rolls in the North Bay, including "The Worst Boss I Ever Had," "Roll Me a Fatty," and the Star Wars inspired "Jedi Mind Trick." The inspiration spills over into the flavor with each one on the menu being more diverse and fresh tasting than the last, giving you a cast of options to choose from.
Some rolls, like the "Love Boat," are wrapped in foil and lit on fire right at the table to give the fish a pleasant sear on the outside. The "Jedi Mind Trick" even replaces the sushi rice holding the roll together with fresh cucumber, a delicious trick you almost never see.
Haku rocks a well-deserved 4.5 stars on Yelp, and you'd be hard pressed to find a better spot for sushi in all of Santa Rosa.
-Kevin Lipe