Metamorphosis: SRJC to showcase Hiroshi Fuchigami's ceramics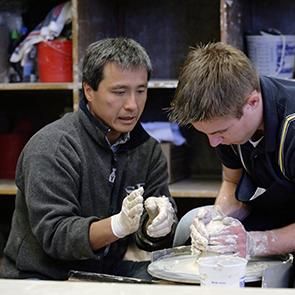 The Santa Rosa Junior College art department's spring exhibit debuts this semester with "Spiritual Journey," followed by a showcase of student works of art at the Robert F. Agrella Art Gallery.
The gallery, precisely poised in the campus library, embodies a boundless bandwidth of rotating cultural art expression. This semester's exhibits are sure to bring worldwide cultural insight to the local community.
The gallery's premier spring exhibition "Spiritual Journey" features ceramic works of art by Hiroshi Fuchigami and Gary Erickson, created during their residency at the Jingdezhen Sanbao Ceramic Institute in China. Jingdezhen is world-famous as the historical capital city of porcelain.
The exhibit reveals a unique interpretation of China's porcelain legacy. Fuchigami, a full-time SRJC ceramics instructor has titled his exhibit, "Metamorphosis from 1997 to the present." Erickson's theme showcases "Ten years of autobiography in America and Jingdezhen, China."
The "Spiritual Journey" exhibit debuts Feb. 22 and continues through March 18. A reception welcoming the exposition is held 4 – 6 p.m. Feb 25, followed by a talk with featured ceramic artist Gary Erickson Feb. 27 in Analy Hall, room 790 on the Santa Rosa campus.
The Robert F. Agrella Art Gallery will showcase the SRJC's student expo premiering May 1-14, highlighting SRJC art students' tremendous talents. The platform grants students the opportunity to share their works of art with the college community en masse.
SRJC art department offers classes in ceramics, drawing, design, painting, digital and darkroom photography, printmaking and sculpture. Student achievements from each discipline are showcased. Each piece lists the student's name, the course where the work was created, the instructor's name and the medium. The students' art expo reveals multiple medium methods acquainting students with various assignment examples.