The Down House: SRJC band of the week brings on house shows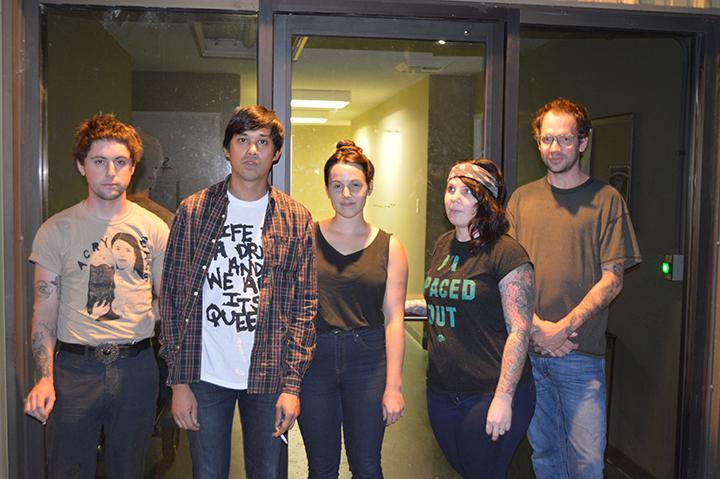 Fireworks, BBQs and beer. For members of The Down House, Fourth of July, 2013 marked the moment singer Casey Colby and guitar player Sarah Davis formed a band with drummer  Chloe Connaughton. The start of sweaty bodies cramming in to a small garage to hear them play music.
Two years later, as Davis and bass player Sara Sullivan walked down the hallway to their rehearsal room, hearing the rest of the band's instruments echoing off the white walls. 
Inside, string lights, black and white prints and endless band gear decked out their pracitce space. As the noises from the hallway turn into a full-blown song, it's hard to tell the current line up has only played together for two weeks. 
The Down House has played countless house shows throughout Santa Rosa. It's seen various line-up changes within the last few months, including the loss of Connaughton, but they're not slowing down. 
By day, band members work as baristas, a painter, a sound-tech and a debt collector. But by night they are house-show champions. 
The members practice twice a week regardless of their busy schedules. A couple members belong to other bands: drummer Connor Alfaro is a member of Acrylics and Ovvn and guitar player Cody Sullivan is a member of The Vibrating Antennas.
Colby said performing with the band is a form of relaxation after a long day of work. For him, making time to play in the band isn't a problem. "We've always worked and been in bands," he said.
The Down House plans to release a 7-inch EP to launch a tour with The Vibrating Antennas. 
After practice the group sat down to tell The Oak Leaf about future plans, playing at local house shows and rapper E-40.
Can you give us a timeline of how this line-up came to be? 
Davis: "It started with Casey, Chloe and I on Fourth of July. It formed from there over time to what it is now."
Colby: "Exactly a year after our first practice, Cody and I were hanging out on Fourth of July and he was like, 'dude, let me play guitar' and I was like, 'of course.' I like the idea of friends playing with you. Sara filled in and played bass for us for a show or two and joined the band."
Sara Sullivan: "I think I've been in [the band] like two months, so I'm fairly new." 
Cody Sullivan: "We're like a pop-up restaurant. It always makes it a little different when you have different people."
Colby: "To be real this is the best incarnation of this band. Going forward this is going to be the line up."
How do your songs usually come about?  
Cody Sullivan: "Mostly guitar stuff first or a chord progression. We kind of just structure it and make it up as we go along."
Colby: "I'll have literally one or two guitar parts written and I'll hit up everybody and say, 'I have a complete song' but normally I'm just kinda lying and then when we get to practice, I'll play the part and say 'all right, now we have to figure out the rest.'"
Davis: "But I feel like you normally have a good idea of what you want it to sound like as a whole, the vibe of the song or the feel."
Colby: "We have a simplistic approach to writing music and keep the guitar parts minimal and subtle. We don't shred over everything. We like things to look clean. That's the best way to describe our music."
What bands inspire you to play? 
Davis: "I would say a big one for now is Raveonettes. Just because I think they have a pretty cool sound. You know, a lot of really cool layer guitar parts that I think we sort of do as well. The Kinks would be my other one."
Cody Sullivan: "The Kinks, that's a good one."
Colby: "Right now, an inspiration that I take for writing for is The Jesus and Mary Chain. The Ronettes, stuff like that with that kind of sound, with a big rhythm." 
Do you have a guilty pleasure to listen to? 
Sara Sullivan: "I don't know if I want to tell my guilty pleasure."
Colby: "I feel like we talk about rap music in the band in general. Cody and I always send each other rap songs."
Cody Sullivan: "We like a lot of current hip-hop and rap. But that's not really guilty. I feel like if you're gonna make music, I'm down for it." 
Do you have any funny band stories? 
Colby: "Last time we recorded back in May, right before we did vocals and we were all done recording music, we drank. E-40 put out Slurricane and before I recorded vocals, I drank a lot of Slurricane."
Cody Sullivan: "Didn't you tweet about it and he tweeted back?" 
Colby: "OK, so, I tweeted a photo like, 'about to do vocals' and E-40 tweeted back."
Cody Sullivan: "I bet he liked that, like 'oh yeah, vocals, I've been there bro, I got you.'"
Colby: "When it came time to do the vocals, I was just like sweating because Slurricane is all sugary. It's just like Hawaiian Punch and cough syrup."
What's the best part about playing house shows? 
Colby: "The energy is really easy to feel in a small room and it's easy to get everyone on the same page than in big venues. We want people to be as close as possible. We try to get in as tight as possible. There's always cables all around and beers. It's 'funner.'"
Cody Sullivan:  "There's not a lot of people there; it's an intimate thing." 
Davis: "There's always a good vibe. Everyone always has a really good time because it's really small."
Colby: "To be real, in Santa Rosa you have the Arlene Francis as a venue and you have houses. You have Atlas Coffee, too, but why we have shows is because there isn't an abundance of venues. And you have to take what you can get. It's really awesome to be able to call up a friend and be like, 'hey can we have a show at your house?' It's what we have to work with." 
Do you have any tours coming up soon?
Cody Sullivan: "We'd like to. We want to do something by the end of the year or by the first of the year. At least a little West Coast tour when we have time off."
Colby: "Our record is getting pressed right now, but when they're done and we have a physical copy, we're going to go on tour to support it. We don't want to go on tour until we have that. We'd like to go with Cody's other band, The Vibrating Antennas, because they also have a record coming out too. It's going to be a fun buddy tour."