SRJC band of the week: Acrylics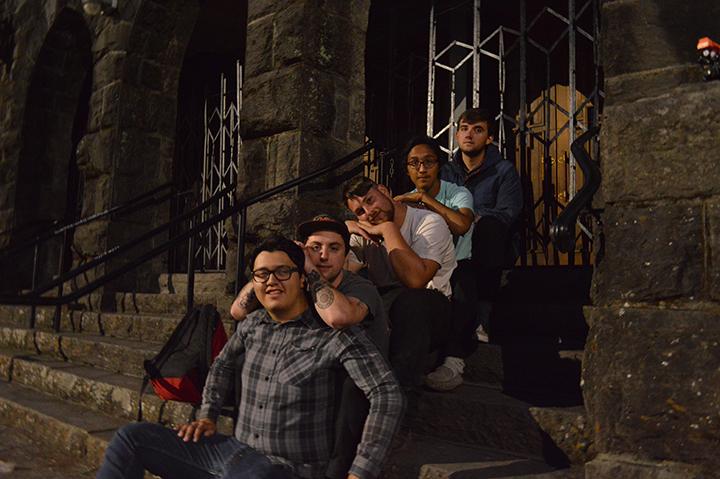 Fresh off a southern California tour, after three days crammed into a small van full of equipment, the members of Acrylics discussed how they got their start and what drives them to play music. The band has gone on a month-long tour across the United States and opened for Dead Kennedy's founder Jello Biafra . On stage they are raw, unfiltered and aren't afraid to be themselves, even if it means people walking out in the middle of their set.
Vocalist Mark Nystrom describes their sound as mutant rock or freak punk. Some of their influences are Black Flag, Dead Kennedys and Butt Hole Surfers.
Founding members Nystrom and Santa Rosa Junior college alumnus drummer Ian J. Jones, started playing music together back in high school. From thee start a band was in the making. They went through a long list of line-up changes, getting friends to fill in until they found a crew that felt right.
Guitarist Jose Palmerin started as a one-time bass fill in but moved to a permanent position on guitar after clicking with the band.
Ben Wright, the other guitarist, was a fan before he joined the line-up. He saw them play twice before deciding he needed to join the band. "I hounded Mark a bunch, like…let me play guitar, let me play guitar in your band, I want to play guitar," Wright said. "So they tried me out and they let me play."
What made the current line-up work was the onstage chemistry.  "It feels like when the band first started every one was really unsure of it. But all these people came together and made it what it was and it's hard to put a label on it," Goerke said.
The Oak Leaf asked the band the following questions to become better acquainted:
Q: What's the best part of playing a live show?
Jones: "The initial reaction right after we play."
Nystrom: "It goes two ways. We either get a lot of love from everyone or there's silence and everyone is uncomfortable."
Wright: "It's exciting not knowing if anyone is gonna enjoy it, or hate it. That's the best part about it. We're not an easy to digest kind of band. Most people either love it or they hate it. I think that's how everything should be don't stay in the middle and get comfortable. Get weird or go home."
Goerke: "I love the Adrenaline. You could have a cold or be in pain but the adrenaline helps you play those thirty minutes and when you get off stage you still feel really good even if its the sh*****st show ever."
Q: How often do you practice?
Nystrom: "At least three times a week and we play a lot of shows"
Wright: "The studio that we have, there's a couple other bands that practice there, so everyone is only allowed to practice twice a week. We try to practice every day, if any band says 'oh we can't practice,' we're in there. We practice a ton. We have to be tight because we want to be good."
Q: What can you tell us about your music video "Lovely's Slide Show"?
Nystrom: "To break it down it's basically about a couple. They love each other but they're both young and need to do their own thing but the idea of being alone and taking on the world by themselves makes them uncomfortable. It's basically about how people want all these things that are really materialistic like cars, a house, a job and all these things that are really materialistic in the world and we don't know why we follow these traits. It's basically about questioning the world.  It's a four story thing. There's us playing in the background which is irrelevant. There's a mud man, which represents the weak part of the relationship. There's a creepy person in the vineyard picking up dead things, which is supposed to resemble being confused and lost. And the couple in it is them fighting."
Q: At the end of the video all of you destroy your instruments, were all of those yours and how expensive were they to replace?
Wright: "I had these two really old crappy guitars I had as a kid that I got for free and the drum set was Ian's, his first ever drum set and I don't think we planned on breaking your shit (Jones's drums) but we definitely planned on the guitars. The hoop was warped, the hardware was stripped, it was pretty f***ed. It was awesome."
Jones:  "Yeah, it was my first kit from five years ago. It was a one shot thing. We had our friend Jose Andrade film it. He's going to the JC. He's a film major."
Goerke: "He said it was one the weirdest things he's ever shot but he was open to do it."
Q: Favorite release to listen to at the moment:
Nystrom: Stickers' "Swollen" EP
Jones: Coltranes' "Cat of Nine Tails"
Goerke: Health Problems' "Ugly Man"
Palmerin: Lysol's 2015 demo
Wright: NASA Space Universe "Across The Wounded Galaxies"
For more information about Acrylics and upcoming tour dates like them on Facebook or listen to their music at http://acrylics.bandcamp.com