These are the films you are looking for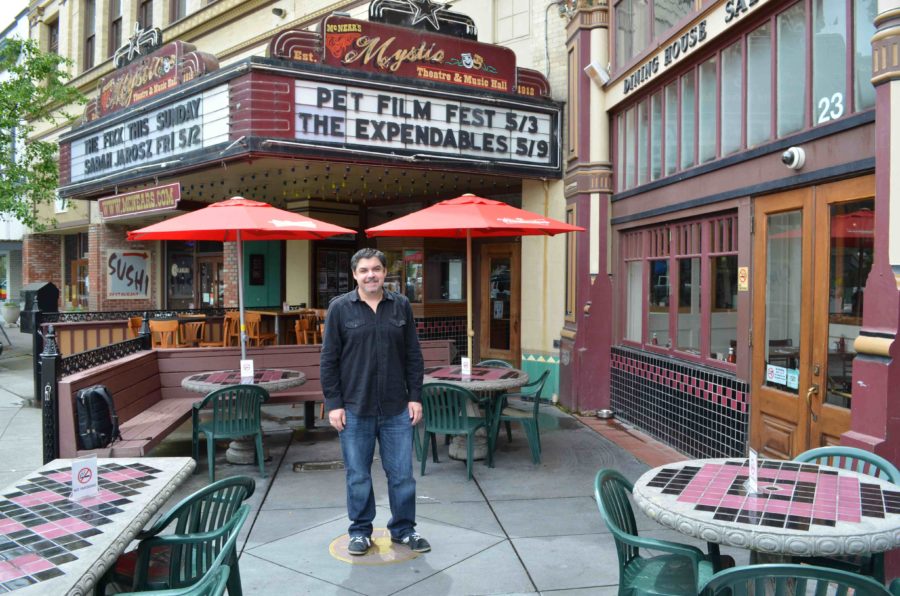 Santa Rosa Junior College teacher Mike Traina is a self-confessed "Star Wars" geek.  He is one of many in the "Star Wars" allegiance army who credit the iconic '70s film with being highly influential in his decision to enter into the world of film.
Now in his sixth year as a faculty member of the Film and Media Studies/Communication Department on the Petaluma campus of the SRJC, Traina recollects how "Star Wars" introduced him to the magic that can be achieved via film. "Harold and Maude," another iconic cult '70s film was an influence. It exposed him to a new form of "sophisticated" filmmaking, one in which irony and satire are sublimely intertwined.
Traina solidified his venture into all things cinema with a Bachelor of Arts in Communication and Religion at the University of the Pacific, which led to a Master's Degree from the same university. He then spent 13 years in Los Angeles County, with a stint teaching communication courses, including journalism, media and film studies at Antelope Valley College.
This foray into academia eventually led him to the Santa Rosa Junior College campus, where he has been since 2008, sharing his wisdom and knowledge with the students who are more than willing to drink it up. Traina's film appreciation course is known to be quite popular with die-hard cinema fans and those just learning about film: "[The class]' appeals to a lot of different people in a lot of different ways. Film works well in large groups," Traina says.
Part of the curriculum this semester requires students to attend several films screened during the Cinema Series at the Petaluma Campus every Wednesday night until May 14. Traina is proud of the series, now in its 10th season. Asked how the films are chosen for the series, Traina launches into a litany of criteria involved in choosing films. One of the main ones is "showcasing a wide variety of directors and countries from as remote as Senegal to the Czech Republic to Thailand." Because the series is in some ways a "classroom" for his students as well as a learning experience for the public, Traina chooses films that will exhibit various film-related techniques, such as cinematography, lighting and various genres: classic, foreign and independent. He is also enthusiastic about exposing filmgoers to familiar films and seeing them in new ways. "We are changing the content every semester," he says.
The Cinema Series may have to be put on hold during the Fall 2014 semester due to the fact that Traina will travel to Paris to instruct several lucky SRJC students in its Study Abroad program. After having submitted an application to spearhead the consortium travelling to Paris and having endured a rigorous application process, Traina admits that he was "lucky that I was chosen to be part of the program."
He is quick to add that film was invented in the City of Lights in 1890 and the Cinema Series was modeled after the Cinema Tech Francais. "There are a lot of exciting reasons to be there." Because he is such an avid world traveler he has connections with several French filmmakers. While in Paris, Traina hopes to expose the students to the diverse cultural experiences that the city has to offer, apart from film, including religion, art, philosophy and mythology.
Regarding the future of film and media, and the burgeoning influence of television, Traina says: "They say that the '50s were the Golden Age of TV. This is really the Golden Age of television. Writers and directors are opting to work in television because it offers longer narratives and more time to develop characters. There are a lot of interesting narratives and more time to develop characters. There are a lot of interesting things happening in TV right now. The line between film and television is becoming blurry and blurrier."
As far as the future of film is concerned, Traina was a bit hard pressed to name any directors or actors that he would be interested in seeing more of.
However, a couple of names did come to mind. Recent Oscar winning (Best Film) director for "Twelve Years A Slave" was someone whose future projects he was curious about. "His last two films, 'Shame' and 'Hunger' were excellent," Traina says. He had high praise for "Beasts of the Southern Wild" director, Ben Zeitlen, whom he believes has a bright future in film.
Traina has written and directed a feature film in 1999 titled "Verses" about the events that transpire in one night at a poetry slam. The film, he says, toured the festival circuit and collected favorable reviews, and a spot on the who's who of film and television website, IMDb.
He is eager to go behind the scenes once again and may take a sabbatical to work on a "short films project." As a wise man once said, a very long time ago, "May the force be with you."