Petaluma native Kyle Craft masters violin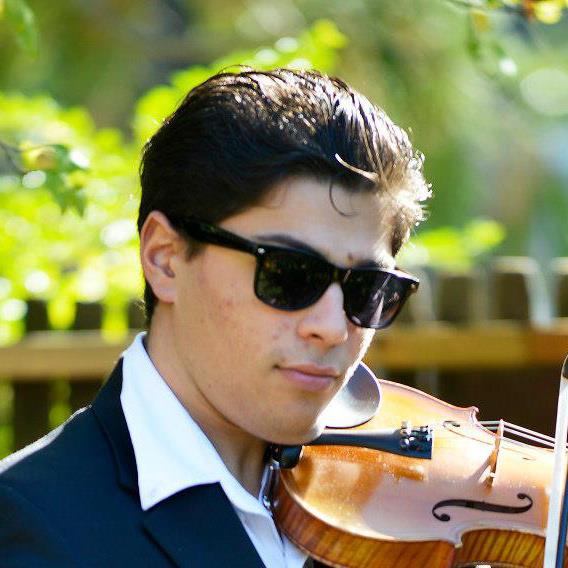 A pause. A deep breath. He closes his eyes, raises his arm, and goes very still. There is silence. Then, in a flurry of sound and movement, he plays.
Kyle Craft has been training to master the violin since he was four. His first memory of the instrument came from one fated concert his family attended on New Year's Day 1997. The new year, Craft explains, is generally reserved for Viennese
Waltzes in the world of classical music, a world he had not yet begun to experience.
What met the young Craft's ears at the San Francisco Symphony that night a melody that he would never forget- the Blue Danube, a waltz by legendary composer Johann Strauss, which it remains his favorite song 16 years later.
When he heard this tune on violin, he turned to his mother, got her attention, and insisted: "I want to play that." Isabel Craft told her son frankly: "The violin won't work out for you."
Craft was undeterred, and he turned to his grandparents Jose and Doris Bravo to help him cultivate his budding passion. Two months later, they bought him his first violin. Though Craft has gone through four violins since then, he still holds fond memories of it.
"It was really big for me," laughs Craft, pantomiming the awkward playing motions.
Craft says it was very difficult to begin learning the instrument, especially the manner in which he learned it. "I was using the Suzuki method, and the Suzuki method in violin playing is one of the worst… It's really strict," he explains. The Suzuki method involves beginning an instrument very young based on a natural ability to pick things up, but it is often too regimented and time-consuming for young children.
Despite this, the 5-year-old progressed quickly, surprising others with his natural talents.  Though long practice hours left little time to play with friends or do schoolwork, Craft persisted, citing his family as his driving motivation.
"I don't feel like I missed out on my childhood because my family has always helped me to enjoy playing. My mother has always been supportive of me," says the violinist.
Craft found himself moving away from music at the age of 12.
"Music wasn't fun for me anymore and it all seemed stuffy and boring. Three months later, I saw Andre, and everything changed."
Andre Rieu is a world-famous violinist who travels with an orchestra around Europe and America on multi-million dollar tours. Extravagant, beloved by many musicians worldwide, Rieu is Craft's favorite violinist and main inspiration.
Seeing Rieu was the 12-year-old's ultimate dream come true. He marveled at the decorations in the Sacramento arena and nearly fainted when the virtuoso came into the venue playing Julius Fucik's "Entry of the Gladiators." But what the young man did not expect was for the concert to inspire him into playing music again.
By the end of the show, he felt ready to keep playing the violin. Most classical players insist on an orthodox and bland style of performance. Rieu is an exception, preferring beautiful colorful clothes to plain black ones and lavish sets to stone concert halls.
Craft feels similarly about performing. "I want to put energy into everything I do. I want the audience to get up and dance and go crazy. I want to make it interesting and enjoyable, and that's what Andre does," he explains. "That's why he's my idol."
The first thing he did upon getting back home was pull out his Rieu DVD "Live in Dublin," dust off his violin and begin to play along.
"I don't think I really lost my passion," he muses; "I just needed to do some thinking. And I thought, and I thought some more, and I came back."
During the summer of 2012, after his senior year at Petaluma High School, Craft traveled to Germany, Austria and Switzerland.
Craft also got the chance to see Andre Rieu again when his cousin provided him with tickets. He went to the show in Maastricht with high hopes, and Rieu did not disappoint.
"I fainted. I was so overwhelmed," he laughs, saying: "This concert changed my life forever. When I just think about this trip, I get goosebumps."
On Sunday, Dec. 1, Craft held his third annual Christmas concert at St. Vincent de Paul Catholic Church in Petaluma. Titled "Christmas in Vienna," the two-hour show was heavily inspired by Craft's time in Austria and Germany.
Piano player Stu Manzano accompanied all of the songs with energy and soul to match Craft's.
Before audience members took their leave, Craft thanked his choir and piano accompanist by dressing his friend up as Santa Claus to give each of the members a bouquet.
"I would just like to thank the members of my wonderful choir for doing this," Craft said. "I couldn't have put on this concert without them."
The audience cheered. He continued, "So thank you for making my dream come true. Thank you so much."