Bianchini's: More Than Meets the Rye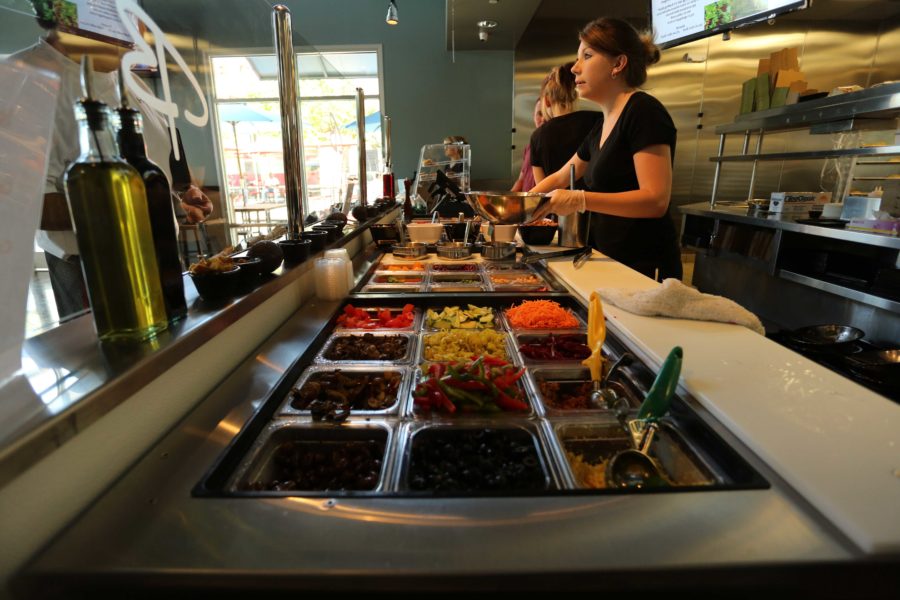 Ok, here we go – another sandwich place in an area abundant with sandwich and salad shops, from Safeway and Subway to Ike's, Perry's Market and Panera.  At least that's what I thought when I walked into Bianchini's for the first time.
Do we really need another place to go for sandwiches when we already have carb-filling establishments coming out of our ears? I had the feeling this place needed to have something a little different from its already established competitors and it does.
Bianchini's is located between Five Guys and Panda Express in the Safeway shopping center.
The place has a Zen feeling to it with lighting kept low. It's not an incredibly large place either, but it does the job.  Inside there are tables in front and towards the back is a long kitchen with employees at a long prepping station with a wide assortment of salad-making materials for their crafted salads, which are created to your specifications.
I ordered a Reuben sandwich out of a list of 20 or so choices. Sandwiches can be ordered hot or cold and customized.
The Reuben was good, with corned beef and sauerkraut but the 1000 island dressing was what made it stand out. Granted, I didn't quite get what was on the menu, because I ordered a slightly modified version of the sandwich with a Dutch crunch roll instead of Jewish rye.  The Dutch added a bit more sweetness to an already sweet sandwich.
Bianchini's also serves beer on tap, a shock for me.  That's what makes it stand out more than other fast food chains and feel more like a full-blown restaurant.
Bianchini's has very good food and my first visit was well spent.  The only problem is it's a bit pricey, but it's around the same price you would pay for an Ike's sandwich or one from Panera.
Since the restaurant recently opened, the staff is still trying to get used to being open – so don't be surprised if some items are a little substandard during your first visit.
It's a great, funky little place with a taste of new flavor for the city of Santa Rosa, and I highly recommend it.