Doyle Library shows real art at virtual exhibition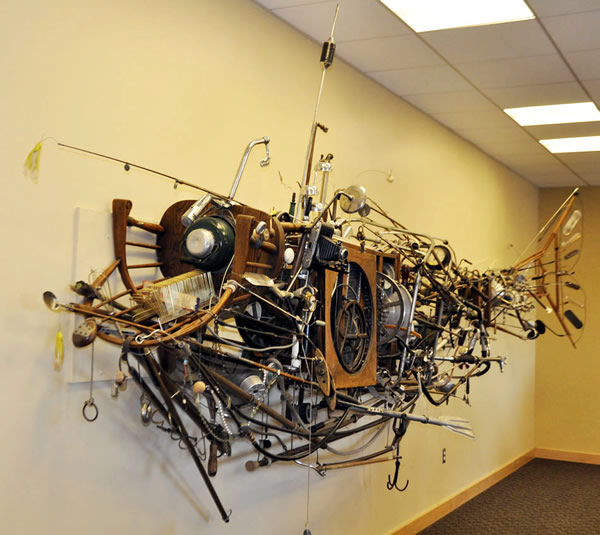 Hang on for a minute...we're trying to find some more stories you might like.
Let your eyes do the walking instead of your feet with the Doyle Library's new virtual art tour. Every piece of artwork in the library has a story behind it and the tour allows viewers to see art in a unique and creative way.
For many years the library has tried to create exhibits displaying the work of former and current art instructors. Together with Doyle Library technicians and librarians, these artists have devised a virtual art exhibit to create a whole new experience for the SRJC community.
Scott Lipanovich, a Doyle library technician since 1986, developed the concept of putting the art pieces on the library web site.  Lipanovich, with librarian Alicia Virtue and others, have photographed the artwork. Virtue then formatted them for viewing on the library's main website.
Virtue was also able to take each work of art and create a sidebar of information about it.
"It took about a week to get the pictures set and documented," Virtue said. "It was exciting to see the wide range of artists that have worked for the JC."
Current and former instructors donated the art used in the virtual exhibit. The tour allows those who have taught at SRJC in the past to be recognized for their crafts. Students can now see another side of their instructors.
According to Lipanovich, the library is perfect for displaying art.  The wall space allows for many pieces to be displayed simultaneously.
Each piece of art has a photograph and brief description about the artist.
"For me being new to the JC it was an educational experience to get a well rounded education in the work of our professors," Virtue said.
More then 30 works of art are cataloged in the display itself ranging from massive paintings to extensive wood sculptures.
Click here to view the show.