All-conference guard: SRJC basketball player Siaan Rojas' hard work ethic pays off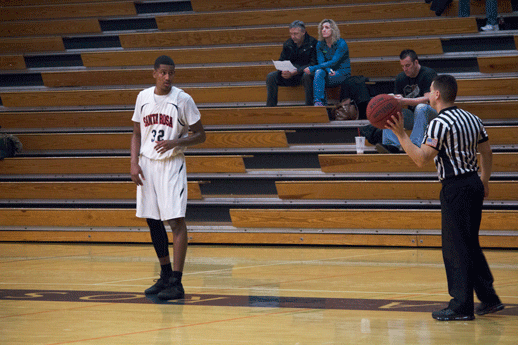 You can hear them from outside the building.  It sounds like hustle, hard work and credibility. The sound grows louder inside, reverberating throughout the lobby and raising to a fever pitch inside the gym. Folded bleachers, no fans. Just the sound of 30 pairs of basketball shoes pounding and cutting on three full courts inside Haehl Pavilion.
"It's hard out here, bro!" said Siaan Rojas. He was smiling; his team was up next. Rojas finished his basketball career at Santa Rosa Junior College a month ago, but there he was at open gym, working on his game.
Rojas earned All-Conference honors this past season while averaging 14 points, seven rebounds and 4.4 assists per game. Those are some serious numbers.
"Siaan is a goofball," said teammate Jacob Wilson. That's not to say that Rojas didn't have company. "We've got a lot of goofballs on this team," Rojas said.
Still, SRJC improved from sixth place in the Big 8 Conference last season to third place in 2016.  Finishing near the bottom of the standings can wear on a team.  The more you lose, the less fun you have to show for all of your hard work. So Rojas trained. His team persevered and won. Hard work, mixed with having fun, was the key to individual and team success for Rojas in his sophomore season.
Born and raised in Concord, the 20-year-old played basketball as long as he could remember.
"My whole life, basically," Rojas said. At a young age, his father encouraged him to watch the greatest players in the NBA.
"I'd go out to my backyard or the park and emulate what they did," Rojas said.
At 6-feet, 5-inches tall, Rojas can shoot from outside, drive to the basket, rebound and put his teammates in position to score by passing the ball.
At SRJC, his hard work included 20 units of classes during basketball season.  "Wake up, go to class, eat of course, try to eat, practice and then night class," Rojas said.
He singled out his psychology class, Psych 34 instructed by Brenda Flyswithhawks, as his favorite.  "We'd talk about racism and discrimination of Native Americans, black people, Asians, way back from where it started. I learned a lot."
Rojas' father is from Columbia, his mother is black and Rojas speaks Spanish fluently.
Rojas also learned much from his SRJC coach Craig McMillan.  "You have to go hard, every practice, everything. You can't take anything off," Rojas said.
Rojas plans to take his work ethic with him to a four-year school.  He already has one scholarship offer, and will attend a junior college showcase in Los Angeles to expand his options.
Whichever team signs Rojas will get a supreme ball handler who can keep defenders off balance. "He's an all-around player.  He can play one through four."  Wilson said.  "We were always joking around, but we knew when to be serious and when not to be. Siaan was a leader of that."
The 2016 SRJC team will always stay with Rojas, goofballs and all.  "This team was pretty tight knit," Rojas said.  "I made some lifelong friends."
Rojas enjoyed success in a game he's played since his childhood.  "I'm just kind of a simple guy," Rojas said.
The formula is indeed simple.  The execution however, is anything but.  The temperament needed to navigate high-level competition, no matter how many are on the court, will surely stay with Rojas wherever his life takes him after SRJC.