Bear Cubs' offense explodes against Mustangs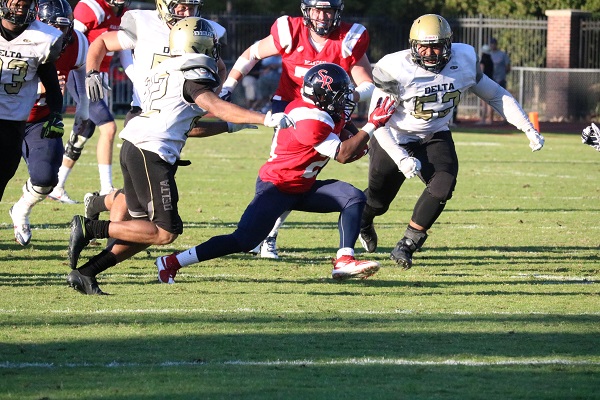 The Bear Cubs' offense finally showed up in a 55-23 beatdown over San Joaquin Delta College Sept. 17 at Bailey Field.
Santa Rosa Junior College's offense struggled to put up 435 yards of total offense in its first two games combined. In its win over Delta, Santa Rosa had 640 yards of total offense.
"I think we played really well," said head coach Lenny Wagner. "I'm happy to see the offensive production."
SRJC's defense once again proved to be strong allowing only 336 yards of offense, including only 68 yards on the ground.
"Honestly, I think we've got the best defense out there," said sophomore defensive back Keilan Benjamin. "As long as we play our keys we'll be alright."
SRJC won the game in the third quarter after finishing the second quarter strong. The Bear Cubs' came out firing, throwing touchdowns on consecutive drives, and intercepting any pass that came near them.
The stars of the game, especially the third quarter, were twin brother defensive backs Keilan and Keith Benjamin who both had interceptions in the third quarter, including two picks for Keilan.
The game started out rough for the Bear Cubs. They turned the ball over on downs after attempting a fourth-and-1 on Delta's 1-yard line.
Following the turnover, they allowed two touchdowns. The first came on a 60-yard pass completion that put Delta up 7-0 to end the first quarter. Delta's next touchdown came after SRJC quarterback Mitch Hood threw an interception that Delta returned to the Bear Cubs' 3-yard line. They then ran it in for an easy 3-yard touchdown early in the second quarter to make the score 14-0.
Two drives later, SRJC's defense intercepted a pass and returned it to Delta's 33-yard line. Later, sophomore running back Ja'Narrick James scored on a 3-yard run to cut the deficit to 14-7.
James had a very good ground game. He ran for 114 yards on nine attempts with three touchdowns.
"I did what I was supposed to, but it was mainly my O-line," James said after the game. "You have to attribute my whole performance to them. I was running through wide open holes the whole game."
The whole Bear Cubs' offense rushed the ball well with 189 yards on 39 carries.
"My O-line blocked better than I've seen them block since I've been here for two years," James said. "They played their hearts out today, and my performance, and the other running backs performances, is all credited to them,"
After James' touchdown, the offense really opened up, and the Bear Cubs tacked on two more scores before halftime to give them a 21-16 lead.
"I think this is the first game that we played overall really well on both sides of the ball," Hood said after the game. "I think I played better than the last two weeks, but still we have a lot to improve on."
SRJC did not look back from there.
Their first drive in the third quarter ended in a 62-yard touchdown pass from Hood to sophomore wide receiver Kerr Johnson Jr.
On Delta's following drive Keith Benjamin intercepted a pass to give the ball right back to the Bear Cubs.
SRJC scored another touchdown and then again, on the next drive, Delta threw another interception. This time to Keilan Benjamin, which SRJC turned into another touchdown to make the score 41-16.
"It took the 14-0 score to wake us up," Keilan Benjamin said. "Then I think we got right to it."
The Bear Cubs scored 34 points in the third quarter and ended the quarter leading 55-23.
Being ahead this much allowed coach Wagner to put in the backups midway through the third quarter; who were also successful against Delta.
"Just about every single guy on our team played," Wagner said. "It's nice to see the backups come in and still make plays."
SRJC's next opponent is No. 16 Sacramento City College; who lost to Modesto Junior College 18-14 Sept. 17.
The Bear Cubs are confident going into this game, especially because they believe Sacramento and Delta are very similar teams.
"I ain't gonna lie. I think we might have six picks," Keith Benjamin said after the game. He guaranteed he would have two interceptions himself against Sacramento. "I had one and dropped one today so I owe two."
SRJC will face off at 6 p.m. Sept. 24 at Sacramento City College.