Mixed start to Bear Cubs football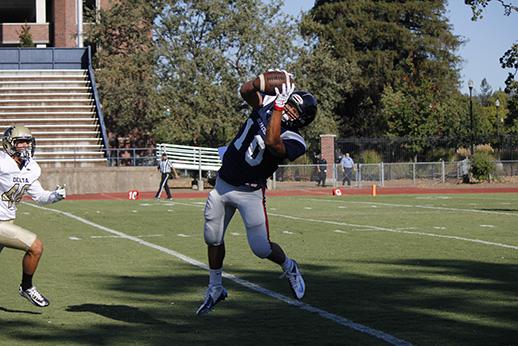 The Santa Rosa Junior College Bear Cubs football team started the season with a disappointing loss to the Delta College Mustangs Sept. 5 but quickly rebounded with a win against the Butte College Roadrunners a week later.
The Bear Cubs started off the game against Butte strong, with solid defensive play forcing the Roadrunners to turn the ball over twice through the first four offensive plays of the game. The Bear Cubs entered halftime with a 23-0 lead, but the Roadrunners controlled the second half, scoring 20 points over the final 30 minutes, falling just short of a miracle comeback as the Bear Cubs escaped with a 23-20 win.
"We executed our plays much better this week. And our defense put our offense in good field position to score or move the ball down the field," said Nick Reynolds, a sophomore tight end. "We also practiced much better this week which helps out a lot because it gives us confidence going into the game knowing our opponent and having a good idea of what they might do."
The game against Butte was a complete turn around from the week before. While the 17-27 affair against Delta was closer than the final score indicated, the Mustangs proved themselves the superior team over 60 minutes.
During the opener, Bear Cubs second-string quarterback freshman Mitch Hood took most of the snaps during the game, finishing 16 for 29 with one touchdown as well as a costly interception. Starting quarterback Vincent Jefferies had a poor night, completing nine of 15 and accumulating just 22 yards.
While it was a shock to see the Bear Cubs switch quarterbacks mid-game, that was Head Coach Lenny Wagner's strategy coming into the game.
Hood and Jefferies continued to share quarterbacking duties during the Butte game, with Hood starting and Jefferies finishing the game.
"We planned on playing both of them. We currently have two quarterbacks battling for the job and both are slated to see the field again this week. Whoever is performing the best will get the most time," said Coach Wagner.
Freshman running back Ja'Narrick James had a memorable debut performance against Delta. The former Redwood Empire player of the year finished with 109 yards from scrimmage, punctuated by a 71 yard run.
"This opening night performance was disappointing for us," James said following the opener. "It showed us that no matter how talented you are as a team, you can't win without playing with discipline."
The Bear Cubs' offense totaled 318 yards against Delta, often putting together long drives before stalling in the red zone.
Coach Wagner blamed the red-zone struggles on dropped passes, penalties, blown assignments and missed field goals.
The Bear Cubs made far less mistakes against Butte, and the result was a win. This simple fact resonated with James. "We limited our mistakes and took advantage of theirs," he said. "Winning games is often that simple."
James said that while the Bear Cubs should be proud of how they played against Butte, they have the potential to be even better. "We feel like we have a special group of guys with tons of potential," he said. "We showed great improvement in game two, but we haven't shown what we are capable of."
The Bear Cubs roster is very young, and still trying to transition into collegiate play.
"Seventeen of our 22 starters were first-time starters. We are very young and I think we made young mistakes," Coach Wagner said. "Hopefully it was a big learning experience for all of them. I expect them to be much better this week."
"We are working hard to correct our mistakes and most importantly finish drives and finish games," he said.
The Bear Cubs are .500 and are playing the Sacramento City College Panthers at 5 p.m. Saturday, Sept. 19 at SRJC.
Rough tough