Bear Cubs football comes from behind again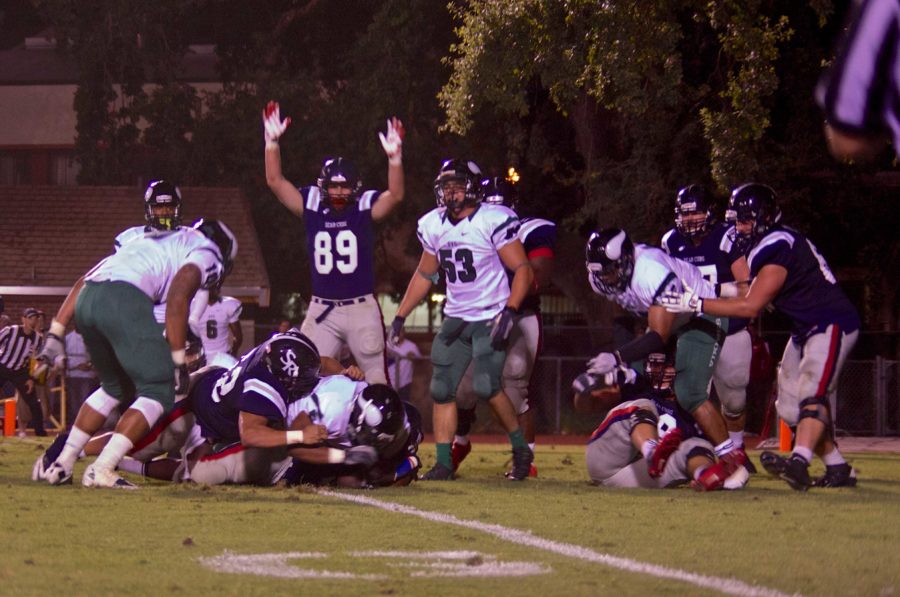 In case you have been living under a rock for the first three weeks of SRJC Bear Cubs football season, the team started 3-0 with two weeks of consecutive come back wins under new head coach Lenny Wagner.
With the top seven teams in the conference scheduled for the next seven weeks, Wagner, his staff and team have their work cut out for them.
Last week under the dilapidated lights of Bailey Field, SRJC opened the first home game of the season against Diablo Valley College with a 63-yard rushing explosion the second play from scrimmage for a touchdown by running back K'Lan Anderson. Still in the first quarter, the Bear Cubs climbed to an early lead following a 50–yard touchdown pass from quarterback David Sowards to wide receiver Andre Davis.
The thought that the Bear Cubs were going to have an easy game was soon thwarted, with DVC leading at half time 20-14.
Wagner, when asked about what adjustments were made in the locker room during the break, responded with a smile, explaining that no adjustments were necessary. They just needed to pick up and play the style of football they prepared for.
Despite tackle Scott Boyett returning to play after a substantial pre-season injury injury removed him from the patchwork offensive line, the already-taxed line held their ground pushing DVC and allowing the Bear Cubs to accumulate two more rushing touchdowns by the end of the game: a one-yard run by Anderson and a 10-yard dash from Spencer Morrow.
With a handful of injuries plaguing the Bear Cubs from two-a-days in the pre-season, "We are really going to have to rally up, and some guys that are back-ups are going to have to step up for us to be successful tomorrow night, " said Wagner.
"I felt they played hard, and showed a lot of heart. I feel they just got a little complacent in one quarter of the game and it was a good example of you just can't let down [your guard] the whole game and any body you play is capable of coming back on you if you allow it to happen."
Ultimately the Bear Cubs won the game against DVC 34-20, making SRJC 2-0.
Feeling "fantastic" about being 2-0, the biggest challenges ahead for the Bear Cubs will be staying healthy.
Looking ahead, to Sacramento City College on Sept. 20, Wagner thought his men would match up well against Sac. Sac is aggressive and has a spread offense with a great passing game. Their eight men in the box is aggressive, but Wagner felt establishing their style of running the ball first and letting everything else develop out of that will be the key to success there.
He was right. With back-up quarterback Mike Pierson getting the start against Sac due to injury to Sowards, SRJC despite some first half bad luck throwing a couple picks didn't miss a beat.
Finding themselves down at the half in Sac 21-14, the Bear Cubs showed no signs of quitting.
"Mike and David were our two team leaders the whole off season, summer," Wagner said.
With Pierson throwing for three touchdowns and the team's ability to remain calm and keep their wits, the Bear Cubs emerged victorious in week three 35-21.
Next week we will see the Bear Cubs take the home field at SRJC's Bailey Field against American River College at 7 p.m., Sept. 27.