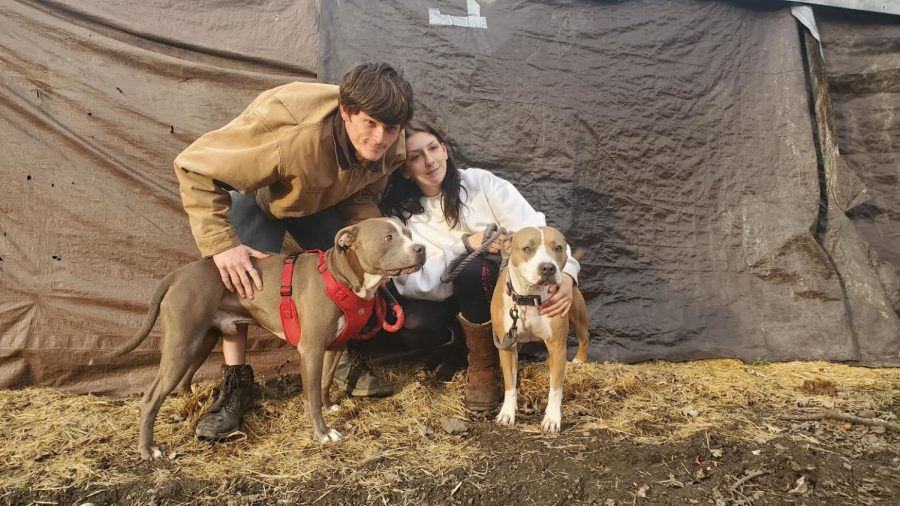 "It's not terrible out here, but it sucks": The youngest couple on the Joe Rodota Trail 
Among the homeless residents of the Joe Rodota Trail are a variety of characters; there's the bike fixer, the guitar player, the runner and the lounger. And among those 260 residents, each their own character, are Zayin and Aurora, who are believed to be the youngest on the trail.
 Zayin, 20, and Aurora, 18, live with their two pit bulls, Hitler aka "Hitty" and Fawn, in a tent made of tarps and rocks that they built in a day.
They are constantly reminded of their age on the trail.
"[Other campers] tell us, 'You guys are the youngest; you shouldn't be here,'" Aurora said.
The couple have been together since August 2019 and moved to the Joe Rodota Trail in October. Zayin considers the trail a prime location because they don't have to worry about county authorities hounding them.
"Before we came here, we would always have to worry about the police constantly kicking us out." Zayin said.
Before finding a spot on the trail, he said it was tough to manage a lot of possessions; each homeless person could only carry a backpack's worth of items because they had to frequently relocate.
"The packrats, they have all these things in front. It's 'cause they haven't had anything like that at all," Zayin said.
Aurora agreed that the trail was an easy location to find and make comfortable.
Although the couple were generally pleased with the setup, they said passersby on the freeway sometimes heckle the community. Zayin recalled times when people honked angrily, and some went so far as to yell "Get a job!"
And some fellow campers can be hostile as well. 
"S**t goes down here at night," Aurora said. Sometimes campers yell or break into fights under the cover of darkness. There is an unwritten rule of the trail that if it the issue isn't in a camper's vicinity, they shouldn't involve themselves.
The couple ignore disputes most of the time, but Zayin has fought with campers who cause trouble or hit women.
"It's not terrible out here, but it sucks," Aurora said, "It's something you get used to. It's our environment."
Despite the fights and drivers' rude gestures, the two agree that the majority of the trail community takes care of them.
Other campers on the trail stop by to talk to or check on them. And when the couple first arrived, they were given tarps to build their tents.
"When fights break out, there are like 10 people checking up on us," Aurora said. "They take care of us, and we take care of them."
Zayin added, "It's like a big family out here, that's how it is." 
When Sonoma County officials approved plans to move some trail residents to new pod shelters at the new Los Guilicos Village, Aurora and Zayin agreed to relocate.
"It looks like [the county] is actually doing something," Aurora said.
Regardless, Zayin thinks the county should have let trail inhabitants stay. He said the authorities should provide tarps and let people keep their tents.
"When we got here, [officials] told us we can be here for, like, five years," Zayin said.
He and Aurora have since relocated to the mini-homes on Los Guilicos. 
"I just want to go home, shower, and go to work, you know?" Aurora said.