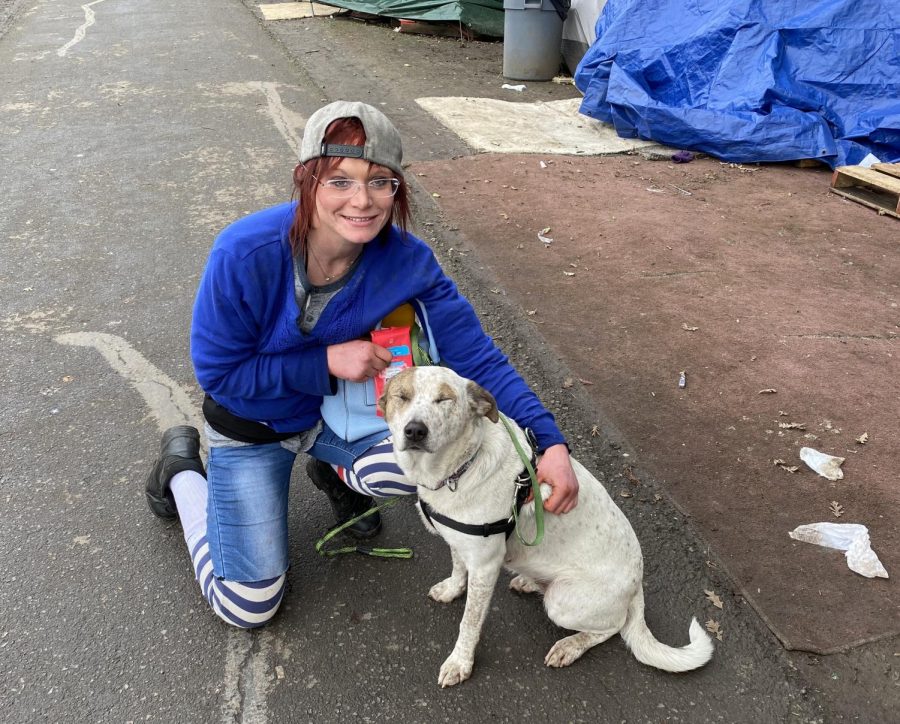 Owning a house pet — without the house
Nikki and Bailey have known each other for four years, and they are best friends. Bailey showed up on Nikki's doorstep while she was living in the Midwest, and Nikki has taken care of her ever since. After moving in together, they road-tripped cross country to California. Now they live together on the Joe Rodota Trail.
It's common for two people to move west in search of new opportunity, but what isn't common is for a homeless woman to move thousands of miles and arrange to bring her pet.
But that is the case for Nikki and her dog, Bailey.
For some of the 250 people living on the Joe Rodota Trail, pet ownership is a critical part of their existence. Pets provide companionship, entertainment and protection, and it's impossible for their people to imagine life without them. But it's not all easy.
Owning a house pet can be complicated when you don't have a house.
Feeding a pet is the first concern. 
Zayin Volkmut, 20, owns a pitbull named Hitty. Zayin feeds Hitty primarily from dog food donations from do-gooders, either humanitarian volunteers or fellow trail residents. 
Nikki, sporting a baseball cap over her red hair and glasses, said Bailey is also well-fed and happy, and Bailey seemed to agree as she waited alongside Nikki's skateboard. 
While food is critical, homeless pet owners have other health-related concerns too. Hitty has fathered two litters of puppies since his owner, Zayin, got together with his girlfriend Arora, 18, and her female pitbull, Fawn. 
"One of his litters was sold at Walmart," Zayin said, and puppies from the second litter were given to other people living on the trail. 
"Most of the pitbulls you see here are in one way or another related to Hitty."
Each of those puppies' owners will have to manage the challenges of caring for their new companion, but they'll benefit from the bond.
Three years ago, Tina was prepared to end her life after almost three decades of on-and-off homelessness. She dressed in black and planned to walk in front of a semitrailer traveling at highway speed.
But a friend who found a chihuahua gave it to her, saying, "You need it as much as it needs you."
A week later, Tina named the dog Little Mama. Little Mama is now 12, and she and Tina live together along the trail in a light beige tent. Tina considers them not homeless, but "misplaced."
It is a common sentiment from the trail's residents. They've built structures they consider homes, and they do their best to fill them with love and care just like those who live in traditional houses. Their pets are members of their families who help them when times are tough or push them to make a change.
Before she zipped off on her skateboard, Nikki acknowledged Bailey's contribution to her life.
"She pulled me all the way from Nebraska to here."