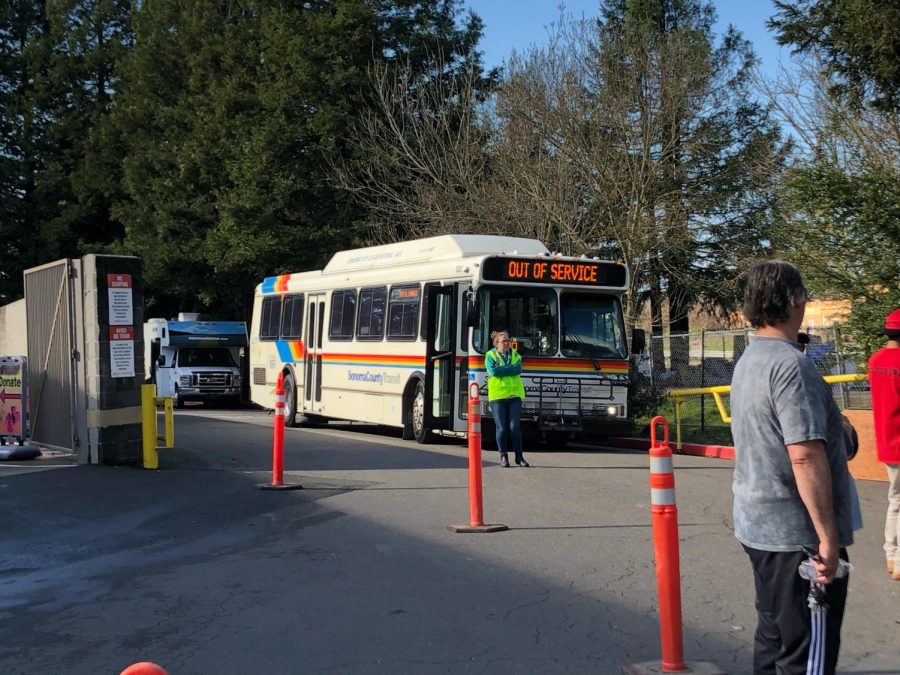 Opinion: Los Guilicos is a lie
The City of Santa Rosa and the County of Sonoma are failing their homeless residents, again.
Despite the "hunger for change" and a community that is "on board and invested in solutions," as described by Sonoma County Supervisor Lynda Hopkins, efforts to improve the conditions of the county's poorest have fallen short.
After millions of dollars and strong commitments from the region's leaders, only 60 people will be relocated to Los Guilicos by week's end.
The Joe Rodota Trail homeless relocation efforts, increased investment in human services and the new shelter at Los Guilicos — whatever the original intentions — have not furthered the interests of homeless residents in Sonoma County and serve only to temporarily de-escalate a major crisis and obscure it from public view.
The tragedy that slowly emerged this year at Joe Rodota Trail cemented the need for immediate action on homelessness in the minds of voters from a variety of backgrounds and often conflicting opinions. 
The popular belief that has arisen in the aftermath is that no one deserves to live in rat-infested, disease-filled conditions in a region experiencing so much plenty — but more importantly, no one wants to see it on their drive to work.
The sign painted on the roof of a tent, "Honk if you hate capitalism," became a major piece of conversation for drivers along Highway 12 between Santa Rosa and Sebastopol. 
Guilt has risen along with the skyrocketing values of even the most modest of homes.
While positive, humanistic changes occurred in the public conversation on homelessness, much of the traditional negativity and stigma the homeless encounter did not disappear.
In 2019, Sonoma County counted 2,951 homeless residents in its annual homeless census mandated by the federal government. 
But the decision by the Board of Supervisors to invest $11.63 million in short-term to long-term shelters, including Los Guilicos, has, as of the first day of the relocation effort, only guaranteed 60 people a meaningful way out of conditions we have all agreed are unacceptable.
The unprecedented investment is so far only slated to help 2% of the homeless population in Sonoma County and only approximately 20–25% of those living on the trail.
That leaves anywhere from 150–200 people living on the trail with nowhere to go and orders to vacate. There are entire families, couples, and people with pets all scrambling to find a place that can support them, their possessions and their loved ones.
Some will try to run the tumultuous gauntlet of shelter-life again, but others can't abide by the stringent rules and regulations. Pets are often not allowed. There's not always room for friends and loved ones.
Many of them will just camp elsewhere. 
They might even be moving into your neighborhood.
There are Joe Rodota Trails all over Sonoma County, both known and unknown to the public, with hundreds of people living in conditions that are just as bad or even worse.
The unfortunate reality of decades of homeless policy in Sonoma County and Santa Rosa is that actions taken in critical moments, whether negative or positive, were only moments of action.
There is no long-term plan for the homeless and there never has been. 
The reason for that lack of initiative for such a recurring and pressing issue is that to a majority of voters for a variety of reasons, all of the options for dealing with homelessness are untenable. 
No one wants homeless people overrunning their city, but no one wants to pay for the education and social safety net needed to keep them off the streets in the first place. 
No one wants the kind of Orwellian answers of the past such as incarceration or internment, but neither is the public ready for complete amnesty of a homeless way of life.
A common refrain of this line of thinking was reported by the Press Democrat:
"This isn't a complex issue. I am a tax-paying, hardworking, contributing member of society who should not feel threatened on their own property by people who choose to contribute nothing and who trespass illegally," Erin Rineberg, of Santa Rosa, said in a Nov. 17 email.
Congressman Mike Thompson, who represents Santa Rosa in the House of Representatives, said that homelessness in his district and the situation that had developed on Joe Rodota Trail was a human tragedy.
He pointed out that approximately 87% of the homeless in Sonoma County are actually from here and that they are human beings who deserve our support.
"It's our responsibility. None of us are free of [blame]," Thompson said.
Citing mental illness and generational poverty as unaddressed causes of homelessness, Thomspon said, "I'd like to see people get the help they need."
Thompson was not alone in this sentiment. All across Sonoma County, residents were voicing their concerns.
Because of the homeless occupation of Joe Rodota Trail, for the first time in living memory, real steps were being taken to improve the lives of Sonoma County's most vulnerable. 
Because of the homeless occupation of Joe Rodota Trail, "a hunger for change," had taken hold of our community.
That all our "major" efforts and investment could only get 60 people off the street is shameful.
Los Guilicos is a lie.