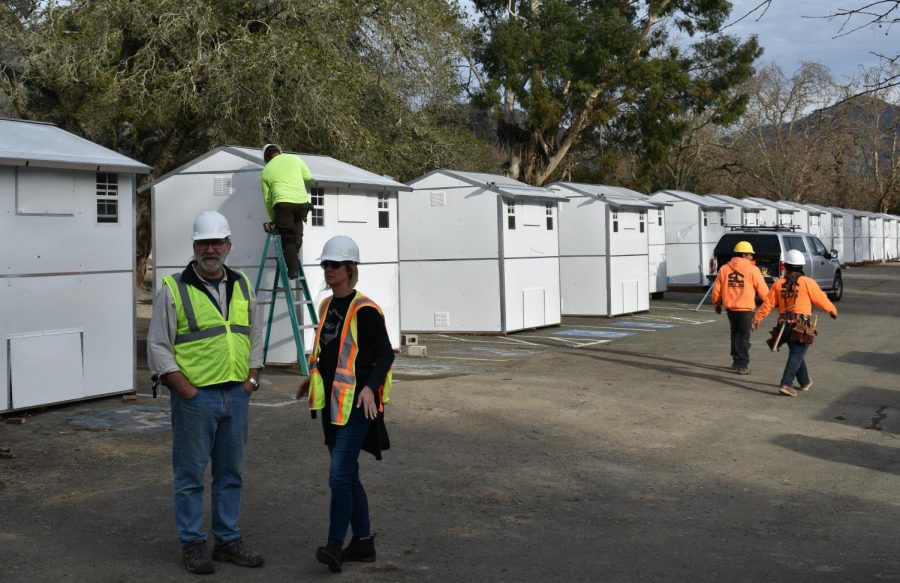 County readies services, 60 temporary houses for homeless on Joe Rodota Trail
Sonoma County authorities and nonprofit St. Vincent de Paul are nearing completion of 60 temporary homes and a support system for the most vulnerable homeless living along the Joe Rodota Trail, according to officials who opened the site for media tours last week. 
The homes were built on an empty lot at what is now called Los Guilicos Village, the site of the former Los Guilicos Juvenile Detention Center. In addition to a roof over their heads, the village will offer residents meals, a shuttle to downtown Santa Rosa and a dog run, as well as case workers, mental health support and physical health evaluations.
According to Christopher Godley, director of the county's Department of Emergency Management, each house is made of durable aluminum composite with windows that open. Each unit includes a mattress, heat, electric, carbon monoxide and smoke detectors and the ability to lock the door and windows. The majority of the site's units are single-occupancy; only four of the 60 are designed for more than one person.
"People have the dignity of privacy. They have their own space, a bed and a locking door," said Pallet Shelter Founder and CEO Amy King.
According to Sonoma County General Services Director Caroline Judy, the homes arrived two days after county officials ordered them from Pallet Shelter, a company in Washington state. Crews worked from sun-up to sun-down to erect 47 of the 60 units in under a week, a necessary push thanks to the county's looming Jan. 31 deadline for clearing the trail.
Judy was proud of the work.
"No one has done this in the state of California before," Judy said. "This is unique. We're the first county that has done a shelter model with the services brought in."
Working with Pallet Shelter felt like a fit for both the county and the company, but some of the homeless themselves were not as impressed. Many don't want to leave the trail; others felt they weren't being given the freedom of choice, despite the benefits of the village.
"They aren't asking us anything. They're just telling us," said Tina, a 50-year-old homeless person living on the trail. 
St. Vincent de Paul will oversee the village once all the homes are built and the services are up and running. The organization's executive director, Jack Tibbets, said his staff will landscape the site and provide meals. 
"We are really excited to be a part of this," Tibbets said. "We feel a huge sense of responsibility to make it successful and cost effective, because we feel this has a huge role to play in the homeless' future."