Glass Incident Fire forces SRJC closure through Friday
4:50 p.m. Thursday
As the Glass Fire continues to rage in Sonoma and Napa counties, residents are urged to stay prepared for evacuation.
A lot of students feel anxious, triggered from past fires and the threat of new ones. Having a plan may help alleviate some of that stress. One easy step is to prepare a go bag, customized to fit your and your cohabitants' needs, to save time when evacuating.
Here's what Cal Fire recommends you have ready to go.
Reporting by Priscilla Navas.
7:14 p.m. Tuesday
Santa Rosa Junior College announced the closure of all activities and classes will extend through Friday, Oct. 2 due to the ongoing Glass Fire Incident.
All online classes and services remain halted, and today's scheduled presentation by Black Lives Matter leader Cat Brooks has been postponed. 
The announcement comes a day after SRJC canceled classes for both Monday and Tuesday.
As of 3:59 p.m. the Glass Fire Incident was burning across 42,560 acres at 0% containment.
Reporting by Cass Stewart.
12:30 a.m. Tuesday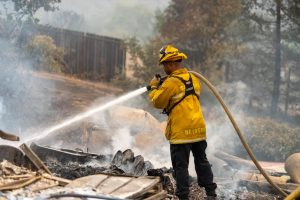 Click here to view The Oak Leaf's Glass Incident photo gallery.
Photos by Jonathan Bigall, Mike Combs, Aryk Copley, Peyton Krzyzek, Priscilla Navas and Nick Vides.
11:30 p.m. Monday
Monday night was quieter than expected for firefighters on the newly named Glass Incident as Cal Fire strike teams took the opportunity granted by subsiding winds to set dozer lines and tamp down flare-ups in the Skyhawk and Annadel neighborhoods. 
But these reduced wind speeds were both good and bad news. High-speed gusts create increased probability for embercast — when an ember can fly as far as a mile to start another fire — but they also keep the smoke moving up and away from the valley floor. When wind speeds reduce, the smoke sits in the lowlands between the mountains, decreasing visibility for firefighters on the ground and inhibiting fire-spotting flights and fire retardant drops from above.
Evacuation orders and warnings continued throughout Monday including areas west of Highway 12 from Kenwood to Bennett Valley. This suggests Cal Fire suspects the Glass Incident will burn south-southwest toward Glen Ellen. In total, 68,000 Sonoma County residents are under evacuation orders, according to government officials who spoke at the daily 5 p.m. fire briefing. 
Earlier in the day, crews "mopped up" the water from the overnight's heavy firefight along Mountain Hawk Drive in East Santa Rosa. Ruins lay smoldering where houses stood only hours before. 
Reporting by Nick Vides. 
4:49 p.m. Monday
Santa Rosa Junior College will remain closed through Tuesday, Sept. 29 due to the Shady fire and the evacuations and outages it's caused. All activities including online classes remain cancelled, as well as online services.
The cancellation comes less than nine hours after the college announced Monday classes were canceled. SRJC admin will continue to monitor the fires and will deliver additional information by tomorrow evening.
Reporting by James Domizio.
1:10 p.m. Monday
Fires in Sonoma and Napa counties have burned over 11,000 acres and are expected to continue growing. While the winds have died down from last night, officials say the firefighting conditions are still less than ideal and more evacuation zones are being upgraded from warnings to mandatory orders.
According to Cal Fire division chief Ben Nicholls, an OV-10A aircraft dropped retardant yesterday evening and early this morning. "However, now due to the [decreased] visibility across the fire area, I haven't seen one in about an hour," he said. "It's going to require the visibility of the airspace to clear up before we can safely start combating the fire from the air again."
Chris Godley, director of emergency management, said approximately 48,500 residents have been told to either evacuate or be ready to. "At this time we have five active shelters that are sheltering about 350 individuals," he said. "Please note that numbers are low at each site because of COVID-19 protections that need to be in place."
To find if you are in an evacuation zone, enter your address on the Santa Rosa City website or check Napa County Nixle.
Reporting by Alex Fuller.
11:45 a.m. Monday
Photos and video of the Glass Fire show whole blocks decimated and spot fires raging uncontrolled at around 3 a.m. Monday morning in the eastern part of Santa Rosa where Melita Road meets Highway 12 and through the Skyhawk community.
Nick Vides
Nick Vides
Nick Vides
Nick Vides
11:20 a.m. Monday, Sept. 28 
Santa Rosa Junior College closed Monday, Sept. 28 due to the rapidly spreading wildfires and related evacuations and power outages across eastern Sonoma County. All activities including online classes are cancelled, and the administration is asking employees to cancel any non-essential meetings.
What started Sunday as three separate incidents — the Glass, Shady and Boysen fires — is now regarded as a single incident, according to Sonoma County officials. Cal Fire said the Glass Fire was burning 11,000 acres and 0% contained as of 9:29 a.m.