Santa Rosa plays role in historic protests
It was a weekend of worldwide protests in observance of President Donald Trump's inauguration. On Friday in Santa Rosa, hundreds of people gathered at the Santa Rosa Junior College campus hours after the inauguration ceremony ended in Washington D.C. to march against his presidency and the new administration. On Saturday, it's estimated that over 5000 people, including many SRJC students, gathered outside Santa Rosa City Hall to participate in the global initiative Women's March.
There was a mix of passionate emotions and a feeling of solidarity amongst the demonstrators, both events remained peaceful as local law enforcement aided in sectioning off streets. However, some traffic was disrupted when the marches took place.
Enrique Yarce, a Santa Rosa Junior College student and a member of the Community Action Coalition of Sonoma County, is one of Friday's protest organizers. He says that one of the reasons they gathered was to demonstrate unity and love for one another.
"I'm not the stereotypes that people like to put on me. I'm here because that needs to be fought for. There is a lot of stuff going on in this country and we can't just sit by idly and let it happen," he says.
Kelly Brothers, another organizer, explains what the Community Action Coalition wishes to achieve.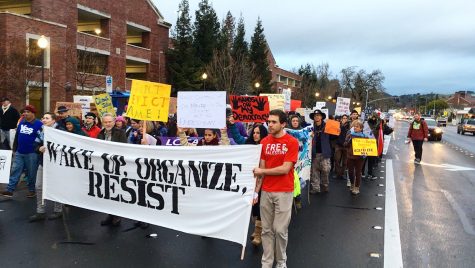 "I want to bring people together who are angry, upset, and confused, and not sure what they are going to do for the next four years. I want to bring them together with organizations here in Sonoma County who are already on the ground doing things," she says.
"We can't just sit by idly and let it happen…"Hours after Donald Trump's inauguration, hundreds of people took to the streets of Santa Rosa to protest his presidency.

Posted by SRJC Oak Leaf on Saturday, January 21, 2017
According to the Washington Post, it is reported that over 600 Women's Marches took place worldwide Saturday with total attendance reaching into the millions. One of the larger marches that was held was the Women's March in Washington D.C. which, as reported by The New York Times, mobilized a little over half a million protesters. The crowds at the events in Santa Rosa reached several thousand people, where the values ​​of human decency, equal rights and freedom from discrimination were voiced.
One of them was Jeanne Pugh.
"We're standing as a united front because we just don't want to do nothing," she says and adds:
"If we continue to do nothing, Trump is going to alienate us from the rest of the world."
Kelsey and Tricia, two SRJC alumni who do not not want to use their last names, say they believe similar initiatives like the Women's March will be necessary in the future.
"I think it's a wake up call for everyone and we can't just sit back. We have to stand up and actually do something," says Kelsey.
"It's just an amazing display of positivity and support for women, that's what it's all about," says Tricia.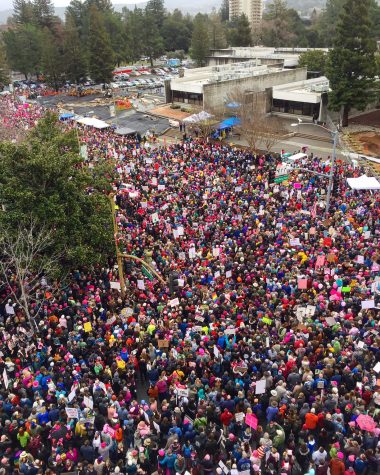 Although a vast majority of the gathered people were in support of the Women's march, a few people were skeptic.
"I don't think what's on many of these signs are appropriate for children to see, and the blockade interferes too much with the bus traffic," says a local Santa Rosian who wants to remain anonymous.
"We're working on building bridges, not walls!"Thousands of people gathered Saturday in Santa Rosa to participate in the global initiative Women's March. Watch The Oak Leaf's story here.

Posted by SRJC Oak Leaf on Saturday, January 21, 2017
On Monday, Donald Trump will begin his first working week as President of the United States. Mark Malouf, an SRJC student and president of SRJC College Democrats, took part in the two days of action. When speaking with The Oak Leaf, he shared his hopes that this weekend's actions are only the beginning and that similar protests will be held during the new president's entire term of office.
"I'm glad that we're out here doing these marches. I really hope that will lead to more productive organizing efforts in the future as this administration comes into power," says Mark Malouf.