Students struggle with mental health issues resulting from isolation during the pandemic.
May 31, 2023
Jay Luis was preparing for his first season of track at SRJC, but it was all taken away in an instant. 
The COVID-19 pandemic shut everything down and forced Luis into quarantine for months with no sign of ending. This environment was isolating and seriously affected his mental health.
Confinement to his house made Luis feel anxious and claustrophobic. "Every day started to feel the same as the day before where I would try and keep myself busy and not think about being stuck in my house everyday," Luis said. 
With his mental health beginning to deteriorate, Luis sought help from SRJC's Student Health Services when therapists began providing drop-in Zoom meetings for students in need of care. "I waited awhile before I was connected with someone, but once I got into the meeting, she gave me a lot of useful tips to help combat being isolated and anxiety," Luis said. 
After nearly a full year of online learning, SRJC began allowing students to return to in-person learning but with masks and proof of vaccination or a negative COVID test. "During COVID my mental health was not doing great, and when we returned to in-person learning, I visited the Student Health Services a few times. I found it helpful but I noticed a lot of students waiting for their appointments,"  Luis said.
Looking back on his time spent in quarantine, Luis recognized that certain elements made him feel like he wasn't getting the full college experience. "I noticed that because most of my time at SRJC was online, I lacked motivation to sit in front of a computer all day and try to complete my assignments and at the same time dealing with my mental health made it a tough challenge for me," Luis said.
Luis is but one of many college students — and not only from SRJC — whose college experience has been impacted by pandemic-related mental health issues. 
The consequences of these issues in students, as reported by The Suicide Prevention Resource Center, cover many facets of a student's academic experience, including interference with studies, academic achievements, relationships with others and overall academic performance, just to name a few. 
A Student Health Services survey of roughly 1,700 SRJC students conducted in 2022 found that a higher percentage of SRJC students faced academic struggles due to mental health when compared to four-year college students in a similar national survey. The SRJC survey also found that a higher percentage of SRJC students used emergency mental health services and were satisfied with the experience, holding less stigma towards these services than students nationally.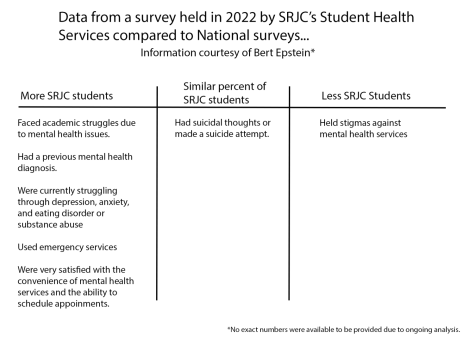 While it's clear the COVID-19 pandemic and the isolation of quarantine was a major influence on the deterioration of students' mental health, many of those suffering SRJC students did not reach out to SRJC's Student Psychological Services for help.
SRJC Student Health Services Manager tells his perspective
"What we've seen over the years is that there has been, before the pandemic, an increasing number of students coming in each year," SRJC Student Health Services Manager Bert Epstein said. "And then we got to the pandemic, and it fell in the number of students who are requesting service for us and stayed in this lower level for a couple of years."
Epstein and other Student Health Services staff members were surprised that the amount of students seeking their services fell despite the major event that had affected the entire world. They theorized that students' conditions during lockdown prevented, discouraged or made it inconvenient for them to attend drop-in appointments over Zoom.
According to Epstein, the number of students seeking mental health services has since risen back to pre-pandemic levels, supporting the theory. Although the numbers dwindled, many students still sought help from SRJC's mental health services.
Students praise SRJC's Student Health Services but say that there's room to grow
Holly Herman, a third-year SRJC student, attended drop-in appointments for mental health care during the pandemic but had to wait some time to be seen. "I remember during COVID when they would have the drop-in Zoom meetings for people that needed mental health care and waiting for what seemed like hours just to be able to talk to anyone," she said.
Another SRJC student, Andrew Alfaro, also shared his experience during the pandemic. "COVID really affected my mental health a lot by making me feel isolated and instilled a lot of fear of being exposed to the virus and not knowing if I had been exposed or not," Alfaro said. 
Alfaro similarly attended drop-in appointments for mental health care during his time stuck at home. "During the pandemic I took advantage of the drop-in Zoom meetings and they gave me some useful tips to help with my anxiety and gave me some suggestions on how to keep busy in a period of quarantine," he said.
While all the students found the mental health service they received beneficial, they all agreed that there is still room for improvement.
"One thing the Student Health Services could improve on would be increasing staffing and extending their operating hours so it can reduce wait times and ensure that students receive timely and quality care," Herman said.
Alfaro suggested SRJC's Student Health Services should take a more direct approach on improving its services. "SRJC could improve its Student Health Services by increasing mental health awareness on campus by seeking feedback from students to assess the effectiveness and satisfaction with the existing health services, such as conducting surveys to gather input on areas that need improvement and identify specific needs of the students," he said.
The future for Luis and SRJC's Student Health Services
Luis echoed the statements of both Herman and Alfaro. "Since COVID, I would say my mental health has improved significantly, and the student services helped play a role in that, but I still believe there is room for improvement," he said.
"I think one thing Student Health Services could do to improve would be to have more available drop-in hours during the week so it can be easily accessible to students in need," Luis said. "I think another thing that could help improve student services is increase health education and awareness by organizing campus-wide events and awareness campaigns to promote health and well-being."
Now that the world has returned to normalcy with fewer people wearing masks, Luis' mental health has improved significantly. He attributes part of this to SRJC's Student Health Services. The rest, he said, is because he can once again go out with his friends: a far cry from how things were during the uncertain and claustrophobic times when he was stuck indoors.
Epstein said that anyone struggling with their mental health is welcome to contact SRJC's Student Health Services at (707) 527-4445. More information and resources can be found at the Student Health Services website.