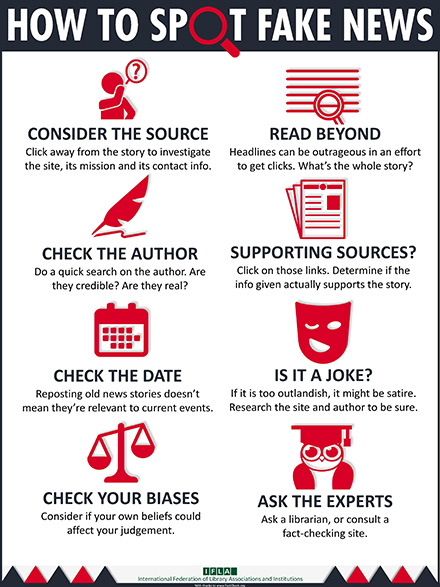 How to spot fake news infographic is from The International Library Associations and Institutions website.
Fake reality: SRJC students unprepared for a fake news world
Only one of the following stories is true. Can you pick which one?
A.
Decatur man discovers bride is 'his own granddaughter'; no plans for divorce
A 68-year-old man from Decatur in Northern Alabama has reportedly had a "terrible shock" after discovering his new bride, a 24-year-old woman from Montgomery, is actually his own biological granddaughter.
The man and his 24-year-old bride, who live together in Miami after tying the knot three months ago, discovered the unfortunate coincidence as they leafed through one of his old photo albums, the Florida Sun Post reported.
B.
Drunk Florida man tries to use taco as his ID after his car catches fire at Taco Bell
Tacos are not recognized as legal forms of ID in the state of Florida. Matthew Falkner found out the hard way after he passed out drunk in the drive-thru of a Jensen Beach Taco Bell and his car caught fire.
The incident occurred Oct. 1 in Jensen Beach, according to the blog Off the Beat. Falkner had apparently decided to make a run for fast food after downing some beers; he made it all the way there in his pickup and received his taco before falling asleep.
C.
SRJC to propose intelligence test for incoming students!
The SRJC Office of Enrollment announced that all students will be required to take an IQ test immediately following the winter break, according to officials who spoke with The Oak Leaf News.
Officials said the test will be used to evaluate the intellectual levels of students entering SRJC, but skeptics accuse the decision of being racist, saying it will benefit students from white affluent neighborhoods over poorer immigrant communities and communities of color.
If you chose A or C, your media literacy skills could use a brush up.
Fake news can be hard to spot, but the writing usually leaves clues. An exclamation point in the headline, a lack of named sources and the articles' origin should make you question whether each story is legitimate.
Try looking at other sources for the story you chose. Can you find any? Do they say something similar?
If not, you're probably dealing with fake news.
In an ever-changing world, news, facts and information play major roles in our everyday lives. With cell phones, laptops and Wi-Fi, we have access to a steady stream of information  and misinformation.
According to a November Oak Leaf News survey of 49 Santa Rosa Junior College students about news-consumption habits, 46.9% of SRJC students reported they get their news from social media.
"I suggest that there is not one shared universal definition of fake news because it means different things to different people," said SRJC Reference Services and Instruction Librarian Canon Crawford.
An Oak Leaf survey found the majority of students do not fact-check their news sources.
Only 16.3% of students said they always fact-check what they read. Another 40.8% said whether they fact-check depends on who posted the article.
Like the fake news articles above, fake stories are designed to strike an emotional chord with their audience. People concoct fake stories to achieve political or financial goals.
"With a lot of the stories that end up being classified as false stories or fake news, they usually have a little kernel of truth to them," Crawford said.
For example, in 2016, "Pizzagate" circulated around platforms such as 4chan and Reddit, where online conspiracy theorists claimed that leaked Hillary Clinton campaign emails referring to social gatherings involving pizza were in fact coded missives for an underground human trafficking child-sex ring involving senior members of the Clinton campaign.
The kernel of truth is this instance is that WikiLeaks did release Clinton campaign emails and that those emails mentioned pizza gatherings. These facts were twisted into claims of organized pedophilia at a Washington, D.C., pizza parlor. While the claims were ridiculous, thousands of voters read and believed them.
With 2020 election campaigns in full swing, it's imperative that students step up their game when it comes to detecting fake news. SRJC students have access to these tools online at https://libguides.santarosa.edu/fakenews.
Along with free online resources, the college also conducts free workshops for students.
"In past semesters I've had as many as a hundred students attend, but because of the fires and power outages, attendance has dropped to half," Crawford said.
At the workshops, students learn how to read the headlines, break down written formats and inspect vocabulary usage to detect fake news, Crawford said.
In an ever-changing world with more information now available than at any other point in the history of mankind, knowing how to tell real news from fake news is an important skill to have.
OK, we're going to give you a second chance to spot fake news. Which of the following is true?
A.
Spanish Man Builds 60-Foot Spaceship To Visit Planet From His Novels
The Huffington Post reports a man in Spain definitely has the travel bug, but he's not looking to take a plane or RV. No, a self-constructed spaceship is the ride favored by Lucio Ballesteros, an 87-year-old writer, musician and YouTuber from Montoedo, Spain.
B.
Santa Rosa baby speaks full sentences at eight months
An anonymous woman said her baby started to repeat phrases of the character Cartman from South Park while in her playpen in the living room.
"I was in the kitchen and I heard a voice say, 'Who killed Kenny,'" the woman said.
"We have never seen a baby speak this fluently," the baby's pediatrician said. He didn't wish to be named.
C.
Trump sees pictures of dead whales, talks to CNN, then changes environmental policy
President Trump changed his stance on environmental policies Friday after he saw photos of dead Beluga whales in Alaska that had washed ashore after the White House allowed seismic blasting for oil exploration two weeks ago.
"Those were the greatest whales," Trump said. "My voters like whales. I like whales."
Answer below:
If you chose A, congratulations. If you chose B or C, please reread this article.