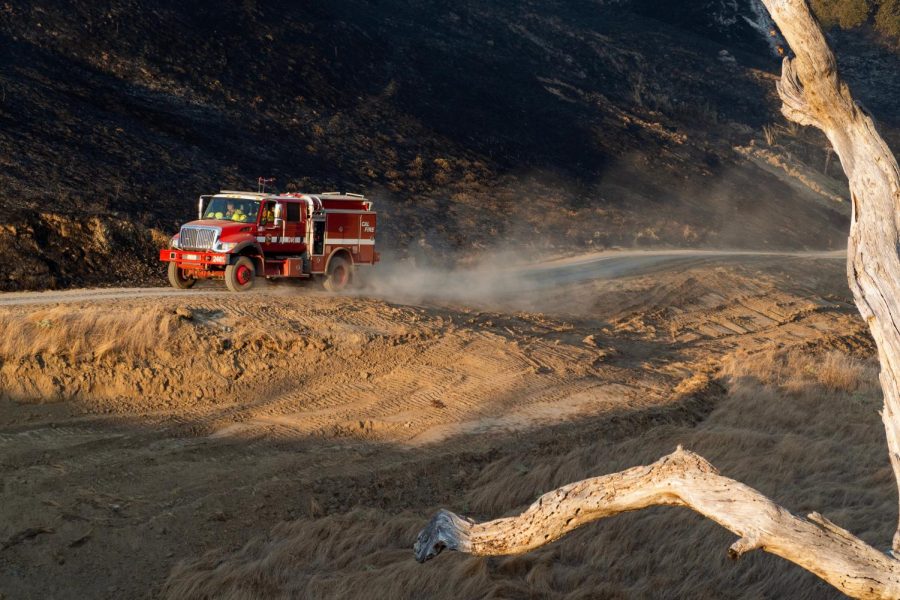 Kincade Fire Gallery
Overview by Zane Zinkl
High winds, dry brittle ground and low humidity combined on the evening of Oct. 23 to ignite the Kincade Fire in northeastern Sonoma County near Alexander Valley.
During the next two weeks, the fire burned 77,758 acres, destroyed 360 structures — 174 of them homes — and forced the mass evacuations of the homes of 180,000 people.
More than 1 million people across California lost power in preemptive shutoffs implemented by PG&E and other utilities. Dozens of schools, including Santa Rosa Junior College, closed for a week or more.
Power shutoffs occurred before, during and after the fires, further destabilizing the region.
With the Bay Area devoid of rain through November and continuing to experience high winds, the 2019 fire season extended into late fall.
The prospect of additional preemptive power shutoffs in Northern California in 2020 remains a possibility.
PG&E and CalFire officials believe the Kincade fire started at 9:24 p.m. Oct. 23 at a high-voltage PG&E facility deep in the hills of the Alexander Valley east of Geyserville and north of Healdsburg. It is believed high winds took down a heavy power line, even as PG&E went to unprecedented lengths to prevent destruction.
CalFire ordered the initial evacuations in the Alexander Valley–Geyserville region Oct. 23 and 24.
As the fire expanded, authorities ordered the evacuation of Windsor and Healdsburg. Windsor became ground zero for firefighters' efforts to contain the fire east of Highway 101.
Fearing the arrival of hurricane-force Diablo winds beginning Oct. 26, CalFire officials worried the fire would jump the highway and burn through West County to the ocean. CalFire ordered the evacuation of all areas from Sebastopol west to the coast. Parts of Santa Rosa were also evacuated. The evacuation orders confused many residents who felt their homes were not threatened.
Thanks to the efforts of 5,000 firefighters from all over the state, the losses expected in Windsor, Healdsburg and West County were largely avoided. No houses were lost within the Windsor town limits.
As the firefighters contained more of the blaze, officials slowly lifted the mandatory evacuations and PG&E restored power and gas over the next several days. The fire was 100% contained Nov. 6.
Following is a gallery of photographs taken by Oak Leaf staffers on scene during the Kincade Fire that raged across Sonoma County.