Rosa's Best – Time to Get Out & About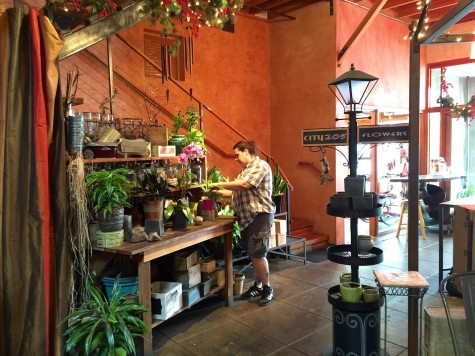 Photo by Courtney Paige/Oak Leaf
Flower shop – City 205 Flowers
205 Fifth St. (707) 525-8318
Whether your favorite foliage arrangements are roses and branches, succulents and cranberries or daises and bushes, City 205 Flowers in Santa Rosa's historical landmark Railroad Square will create the perfect posy for any soiree. Photographs captured of your cherished arrangements will become works of art treasured for a lifetime. From the classic handheld bouquet to an elaborate piece de resistance, this little florist gem will create the perfect arrangement for a variety of events.
In an unlikely location, City 205 Flowers is planted in the foyer of an award-winning building cradled between a restaurant and a beauty salon.
The venue blossoms like a conservatory of flowers with beautiful bouquets whilst your nose are delighted with the sweet fragrance of a budding outdoor garden.
– Courtney Paige, Web Editor and Assistant A&E Editor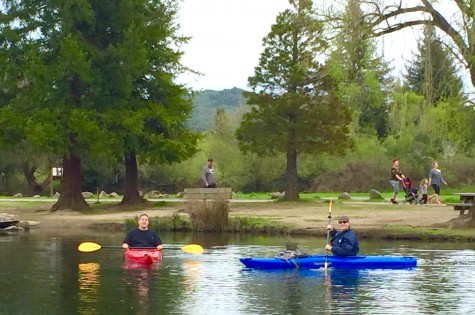 Photo by Courtney Paige/Oak Leaf
Nature park
Spring Lake Park 393 Violetti Rd. (707) 539-8092
For some, Spring Lake Park is a known staple within their nature repertoire; for others, it's a hidden gem waiting to be discovered.
Nothing says spring more than this park. In a changing universe where everything is 30 seconds ago, you can rest assured not much has changed at Santa Rosa's Spring Lake Park. With the hustle and bustle of the modern world, it's nice to know nature is peacefully consistent here. Time stands still in the confines of the park's plethora of natural serene beauty.
In a world where people are preoccupied with cell phones and social networking,
 Spring Lake is the perfect place to unwind, reflect on reality and become one with the land. Trees, bees, wildlife and unexpected bundles of joy are abundant in this oasis of nature. This park is a bountiful, dependable break from life's daily grind.
Birds chirping, wind singing and sunshine reflecting like magic on the lake – the beauty of Spring Lake is painted with 50 shades of amazing.
Hiking and biking are just a couple of activities the park offers. Other activities include kayaking, canoeing, paddle boating, fishing, swimming, camping and duck feeding.  Food truck options can be found in the park on Tuesdays during spring.
-Courtney Paige, Assistant A&E Editor
Picnic pit stop
Oliver's Market 461 Stony Point Rd. 560 Montecito Center 546 E Cotati Ave. (707) 596-3845
When warm air rolls in and the green grass calls to you, there's only one thing to do: have a picnic. At Oliver's Market, you'll find everything you need to throw the perfect outdoor feast. Salads, sandwiches, taqueria favorites made-to-order, fresh fruit and cold drinks; Oliver's has anything and everything your heart or stomach could desire. As you enter the store, you're instantly aware you aren't in a typical grocery store. The deli counter, bakery and kitchen are all alive with sounds and smells that tell you the food here is fresh. The deli counter is one of the largest in town, with an ever-changing variety of salads and a constant supply of meats and cheeses for all your sandwiching needs. The deli section is accompanied by a gargantuan salad bar with all the classics, as well as a wide selection of pre-made salads, meats, olives and much more. Their meat and produce sections have an equally expansive variety, with a huge number of organic options available in each. Hot food options include their constantly changing buffet style hot bar and their taqueria. The surprisingly authentic taqueria serves three different levels of burritos; one with only beans, cheese and vegetables, one that adds Mexican rice and meat, and one that includes sour cream and guacamole.
Whether you need fresh ground beef for backyard burgers or a hot meal to feed the whole family on a day in the park, Oliver's is the only destination you need.
-Devin Schwarz, A&E Editor
Hiking destination
Annadel State Park 6201 Channel Dr. (707) 539-3911
Here in Sonoma County, the variety of trails is plentiful and diverse.
Annadel, Santa Rosa's own state park, has just under eight square miles of wooded land, nine different trails and beautiful Lake Ilsanjo. It's impossible to get tired of the contrasting scenery. On the west side of the park you'll find Spring Creek Trail, a luscious mile-and-a-half long hike full of green trees running parallel to a creek, leading to the top of Lake Ilsanjo. Also on the west side, there's Canyon Trail, a dusty, winding trail full of uneven rocks.
On the east side of the lake lays Richardson Trail, which is similar to Spring Creek. If you are quiet enough, chances are you will see deer and other types of wildlife. The park's hours correspond to daylight hours, and if you time it perfectly, the sunsets and sunrises are magnificent.
Be careful if you go running around Lake Ilsanjo during the night; you may run into a pack of naked young men. It's a long-standing tradition that every year once the sun sets after Cross Country season, a Sonoma County high school team quietly streaks around the lake. One of the participants spoke of the dangers this practice holds; "We try not to fall and scrape our d*cks in the dirt."
-Jocelyn Mobley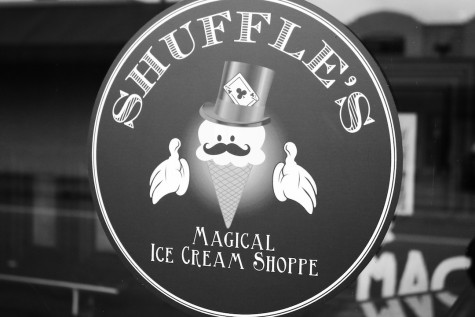 Photo by Devin Schwarz/Oak Leaf
Ice cream shop
Shuffle's Magical Ice Cream Shoppe 528 7th st. (707) 544-3535
I scream, you scream, we all scream for magical ice cream. Shuffle's Magical Ice Cream Shoppe doubles as a magic shop that puts on comedy shows on a stage at the back of the store. Shop owner John-Paul Scirica has made ice cream as long as he has been a professional stage magician. The shop's selection ranges from old ice cream flavors, like butter brittle and rum raisin, to family recipes like breakfast bowl—an ice cream with bits of breakfast cereal in it—or chai latte-flavored ice cream.
The shop has also recently began serving hot food like burgers and sandwiches.
It has a small arcade, made up of pinball machines. The shop has a number of beginner's kits, trick cards and fake vomit. Shuffle's offers private lessons for $40 an hour.
Shuffle's magic and comedy shows are from 8 to 8:30 p.m. Thursdays and Fridays.
-Arthur Gonzalez-Martin