The cast of "Jesus Christ Superstar" create an almost perfect musical with problems that can be fixed with time
Hang on for a minute...we're trying to find some more stories you might like.
SRJC's "Jesus Christ Superstar" has a few kinks to iron out, but has all the elements of a near-flawless spectacle: a great cast, eye-catching choreography, entertaining music and excellent set production.
Santa Rosa Junior College is showcasing this musical at Maria Carrillo High School theater through May 5.
The story follows Jesus Christ and Judas Iscariot before the crucifixion of Christ.  
The main problem with the first act lies in the percussion that drowns out singers' voices, making it impossible to understand what they are saying. This is important because the entire show is comprised of musical numbers. Only the lead singers were able to overpower the percussion section.
The story can only be heard when a lead actor starts to sing. Their powerful vocals have to fight against the loud and drowning drums. This is not saying the show is not worth seeing.
Musical pieces like "This Jesus Must Die," "King Herod's Song (I Only Want Say)" and "Judas's Death" are more than worth the ticket price.
Phillip Percy Williams as Jesus Christ has powerful vocals, sweeping from high notes to low with ease. The "Gethsemane" musical number showcases his mastery over his voice.
Annas, played by David Klaut, Caiaphas, played Michael Artbitter, and the rest of the cast in the "This Jesus Must Die" number show the potential of the musical because the songs and voice come together to create a great set piece.
The set is flexible and adapts to each musical performance. The crucifixion of Jesus Christ is particularly memorable as the background of the set opens to reveal industrial lights shining over Phillip Percy Williams' body. The same has to be said about Judas' suicide.
The choreography of the first act couldn't be any better, with the entire cast dancing on stage and navigating the theater's dark corridors with ease.
The set piece for "King Herod's Song (I Only Want to Say)" is shocking.
Railey Craig performs as King Herod with perfection, able to portray both sarcasm and pretentiousness. Even though it's choreography was simplistic, you can see the hard work of every actor in this scene.
Noah Sternhill plays Judas who with his powerful vocals captivates the audience with his powerful vocal performance and brings everything he has to this performance. "Judas's Death" is one of the best songs in this musical as it shows the pain that Judas is going through after betraying Jesus.
Williams, Sternhill and Ariana LeMark, who plays Mary Magdalene, were able to tell the story of Jesus with no problem. The only issue is the balance of music and song; the songs cannot be fully appreciated with the overpowering percussion.
This could be blamed on the acoustics of Mary Carrillo High School's auditorium. The SRJC Theater Department will be back home in a renovated Burbank Auditorium this fall.
The show as a package has some improvements to make, but there are many golden moments in this musical. If the production team works out the sound issues, it would be another perfect production that SRJC is known for.
"Jesus Christ Superstar" has performances at 7:30 p.m. on April 25, 26, 27 and May 2, 3 and 4; and at 1:30 p.m. on April 27, 28 and May 4 and 5. Maria Carrillo High School is at 6975 Montecito Boulevard; the box office is located outside Haehl Pavilion on the Santa Rosa campus, or call (707) 527-4307 or purchase tickets online at https://theatrearts.santarosa.edu/buy-tickets-online-0.

About the Contributor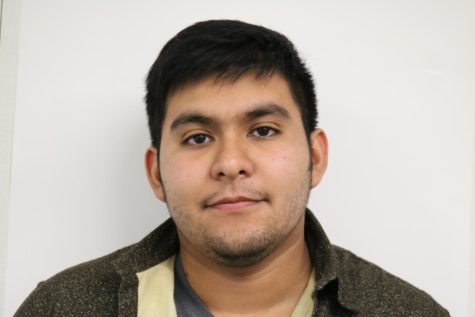 Abraham Fuentes, Staff Writer
Abraham Fuentes is a Writer and photographer at the Oak Leaf News going into his 3 third semester. He will be transferring in 2020 fall Semester.