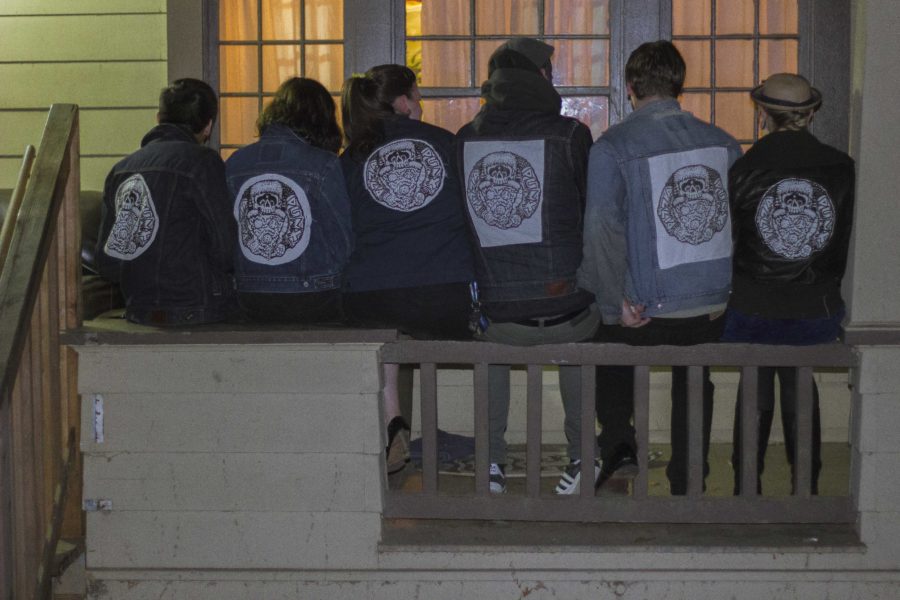 In Sonoma County, you can't walk a block without hearing youths sighing with discontent over a lack of activities in the North Bay area. One group is here to change that.
The Pizza Punx Crew banded together in March 2013 to single-handedly create a whole new music scene in Santa Rosa, organizing shows at both private houses and established venues alike. The Crew, who prefers to go by pseudonyms instead of real names, began with just two members: Papa Pizza and Sergeant Salami.
"Pizza Punx is about f–kin' keeping it real and being bored as f–k and maybe giving a f–k about making your area a little more interesting," Papa Pizza said. "It's really about rock 'n roll and everything therein, eating too much pizza and maybe vomiting periodically throughout the night at different people's houses."
Gathered around a guitar in the living room of a friend's house, the group laughs and catches up while jamming on the couch. Hanging on the wall are two repurposed paintings, originally containing peaceful nature scenes. A previously serene forest painting now showcases a battle between Ewoks and AT-ATs, and ocean waves set the scene for a battle between Godzilla and Cthulhu.
Their back patches are a custom design by Sean Aaberg of PORK Magazine, a publication whose tagline is "Rock & roll, weirdo art, and bad ideas." Whenever the Crew gets a new shipment in, members hand the magazine out at every show.
The organization has recruited five more new members since its beginnings and are looking for more. The third to join, Mama Pizza, helped to shape the Pizza Punx in the early days.
"Papa and Sergeant had the original concept and were the ones to start hitting up the bands. I helped when shows really started to get together," she said.
"It all started because we were all tired of there not being anything rad happening in Santa Rosa. If you wanted to go see a good show, you always had to drive to San Francisco and Oakland," she said. "Santa Rosa is not that out of the way for most bands on tour. The only reason they didn't stop here is because there was nothing happening, so we changed that."
Prospects looking to join the Crew must first pass an initiation rite. To be considered an official member, they first have to consume an entire large pizza while watching the movie "Rock 'n' Roll High School." If someone is not ready to become official, they can still be a "Dough."
"Anyone can be a Dough. All they gotta do is ask," Sergeant Salami said. "We're taking as many Doughs as we can get."
The requirements seem relatively benign, which include putting up flyers, being an Internet presence, re-posting things, inviting and telling friends, and being willing to work shows. "If you drive, that helps a lot, too," Papa Pizza said.
Sergeant Salami continued, "If you're a Dough, you help out however you can, and if we think that you're doing a good job and you're showing heart, then we'll think about actually putting you in the crew," he said. "But you have to show that you'll consistently pull through and actually do s–t. Anyone who wants to help should be a Dough."
However, some try to take advantage of the Pizza Punx' call for help. "There's been an increase in the amount of people trying to just get into shows thinking it's chill because they wanna become a Pizza Punk," member Major Mozzarella said. "If you're gonna show up and try to pull the 'prospect' thing, then do something. Like, sit at the table and do a job."
The Crew has one major tenet: their shows are always all-ages. "We've never done a 21+ show," Papa Pizza said. "We never will, that's not what this is. No, you don't do that."
Sergeant Salami added, "We're down for the babies, and we're down for the daddies. I don't care if you're 40 years old or f–king 10 years old – we're down for everyone. We don't discriminate, all right? People think we do."
"We love everyone, we just love everyone," he said.
There have been a couple of problems with unruly attendees in the past, but Mama Pizza's advice is simple. "If you don't like it, then leave." If you go just to start trouble, they won't be welcoming.
"People who come to shows just to be aggressive or fight don't give a s–t enough to actually pay. They'll go to the f–kin' other free shows, where you don't have to pay, and they'll start fights there," Sergeant Salami said. "The people who come to our shows and actually pay the like six or eight bucks do that because they care about the music. That's all it is."
Most times, the shows can only go on until 10 or 11. "Everyone has different rules, so we abide by everyone's rules," Sergeant Salami said. "But we want our shows to go on as late as they f–king can, and we want all of our shows to be as cheap as they can. We want everyone to f–kin' come. We don't care who."
Many bands come and go at these events. Some come from Oakland or Los Angeles, and there have been performers visiting from France and even Greece. "We have this giant, giant list of bands that we hit up," Papa Pizza said. "We're just hitting up bands from all over, agents from all over, and saying 'Hey, if you need a place between SF and Portland, we make sense.' Even though it's not a high-traffic area, we show a lotta love, give them a place to stay, do a lot of drinking."
The Pizza Punx contact bands and agents mostly through Facebook and email. They also receive many inquiries simply through word of mouth.
Joey Artieres was a member of Pet Sounds, a local group that played several events for Pizza Punx and has since disbanded. "I love the Pizza Punx with all of my heart," he said. "They bring all the best bands to the area and are the glue that is holding the music 'scene' in Sonoma County together."
Reaction has been generally positive from the public. "I saw the band Kiddo my first time at the Hendley Hotel," said show-goer Dave Culler. "That show kind of set up what I end up doing with a lot of my time now. That was the first time I went to a house show. I think they're doing something cool."
The Pizza Punx are always on the lookout for new venues and houses to borrow. "We don't want to over-book at the houses that let us do the shows. The more places that we have, the more we can rotate," Mama Pizza said. "If anyone is serious about helping us out with a place, they can just send Pizza Punx an email or a message on Facebook."
When asked about future plans for the Punx, Papa Pizza paused. "Drink the blood of squares everywhere and own every pizza restaurant in the world and do shows at all of them. Periodically. Throughout the year," he said with a straight face. "Nah, we're really trying to do this music fest. We wanna do three days, but at this point it's probably gonna be like a day or two. Pizza Fest. Pizza Punx Fest. Supreme Fest. I think the last weekend of July."
The festival would be separate from everything else they're working on. They already have eight shows lined up that require work putting together, but the group is still very positive about the festival. "Personal and the Pizzas I think are playing, which I think is the best thing," he said. "We're really f–king stoked."
Sergeant Salami chimed in, "They're the best, and they've been broken up. It's gonna be a big deal for them to play, so hopefully that works out."
Long-time friend Conor Estes explained his reasons for supporting the Pizza Punx. "I go to the shows to support my friends, their bands and what the Pizza Punks are doing for the North Bay scene," he said. "They really got the ball rolling with Santa Rosa house shows and getting away from more established venues, which I think is fun."
As for the anonymity, he added, "I think their backs to the camera, the remaining anonymous, and even the pseudonyms that they go by is just perpetuating the edginess of being in a punk gang while still being able to laugh at themselves."
Pizza Punx member Space Grrrl had one thing to say: "Don't kill yourself with drugs and alcohol. Kill yourself with music. Have a good time. Live a little. ZZA!"
Papa Pizza looked longingly into the distance. "I wish there was beer and pizza right now."
Their next show will be 7 p.m. Jan 29 at Brodenheim, for $8. The band lineup consists of Sabertooth Zombie, Hounds of Hate, Zero Progress, Volatile Substance and Prison Scare.
For more information on events or a way to contact them, they can be reached at http://www.facebook.com/PIZZAPUNX666 or via [email protected].