Mayfield puts on show in brother's honor
Karim Mayfield had a goal in mind when he put on the Battle in the Ballroom April 7 at the San Francisco Fairmont Hotel.
"I'm just looking to put on a good show and get as much media coverage for my brother as I can," Mayfield said.
Mayfield's brother, Shaleem Tindle, was shot and killed by BART police in Oakland on Jan. 3. Tindle was 28. Mayfield and his brand "Hard Hitta Promotions" put on a show in his honor. The card featured five fights, four of which ended in knockouts.
The crowd was electric from the start. The audience was treated to quite a show, as the night got off to an emphatic start in the first fight.
Andres Salas vs. Tamis Long 
San Francisco-based fighter Andres Salas, took on  Inglewood, California's Tamis Long, in a heavyweight battle of North vs. South. Salas poured it on from the start, throwing combinations and pummeling his opponent. The referee had no choice but to stop the fight after just over a minute, awarding Salas with a TKO victory.
Salas improved to 2-0 in his professional career with his victory, and paid his respect to Long after the fight. "He's durable, he's tough," Salas said. "My big thing was to come in there and let him know what's up, and that's what happened."
Lennard Davis vs. Julio Rizo
The second fight featured junior welterweights. Lennard Davis represented Oakland and took on Julio Rizo, from San Jose. The first round was back and forth, with both fighters dealing heavy. Davis stunned Rizo with a massive uppercut at the end of the round, and Rizo was clearly rattled. Davis kept attacking throughout the second round, and the referee stopped the fight and awarded him a TKO victory with just under 10 seconds left in the second round.
Ricardo Pinell vs. Enrique Gallegos
The third fight featured the hardest hit of the evening, as Ricardo Pinell uncorked a right hook that knocked Enrique Gallegos to his knees at the beginning of the second round. The bay area native Pinell won the lightweight fight over his Oregon-based opponent via TKO and had the crowd on their feet the whole time. A "justice for Shaleem" chant broke out in the intermission between the third and fourth fights.
Sean Gee vs. Willie Shaw
The penultimate bout featured welterweights Sean Gee and Willie Shaw. Gee hails from Portland, Oregon and drew the wrath of the crowd who clearly favored the undefeated bay area native Shaw. Many audience members sported "Will 'the Thrill' Shaw" t-shirts and each time Shaw connected with a punch a roar echoed throughout the arena.
Gee fought defensively, tying Shaw up and clinching whenever he could. Neither fighter pulled away, and they were clearly winded entering the final round. A minute into the sixth round, Gee dropped his hands, taunting Shaw and daring him to attack. Shaw obliged, unloading a combination of hooks, jabs and uppercuts. The ref stopped it one minute and 20 seconds into the round, giving Shaw the victory via TKO.
Shaw improved to 6-0 in his career with his win. "You just gotta be a technician," Shaw said. "He can clinch all he wants, but I could tell he was starting to get frustrated."
Karim Mayfield vs. Gaku Takahashi
The main card pitted the San Francisco native Mayfield against Gaku Takahashi, of Los Angeles. The welterweights were neck and neck all fight, trading blows and tiring each other out. The fight went the full eight rounds. After Mayfield threatened to end it early, Takahashi settled in and used his height advantage to sprinkle jabs in while staying mobile.
Going into the seventh round, it was tough to discern who was in the lead. Mayfield quickly put any doubts to rest, connecting with big shots over the top of the taller Takahashi's defense. The last minute of the eighth round almost caused a riot, the crowd in full throttle. Both fighters put in their final bids for knockout but the final bell rang and they retreated to their corners. After deliberation, the judges awarded Mayfield the unanimous decision victory by scores of 77-74, 77-75 and 77-75.
Mayfield briefly celebrated his victory but turned his focus towards addressing the crowd. "This is a beautiful audience, good look," he said. "All races and all classes of people all in one group." He kept his speech short and sweet and concluded with a heartfelt tribute to his late brother.
"I love you little bro, this is all for you," Mayfield said.
About the Photographer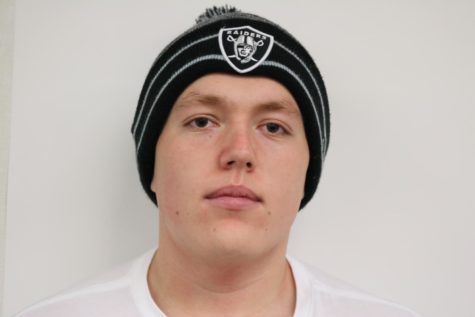 Matthew Wreden, Sports Editor
You can find Matthew glued to his tv, computer or phone editing, watching and betting on sports. Matthew loves all sports and loves to learn more and more...