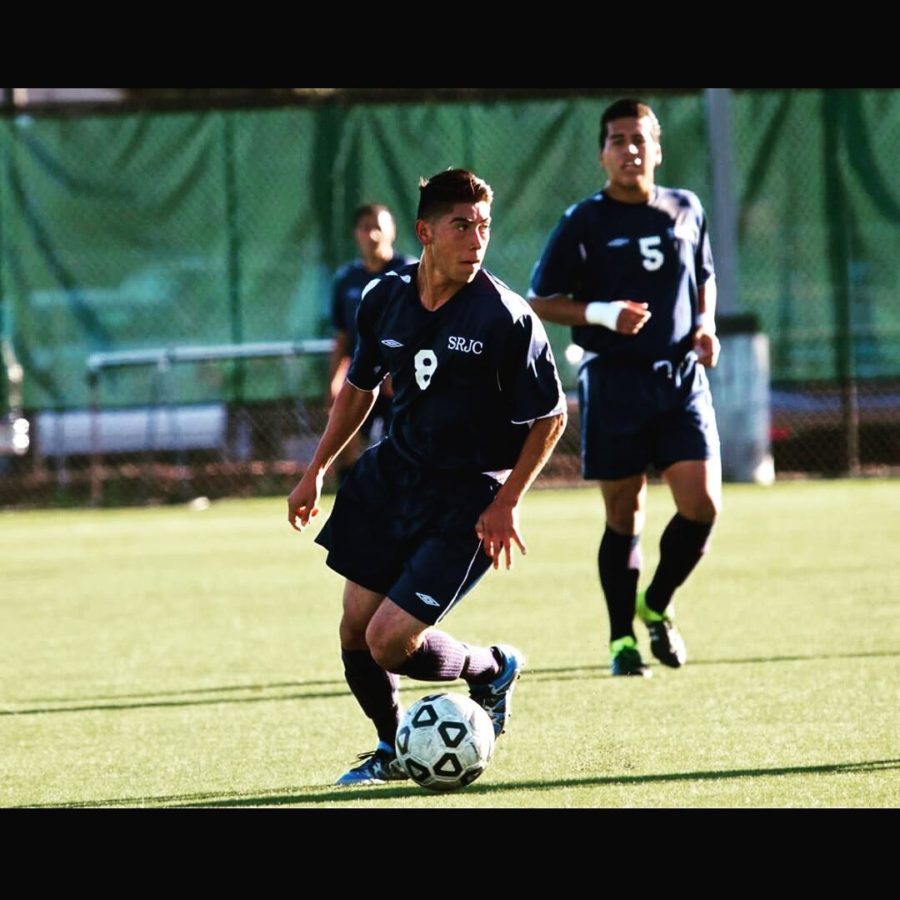 Dreams of playing at a university came true for one aspiring soccer player after scouts discovered the superstar during his last season at Santa Rosa Junior College.
Jovany Carlino, 20, is headed to Texas A&M International University in August. Carlino was invited to play soccer through a scholarship and decided to take the opportunity.
"It's going to be a new environment where I'll be able to focus on soccer and school and not have any distractions," Carlino said.
After graduating from Windsor High School in 2013, Carlino enrolled at SRJC during the fall semester, but did not start playing soccer for SRJC until 2014. Carlino thinks his coach Marty Kinahan helped him become a better soccer player.
"I got my technique through playing with the club teams. But coming to the JC, I got more experience with playing with more physicality, along with harder trainings," Carlino said.
Carlino has played soccer since he was 10 years old. He started playing competitively for the Santa Rosa team, Atletico, which allowed him to travel throughout California and play against the best soccer clubs in the state.
Carlino's father saw the potential in his son and worked hard for him to continue to play throughout school; which inspired Carlino to play for SRJC. His sister also pushed him to take the A&M opportunity.
"She told me if I get an opportunity, I better take it; you can't just let it pass by," Carlino said.
The talented soccer player is the first one in his immediate family to go on to a university, and they're all proud of him.
It wasn't until Carlino attended SRJC that he grew a passion for the sport. He always figured because he was good at it, he would play. However, once meeting Coach Kinahan, his views on the sport changed and his devotion for the game went to a higher level.
"In high school I liked soccer, but I feel I wasn't as passionate as when I came to the JC," Carlino said. "I was just playing it because it was something I was good at, and when I came here, it was like a reality check."
Playing soccer for a club, Carlino built an ego. Kinahan let him know that there are players in the world who are better, and gave him a reality check.
"He [Kinahan] pushed us to our limits," Carlino said. "I thought that was really good."
Carlino came to SRJC as an individual player, but Kinahan is big about playing as a team; as one. Because of Kinahan, Carlino became more of a team player and was voted team captain this past 2015 season.
"It's important to have accountability and discipline," Kinahan said. "We get the guys to play for each other."
Kinahan described Carlino as one of the key players on the field and watched his growth since starting at SRJC.
"He grew as an individual; a player and an individual," Kinahan said. "We're proud of him."
Carlino described his coach as a huge help to get him to the point he's at now; not only on the field but off the field as well. Kinahan helped him and his team establish a brotherhood and form lifelong friendships.
With everything that soccer allowed Carlino to do, he feels ready to take on A&M in August and begin training with his new team.