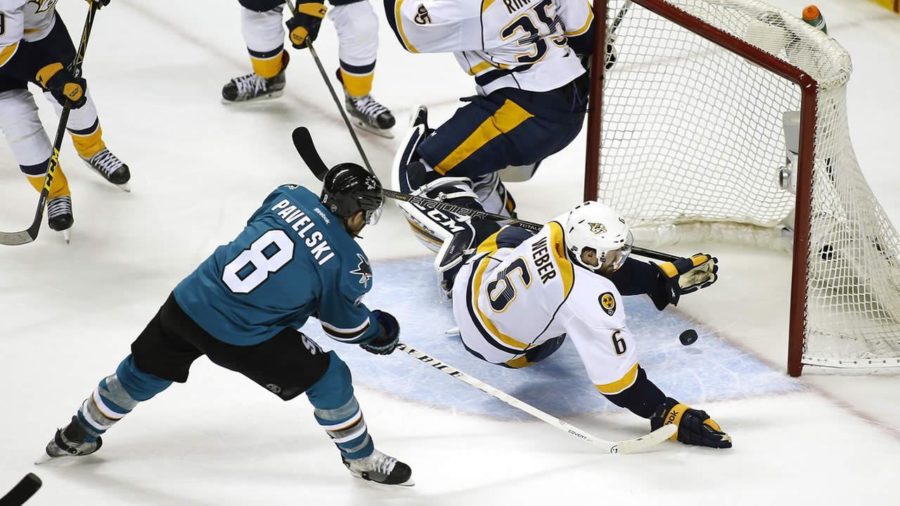 Courtesy of abc7news.com
After two tough road losses at the hands of the Nashville Predators, the San Jose Sharks bounced back in a big way May 7 with a 5-1 victory over the Preds in Game 5 of the semi-final series. Sharks captain Joe Pavelski led the way with two goals, including the game winner, and was one of five Sharks with multiple points on the night. The Sharks now lead the best-of-seven series 3-2.
The Sharks drew first blood halfway through the first period, when forward Joonas Donskoi fooled the Predators defense with a drop pass into the slot for forward Patrick Marleau, who rifled the puck into the net past Predators goalie Pekka Rinne for the lead. Donskoi got the assist on Marleau's third goal of the playoffs.
Five minutes after Marleau's tally, Predators center Mike Fisher continued his impressive points run by netting his fifth goal of the postseason to tie the game. Incredible passing behind the net from wingers James Neal and Colin Wilson led to the goal.
The Sharks refused to go into the second period tied. Pavelski scored on a one-timed pass from center Joe Thornton with three minutes to go. Thornton and defenseman Marc-Edouard Vlasic added the helpers.
Just 35 seconds into the second period, a perfect pass from Donskoi sent center Logan Couture on a breakaway. He tucked the puck right in between Rinne's pads to give the Sharks a 3-1 lead. Donskoi earned his second assist of the night and defensemen Justin Braun picked up his first.
The Predators went nearly two periods without taking a penalty; until Nashville defenseman Roman Josi got called on a tripping infraction with 57 seconds left in the period. This lead to the Sharks dangerous power play unit entering the game. Thornton and Marleau connected on Pavelski's second goal to take a 4-1 lead heading into the third frame.
The third period saw frustrations boil over for the Predators, who took 24 minutes in penalties within the last four minutes of play. Center Ryan Johansen accounted for 12 of those minutes, thanks to a roughing call and a 10-minute misconduct, while center Mike Ribeiro took a misconduct of his own at the same 16:01 marker.
Rinne's night ended after a penalty to defenseman Anthony Bitetto, as Nashville head coach Peter Laviolette handed the penalty kill to the Preds backup goalie Carter Hutton. Unfortunately for Hutton he managed to collide with a teammate behind the net, leading to Sharks' winger Melker Karlsson stealing the puck and shooting it into the empty net to seal the 5-1 score line.
The Sharks enter Game 6 with a chance to eliminate the Predators and advance to the Western Conference Finals. The two teams battle it out again at 6 p.m. May 9 at the Bridgestone Arena in Nashville.