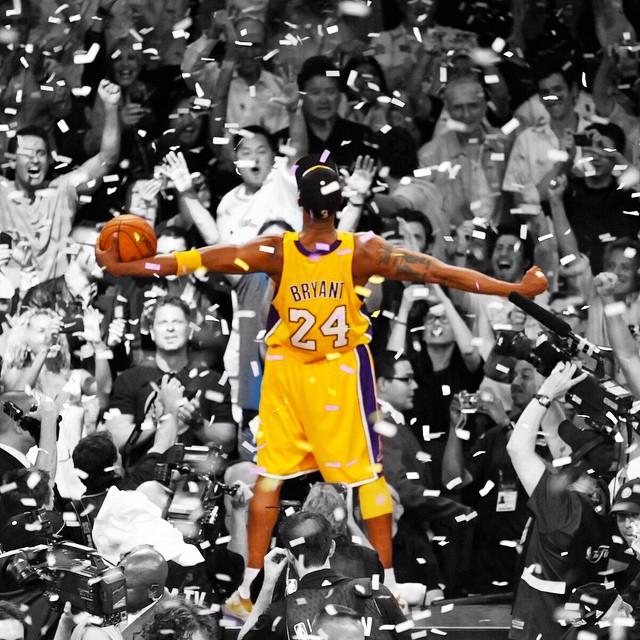 Courtesy of Fan Illustration
Kobe Bean Bryant left the game of basketball at age 37 as undoubtedly one of the all-time greats, second only to Michael Jordan.
April 13, 2016 was "#mambaday" across the sports world. All eyes were on Bryant during the final NBA game of his illustrious 20-year career.
Bryant's extraordinary 20-year-stint as a Los Angeles Laker is the longest career all-time with one franchise. Before the game, legendary Lakers' point guard Earvin "Magic" Johnson proclaimed Bryant "the greatest Laker of all time."
The "Black Mamba" went out the only way he could, pouring in 60 points on 50 shots in a thrilling comeback victory over the Utah Jazz.
 Those 60 points are the most ever scored by a player in his final game; the greatest ending to a career ever, other than winning a championship.
Despite being the villain who everyone loved to hate, Bryant received respect and admiration from fans every road game this season.
Bryant has been known as a no-nonsense player, constantly butting heads with teammates, trying to become the very best and accomplish his goal of surpassing his idol and the unquestionably all-time great Jordan.
His will to win was second to none, and that's why people loved and hated him. He was the closest we've ever seen to Jordan, who had similar qualities.
Bryant came up one championship short of tying his idol, with five championships compared to Jordan's six.
Bryant's other accolades measure up to Jordan's, though; five-time NBA champion, two-time Finals MVP, 2008 NBA MVP, 18-time All-Star, 11-time All-NBA first-team, nine-time All-NBA first-team defense, Slam Dunk champion and two-time scoring champion. He finished with more All-NBA first-team honors than Jordan, and tied him in All-NBA first-team defense honors.
Bryant finished third in total points scored in NBA history with 33,643, finishing behind only Kareem Abdul-Jabbar and Karl Malone, but surpassing Jordan who is now fourth all-time.
Sports fans will never forget Bryant's 36 Jordan-like game-winning shots, including his buzzer beater in the playoffs against the Phoenix Suns in 2006.
We'll also never forget his mind-blowing 81-point performance against the Toronto Raptors, the second greatest point total in a single game in NBA history. Or his heroic performance against the Dallas Mavericks in 2005 when he outscored the entire team 62-61 over the course of three quarters.
We witnessed Bryant evolve from a young athletic freak who'd dunk on you, to a cold-blooded and mature superstar who would kill you with a jump shot in the final seconds of a game.
Bryant left it all out on the floor and leaves basketball as the second best player of all-time or maybe the greatest ever in some people's eyes.
As Bryant said after his final game, "Mamba out."