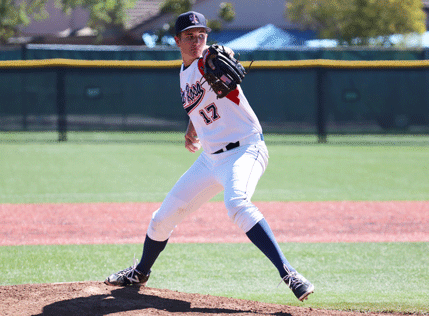 Anthony Sosa
A sixth inning meltdown April 9 at Sacramento City College lead to the Bear Cubs' first loss since Feb. 27, snapping their 13-game win streak. The Bear Cubs' 6-2 loss is their first Big 8 Conference loss of the season.
Starting pitcher Matt Estes, along with relievers Jackson Ketron, Ladd Ah Choy and Jared Noonan combined for four walks, two doubles and a wild pitch in Sac City's five-run inning, giving them a 5-2 lead.
Despite the loss, the Bear Cubs are currently No. 1 in the California Community College Athletic Association Northern California baseball rankings. They'll wrap up conference play against Big 8 foes Sac City, San Joaquin Delta College and Cosumnes River College. The Bear Cubs have all the tools needed to win the school's third baseball state championship and first since 2005.
An Ace
Alec Rennard hasn't allowed a run in his last four outings, going at least eight innings in three of those starts, including one complete game. For the season, Rennard has an 8-1 record — tied for the most wins in the state — a 1.70 ERA, 46 strikeouts and three walks.
A Deep Rotation
Ezio Bruchler and Matt Estes give the Bear Cubs a chance to win every game, each boasting a perfect 5-0 record. However, they both can work themselves into trouble with walks. Bruchler walked 21 batters in 44 innings this season, while Estes gave free passes to 25 batters in 49 and one-third innings pitched.
A Versatile Lineup
Let's start at the top: Mitch West, Bryce Nagata and Jake Scheiner. The short stop Scheiner leads the pack with a .375 batting average, five home runs, 37 RBIs and a .488 on-base percentage. He only has four stolen bases, but not because he lacks speed; 19 of his 39 hits have gone for extra bases.
Center fielder Nagata is always a stolen base threat, which is often with his .424 on-base percentage. Nagata has 13 stolen bases, a .362 batting average, two home runs, 14 RBIs and 34 runs scored.
Left fielder West sets the table with his .345 batting average, a pair of home runs, 27 RBIs, 28 runs scored, 11 stolen bases and a .437 on-base percentage.
With these three at the top, the Bear Cubs scored a run in the first inning in 15 of their 27 games.
First baseman Ryder Kuhns bats fourth with a .366 batting average and 25 runs driven in. He just lost an eight-game hitting streak in which he went 14-for-30 at the plate with 11 RBIs.
After Kuhns, third baseman George Foster steps up to bat. Foster is hitting .313 with 17 RBIs and 17 runs scored and highlighted his season with a 12th inning walk-off single against American River College March 26. He also lost an eight-game hitting streak in which he hit .394.
Matt Bone has done a remarkable job filling in for designated hitter Anthony Bender since the fourth game of the season. Bone is batting .341 with 20 runs driven in. His bat has cooled off considerably since his five-game stretch in February when he went 12-for-18 at the plate. In the 15 games since he's batting .244 with 7 RBIs.
A Trustworthy Defense
A strong defense starts up the middle.
Matt Kimura and Myles Andrews battled all season for the second base position, but Kimura took over much of the starting duties down the stretch due to his defense. He committed one error in 78 fielding chances and turned 19 double plays in 19 games.
Catcher Charlie Magana is working great with the pitching staff this season, guiding it to a 2.36 ERA, third best in the state. However, his one downfall is throwing out just four of 17 potential base stealers.
The Bear Cubs' outfield is sensational with no errors this season. West and Nagata roam left and center field, and are capable of running down nearly anything hit their way. While Hall may not look as fast in comparison in right field, he still possesses above average speed and a cannon for an arm, capable of throwing out runners attempting to advance to third base.
A Reliable Bullpen
It's hard to assign roles to the Bear Cubs' bullpen as head coach Damon Neidlinger lets everybody have their chance in the final inning. If you had to put your finger on a closer though, first shot would go to Jackson Ketron. He struck out 22 batters in 20 and one-third innings and allowed 12 hits with a 3.10 ERA.
Freshman Noonan is Neidlinger's other go-to arm out of the pen. He's allowed four runs in 17 innings of work for a 2.12 ERA.
Ladd Ah Choy also has a very impressive 1.88 ERA in 14 and one-third innings, giving the Bear Cubs depth if they need a reliever to bridge the gap in the sixth and seventh innings.
Paris Selzer and Henry Burch round out the bullpen. Selzer struck out 14 batters and allowed five hits in 11 and two-thirds innings.  Burch struck out 12 batters and allowed 7 hits in 10 and two-thirds innings pitch with a 1.69 ERA.
The Bear Cubs' offense ranks in the top 10 in California in runs scored, hits, RBIs, average, on-base percentage and slugging percentage. Couple that with a pitching staff that ranks first in hits allowed, runs allowed and third in ERA and you have a formula for postseason success. The Bear Cubs' next game is against Sac City at 2:30 p.m. April 12 at Cook Sypher Field.