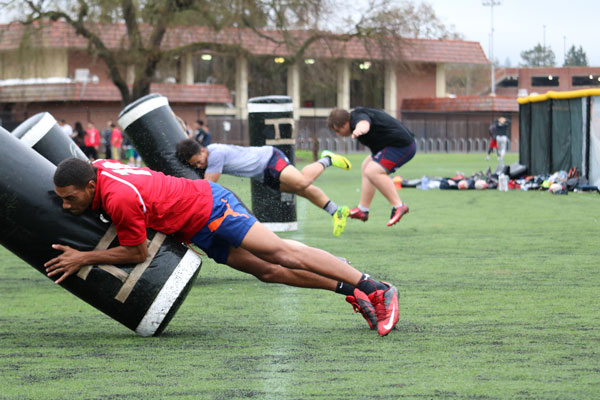 Anthony Sosa
The Santa Rosa Junior College rugby club is in the midst of another amazing season. Standing at [7-3-1, 4-1], the team's domination comes at a perfect time, coming off of a suspended year. This is what the club needed to bounce back and prove their continued dominance over almost two decades despite coming from a small school with no fans in sight.
This fast start is no surprise to rugby head coach Steve Wren. With 28 years experience in the  sport, he has led the club to success time and time again. It has ranked in the top 20 sixteen times over the course of two decades. But what is more expected than their continued success is the little fan turnout.
"We're mystery people," Wren said. But he remains hopeful for the club's future. "It's the fastest growing sport in the United States." He believes the growing popularity of the sport will help the club gain a fan base.
The club's success stems from the coaches. The two assistant coaches alongside Wren are nothing short of experienced, with decades of playing and coaching between them. "I like to think that we out-coach them, [opponents]" Wren said. He believes this is a game of teamwork, not superstars; an ideology that has spread throughout the entire team.
It's a family working together with unequaled chemistry to keep the wins piling up. "It's teamwork. At the end of the day we have to work with our teammates, [they] make us get better, [and] get stronger," said sophomore Esera Iosefa during practice.
The rugby club's season resembles their toughness, on and off the field. When Wren stopped coaching the rugby team he left it to two coaches with opposite viewpoints. The power struggle left the team in shambles with no leadership. The school decided to disband the club for the 2015 rugby season.
But now that Wren is back the team is on track for another strong year. We owe them as a community to represent these hard working individuals. Rugby does not get all the glamour of some sports or clubs, but the team has certainly earned it.