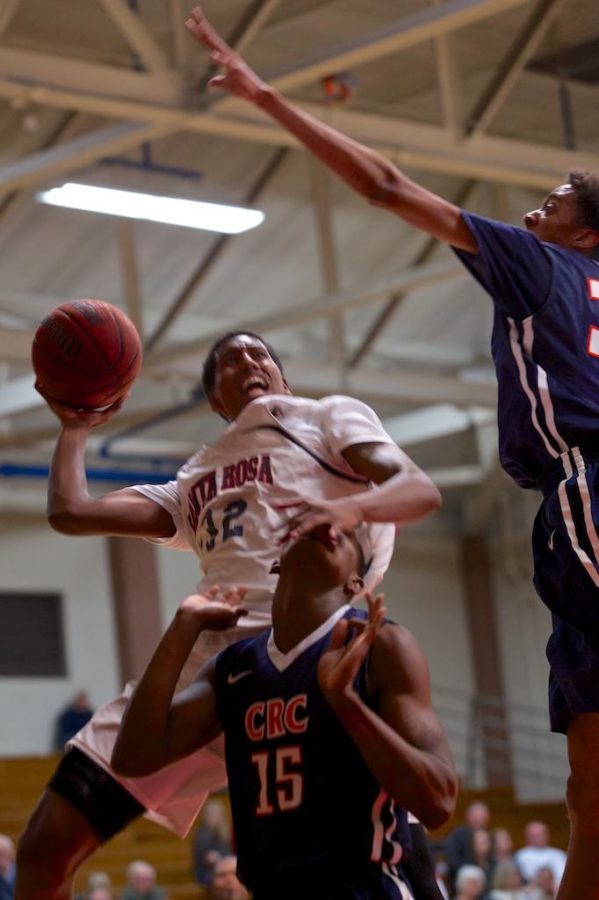 Joseph Barkoff
The Santa Rosa Junior College men's basketball team suffered a late cold spell that proved to be the team's downfall as they lost 69-58 against Cosumnes River College Tuesday night; Corey Hammell had 17 points and 16 rebounds in the loss.
The team got off to a slow start scoring only eight points in the first 10 minutes. The early drought was facilitated by CRC's 6-foot-11-inch center, who leads the state in blocks.
Davone Oliver had a big 4-point play that gave the team some momentum and its first lead of the game. It was short lived as CRC answered right back with a three of its own, taking the lead right back.
The first half was a seesaw going back and forth including Oliver getting a rebound and going coast-to- coast for a bucket. After, CRC chased that with a 3-pointer of their own that ended the half but SRJC hung on to a 32-28 halftime lead.
CRC opened the second half with a 9-2 run that gave them a 37-34 lead. Siaan Rojas hit two big shots that eventually tied the game at 39.
On top of Hammell's 17 points and 16 rebounds, he used his quickness and positioning to rebound and a flurry of shot fakes that lead to many easy baskets under the hoop.
"The guy guarding me last night was tall and long. I just tried to use my quickness along with strength and IQ to get around him," Hammell said.
In the end his effort wasn't enough, as one more run by CRC put the game out of reach. Contributing to the loss SRJC was uncharacteristically poor from behind the arc, making very few 3-pointers.
The Bear Cubs now stand 11-10, 4-3 on the year.
Bear Cubs next game is at 7:30 p.m. Jan. 30 at Modesto College.