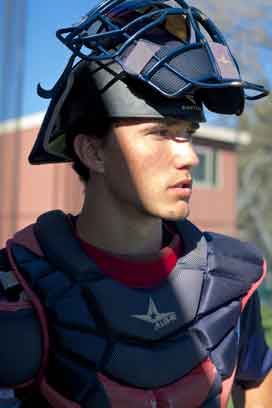 Joseph Barkoff
Taking second place in the 2014 Big 8 Conference, the Bear Cubs baseball team will work extra hard this season to end up in first place and possibly bring home a state title. The team finished last season with an overall 29-14 record.
Led by head coach Damon Neidlinger, and assistant coaches Sam Gomes, Jon Nadale, Ben Buechner, Tom Francois and Sam Foster, the team will look to repeat the success that they had last season. "We have high expectations coming into every year," said Neidlinger, who is entering his 12th season as head coach.
The Bear Cubs are coming off a solid three-year run of success. Last year's team consisted of many third-year guys, who have moved on to other schools. "It's a talented group of guys that are young," Neidlinger said. "I believe they are capable of success, but we know this is a tough league with a lot of experienced players."
The Bear Cubs will have a very young team this year, consisting of 30 freshmen, and six returners. With a young team there is always the question of how inexperience will factor into play, but with a group of hard-working players, inexperience can be almost unnoticeable. SRJC only has one returning starting pitcher and one returning starting position player. Come opening day the team will have a lot of new faces on that field.
"I'm going to try and teach these guys, and make them better for years to come," said Weston Bryan, a returning player.
Another challenge a young team faces is leadership, which is a very important factor on how successful they will be. The Bear Cubs will look to Bryan and Michael Reynolds, two returners to step up and lead the team.
"They are both guys who show up every day and are accountable. They are hard workers, who lead by voice, but more importantly lead by actions," Neidlinger said.
Good pitching and defense brought on the success of last year's team. The Bear Cubs finished second best in the state with a 1.89 ERA, and second best in the state in fielding percentage. "It will be difficult for any team to repeat that kind of success," Neidlinger said.
Other notable players leading the way are catcher Ryan Haug, and pitchers Kyle Mitchell and Vijay Patel. These guys will need to step up and take charge to help guide the new players joining the staff this season. "Our ultimate goal is the Final Four and winning a state championship, and we can achieve this by working as a team," Haug said.
Two newcomers who look to have an immediate impact for SRJC are freshmen pitchers Alec Rennard and Garrett Hill. Both could be looking at starting games one and two for the Bear Cubs.
The ultimate goal for the Bear Cubs will be bringing home a state title, last achieved in 2005. "It's an unwritten book," Neidlinger said. "And I am very excited about writing it."
The Bear Cubs will play at 2 p.m. Jan. 29 at Chabot College, returning home at 1 p.m. Jan. 31 also against Chabot.