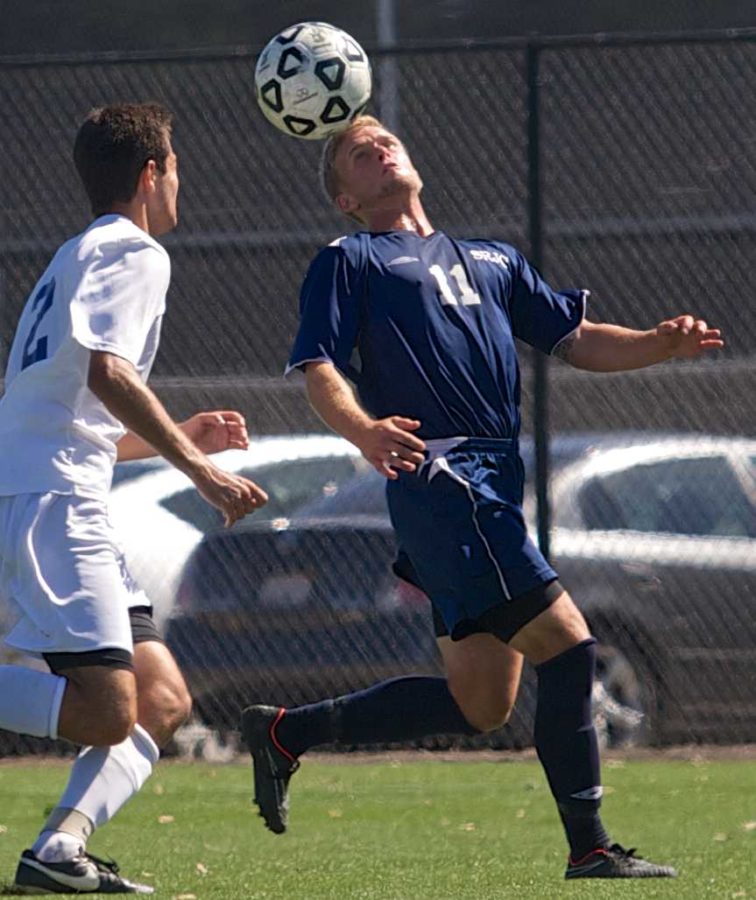 Joseph Barkoff
The Bear Cubs finally found their stride on offense, facing the Pirates of Modesto Junior College Sept. 30.
The Bear Cubs conceded a goal early, when a failed clearance landed on a Pirate midfielder's foot. He lobbed the ball over the keeper into the top corner from distance, giving the Pirates an early 1-0 lead within the first 15 minutes of the game.
However, after the early goal, the game belonged to the Bear Cubs.
They immediately turned the momentum, relentlessly attacking for the rest of the half.
The Cubs put shots on goal in the 24, 29, 30 and 31st minutes, without a goal to show for it.
Finally in the 43rd minute, the equalizer came on a cross from Andrew Carlile, who put the ball at the feet of Diego Vasquez. He received the low cross and chipped the keeper with a heel flick that careened off of the post and into the net.
In the 45th minute MJC had a good chance, but Bear Cubs' keeper Andrew Tepping took the ball off of the attacker's feet.
The Cubs came out firing on all cylinders at the onset of the second half. They found themselves on the attack immediately, and a corner kick led to yet another scoring chance.
In the 50th minute, Carlile sent a looping cross into the box that required a spectacular controlling touch from freshman forward Angel Acevedo. He was nearly alone in the box, and slotted the Bear Cubs' second goal of the game into the bottom left corner.
With a 2-1 lead in the 59th minute, Bear Cubs' forward Omar Nuno sent a ground cross into the box, and the ball again ended up at Vasquez' feet. Vasquez stepped over the ball, and guided it past the keeper into the bottom right corner with his left heel, giving the Cubs a 3-1 lead.
Just 10 minutes later, a failed clearance from a Modesto defender bounced high, and into the possession of Carlile. Modesto's keeper quickly came out to meet the ball, but Carlile chipped the ball up and over the outstretched arms of the keeper. The ball snuck just under bar, giving the Bear Cubs a commanding 4-1 lead.
The game ended with a 4-2 Bear Cubs victory, giving the Cubs a 2-0-1 conference record, and a 5-3-2 overall record. Their next game is at 430 p.m. on
Oct. 3 at home against Napa Valley College.