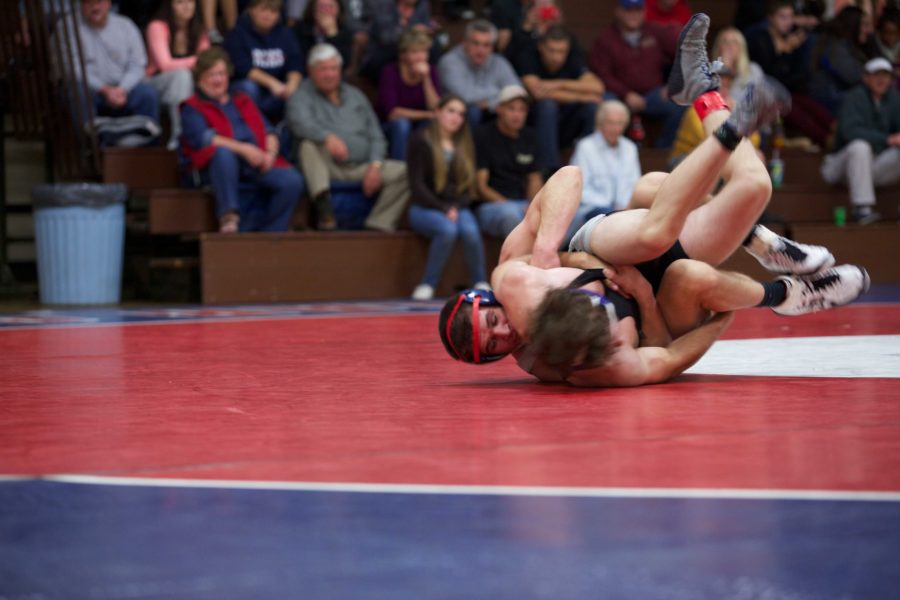 Joseph Barkoff
The Bear Cubs wrestling team is in the home stretch of the season with only a few meets left before the NorCal Regionals Dec. 7.
The team has been strong with an overall record of 7-4 and 2-2 in conference play.
The season started off well with two wins against Delta and Shasta. The Bear Cubs beat Shasta 31-17 and Delta 41-17.
The following weekend they placed fifth out of 10 teams at the Sacramento City Tournament on Sept. 21.
The Bear Cubs suffered a setback the next weekend with a short-handed team, and were shutout 48-0 by Lenmoore. The tough part was once they arrived at the meet, they only had 30 minutes to get ready, which is less than normal. "Driving made it hard," said head coach Jake Fitzpatrick.  Logan Fore, 133 pounds, was injured and Colton Farley, 285 pounds, had the flu.
The next night they placed eighth out of 10 teams, which was an improvement from the night before.  Jesus Moreno, 125 pounds, finished 3-3 and placed sixth. Aaron Pen–Kruger, 133 pounds, finished 3-2 and placed fourth. Pen-Kruger lost in the semi-finals 8-7. Kaden Martin, 165 pounds, was one match away from placing.  Jose Anaya, at 184 pounds, went 2-2.
They then beat Skyline 24-21, then placed eighth out of 12 teams in the Modesto Tournament Oct. 12. Daniel Larman, 157 pounds, placed fourth. Pen-Kruger went undefeated and finished first. At that point in the season, Pen-Kruger led the team with an 11-5 record and eight pins to date.
At the Meathead Movers tournament they placed 12th out of 16 teams.
Against Fresno State the Bear Cubs lost 42-3.
In their first home meet, Nov. 6, they placed fourth out of nine teams in the NorCal Dualmeet. After a first round bye they beat Delta 50-3, then lost to Sac City 37-6. After that they beat Skyline, 27-18 and Chabot 28-13.
The next week they wrestled Chabot again, and won a close one 24-22.
At the latest meet on Wednesday they lost 33-4 to Modesto.
They have the Sac City Duals this weekend and hope to get back on the winning track as the season winds down.
The Coast Conference Championship is on Nov. 23, and Fitzpatrick is looking for gold. "Hoping to come away with medals, [we] won tournament last three years," he said.
In the NorCal Regionals they are looking to make some waves. "Our goal is to qualify every weight class," Fitzpatrick said.
"Also, players have to step up; Daniel Larman, Isai Guzman, and Kaden Martin have to step up to qualify," Fitzpatrick said.
The Coast Conference Championships are at 11 a.m. Nov. 23 in Hayward.
The NorCal Regionals are at 9 a.m. Dec. 7 in Susanville.