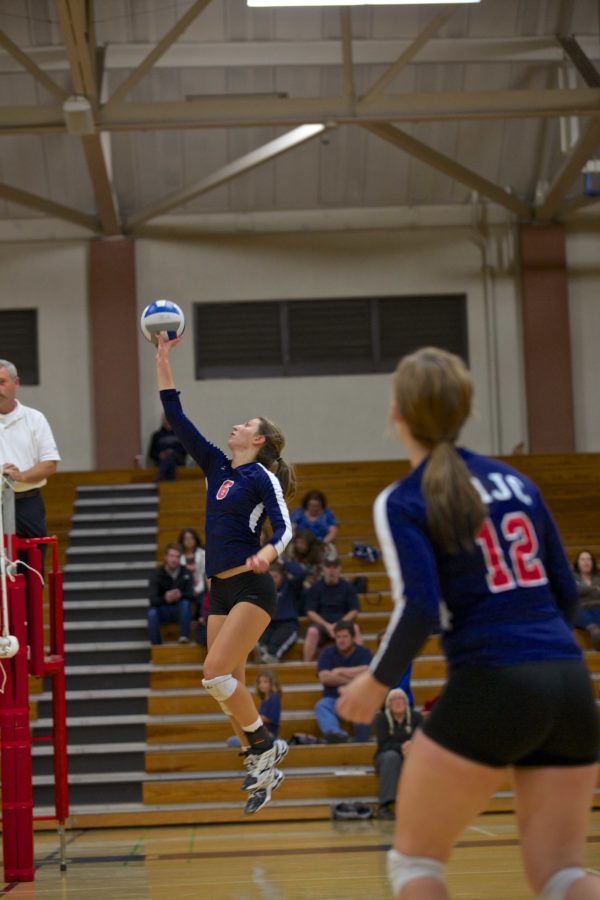 Joseph Barkoff
After ending a three-game losing skid with a decisive win against conference opponent Cosumnes River College, Santa Rosa Junior College's women's volleyball team is confident and ready to host their final home game of the 2013 season this coming Wednesday.
The Bear Cubs faced Cosumnes for the second time this season on Friday, taking three straight sets 25-20, 25-13 and 25-17. Melissa Manni accumulated 28 assists, Nicole Purter and Luisa McInnis each stole 11 and 10 kills respectively, and Coutnie Morton had five kills, six digs and served up two aces against CRC.
"I was happy with the win and I hope it was a good confidence booster for this coming Wednesday's match versus Sierra College. This is a huge match for us and it is sophomore night as well as our last home conference match, so hopefully that will fire the girls up," coach Kaitlin Ferguson said.
Looking to defeat Sierra on sophomore night for the season's rematch game between longtime opponents, the Bear Cubs are hopeful to repay Sierra for the 20-25, 18-25, 22-25 defeat in Rocklin Oct. 23. Sierra is one of the conference's tougher opponents in a conference where anyone can win on any given night.
After the tough losses the previous week against Modesto, away, and Delta, at home, a win at an away game could be a great confidence booster.
"All I wanted is their full effort and passion and they gave that last week so I really can't ask for more. Sometimes you end up with the win and other times you don't, but this time it wasn't for a lack of effort," Ferguson said after the loss to Delta. The scores against Delta were 24-26, 23-25 and 20-25.
With almost twice as many freshman as sophomores on the team it has been a silver-lining year for the Bear Cubs. It has allowed for a larger number of young women to step into roles requiring greater discipline, effort and commitment that might normally be expected of freshman—bolstering their ranks exponentially for next year's season.
This season is not over yet, not by a long shot, and with plenty of volleyball left yet to play, the Bear Cubs are fired up for sophomore day to propel themselves with a win into the post season.
The final home game of the 2013 season is 6:30 p.m. Nov. 20 in Haehl Gym.