Curry: He Gets No Respect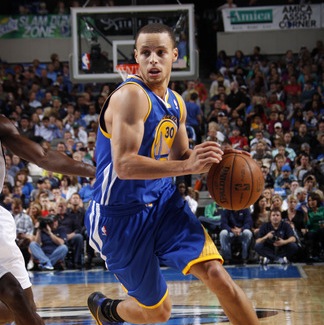 There is no doubt that Stephen Curry was the biggest All-Star snub of the 2012-13 NBA season. But after making shooting history, he could quite possibly be considered the biggest snub of the last decade. Maybe even the biggest snub of all time.
With 6:49 left in the second quarter during the Warriors vs. Trail Blazers' game April 17, Curry knocked down his 269th and 270th three-pointers to break the all-time record for most in a season, previously held by Ray Allen.
The Golden State guard is averaging a career high in minutes, points and assists as he leads his team to its first playoff appearance since 2007, and just its second appearance in 19 years.
But oh boy, am I just getting started.
Earlier this season, Curry scored a career-high 54 points in a loss to the New York Knicks at Madison Square Garden Feb. 27. Playing the full 48 minutes, he shot 18 of 28 (with 7 for 7 at the line) and shot 11 of 13 three-pointers. His 54 points were the most scored by an NBA player in a defeat since Kobe Bryant scored 58 in a triple overtime loss to the Charlotte Bobcats in 2009. Also, Curry's 54 points marked the most scored in Madison Square Garden since Bryant dropped 61 in February 2009. He is among the elite: just one of 13 players to ever score 50 points at the Garden.
Curry continues to set records. He is shooting nearly 46 percent from beyond the arc, making his incredible three-point accuracy almost unheard of. Only four players in NBA history have made at least 45 percent of their three-pointers while taking over 400 attempts in a season. Let's not forget to mention that Curry is only 25 years old.
In addition to a record-setting season, Curry is hands-down the most valuable player on the Warriors. He helped lock up the No. 6 seed in the Western Conference and ultimately led his team to face the No. 3 seed Denver Nuggets in the playoffs.
Shall I keep going?
Not only is Curry the Warrior's best player, but he is a likeable guy on and off the court, making him easy to cheer for. He is a popular guy among his fans and teammates.
But there's no way a young, talented, humble, deserving, classy fan favorite should play in an All-Star game. Am I right?
I can't be the only person hot and bothered over the fact that Curry was not able to participate in this year's prestigious NBA game. There's just no excuse for Curry not being there.
His statistics are mind-blowing and it is clear Curry is having the best season of his young career. So I continue to scratch my head in confusion, wondering why the purest shooter in the NBA was left off the roster to represent the Golden State Warriors for the Western Conference in this year's All-Star Game.
Stephen Curry deserves an apology and I want it now.