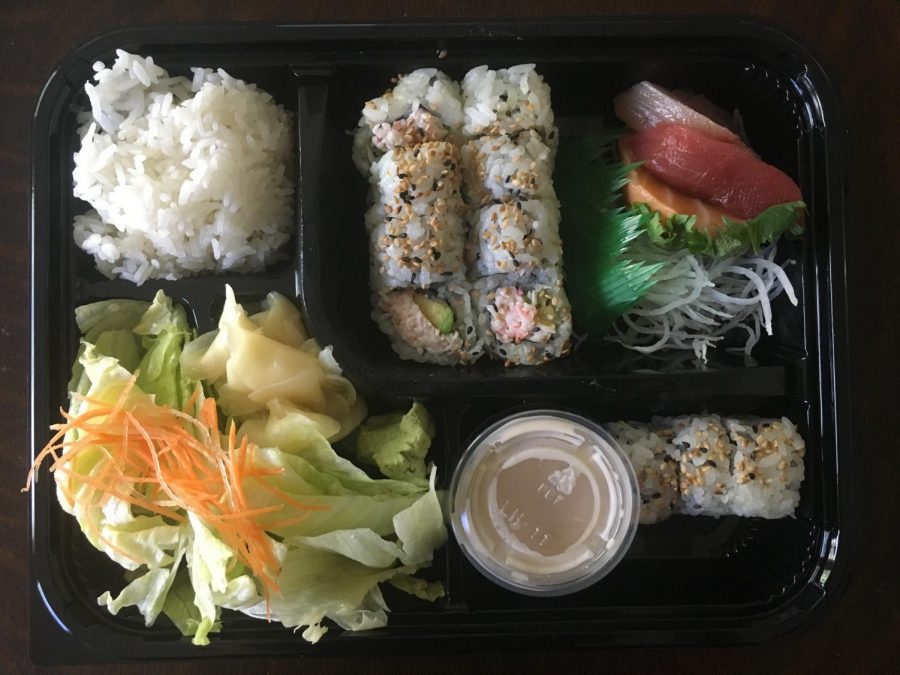 Rebecca Bell
Kabuki | 17 Petaluma Blvd N, Petaluma 94952 | (707)-773-3232| Most entrees under $15
4 of 5 Oak Leaves
Signature Dishes
California Roll, Chicken Teriyaki, Tuna Roll
Review
Desperate to try something a little different? Kabuki in downtown Petaluma provides the perfect opportunity to have a culinary adventure.
Sure, you can order the same Japanese food you've eaten before, like California rolls or beef teriyaki. But with their lunch bento box, you can mix it up with something new.
The bento box includes your choice of two main dishes from the bento box menu, plus miso soup, salad and rice. Depending on what you choose, it is either $10.95 or $11.95 at lunch for this filling meal. Prices go up significantly at dinner, to either $18.50 or $19.50 for the same meals. Since the food tastes just as good a few hours later, you can order mid-day but save your takeout for dinner.
The choices on the bento box menu include more common dishes like vegetable tempura and beef or chicken teriyaki, but also sashimi (thinly sliced raw fish), curries and a variety of sushis.
Beyond the bento box, are a multitude of other categories on the menu: appetizers, sushi plates, entrees, sashimi, nigiri, udon and ramen. For a filling comfort food, try the sesame chicken which is sweet and satisfying. If you're branching out, the "hot spoon" is a tasty choice you won't easily find elsewhere. It's spicy salmon and tuna wrapped in snapper and artistically presented with sprigs of cucumber poking up.
Let's face it, during the pandemic you won't have much opportunity for adventure. So why not get adventurous with your food?
table { width:100%;}table, th, td { border: 1px solid black; border-collapse: collapse;}th, td { padding: 15px; text-align: left; font-size: 150%;}table#t01 tr:nth-child(even) { background-color: #eee;}table#t01 tr:nth-child(odd) { background-color: #fff;}table#t01 th { color: white; background-color: black;}
The Breakdown
Category
What were we looking for?
Score out of 5
Packaging
Neat? Sustainable? Did they remember cutlery? Napkins? Condiments?
4
Hygiene
Was clerk wearing gloves? A mask? Both? Neither? What were the pick up and waiting areas like? Clean/neat?
4
Speed and accuracy
Food was on counter ready for pickup
5
Portion size
Was it filling or were you left wanting more?
4
Leftovers
Were there leftovers and, if so, did they reheat well?
4
Quality of Food
Freshness, quality of ingredients
5
Tastiness of Food
Flavor, spice and texture
4
Customer Service
Friendliness, responsiveness
4
Overall Rating
With 5 being a perfect score, this restaurant rated:
4