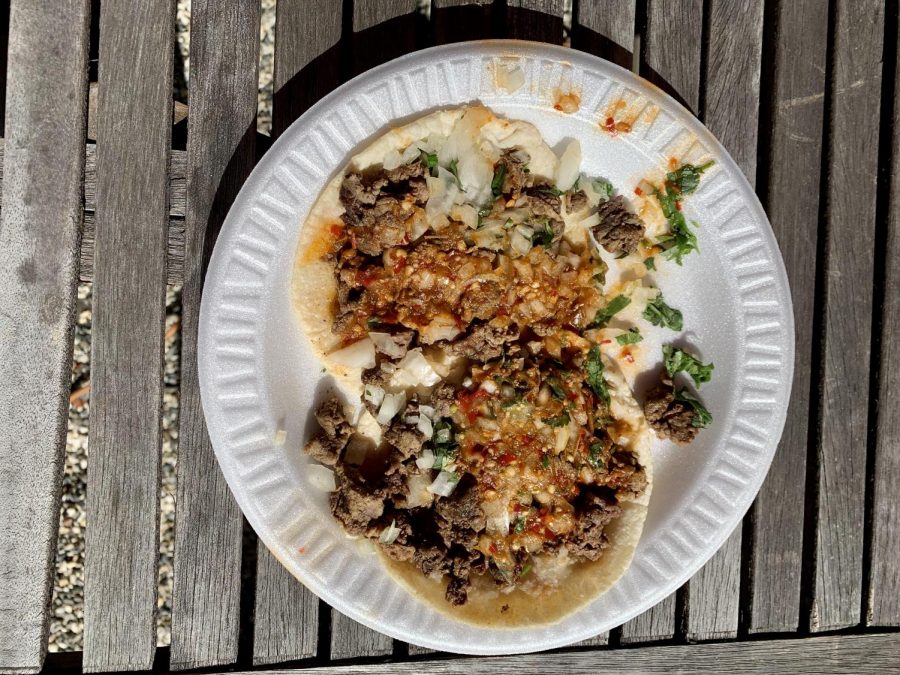 Maritza Camacho
Taqueria Molcajetes Café | 1195 W College Ave., Santa Rosa | (707) 544-8280 | Most entrees under $20
3 of 5 Oak Leaves
Signature Dishes
Mojarra Frita, Super burrito (chicken), Tacos (carne asada), Molcajete mixto
Review
Taqueria Molcajetes serves food that brings back memories of family and home, especially during lonesome quarantine times. The service is safe and caring; employees treat you like family, and it shows with the presentation of the food and packaging. Large portion sizes and small details, such as adding salsa and chips, homemade tortillas plus rice, beans, and salad with two of the entrees, all without being asked, elevate the overall experience.
This family-owned business offers a large variety of entrees, however some can be a hit or miss in flavor. The mojarra frita, or fried fish, is much larger than expected, and tasted as fresh as if it was just pulled from the ocean. The fish's texture was tender and soft, however it lacked seasoning. The carne asada tacos are like taking a bite of Mexico. The meat can be a little dry, however the salsa and lemon hide that factor and bring the tacos zest and spice, with a warm homemade tortilla to accompany them.
The grilled chicken super burrito disappoints. One bite tastes like a large spoonful of salt. The salty rice and beans overpower the chicken, which seems almost nonexistent. A burrito needs a good balance of ingredients to be satisfying. Nonetheless, the portion size is perfect for the super burrito and the ingredients are fresh and hot.
One of the most popular entrees is the namesake molcajetes. Although on the pricier side at around $25, you get a lot for what you pay for. The mixto molcajete includes carne asada, chorizo, carnitas, shrimp, cheese (queso asador), grilled cactus, onions and salsa. The meat is cooked perfectly, tender and rich in juicy flavor. The chorizo tastes a bit on the undercooked side and the carne asada is too tough at times. The cheese could be grilled longer to be crispier. Even though the experience of eating a molcajete is not the same without the actual molcajete, the immense portion size makes up for it. The leftovers maintain the explosion of flavors even after reheating, which compensates for the larger bill.
Taqueria Molcajetes is a family business to support during a pandemic because they will support you too with their comfort flavors of Mexico, especially if you order the mixed molcajetes.
table {
width:100%;
}
table, th, td {
border: 1px solid black;
border-collapse: collapse;
}
th, td {
padding: 15px;
text-align: left;
font-size: 150%;
}
table#t01 tr:nth-child(even) {
background-color: #eee;
}
table#t01 tr:nth-child(odd) {
background-color: #fff;
}
table#t01 th {
color: white;
background-color: black;
}
The Breakdown
Category
What were we looking for?
Score out of 5
Packaging
Neat? Sustainable? Did they remember cutlery? Napkins? Condiments?
3
Hygiene
Was clerk wearing gloves? A mask? Both? Neither? What were the pick up and waiting areas like? Clean/neat?
4
Speed and accuracy
Food was on counter ready for pickup
5
Portion size
Was it filling or were you left wanting more?
3
Leftovers
Were there leftovers and, if so, did they reheat well?
3
Quality of Food
Freshness, quality of ingredients
4
Tastiness of Food
Flavor, spice and texture
3
Customer Service
Friendliness, responsiveness
5
Overall Rating
With 5 being a perfect score, this restaurant rated:
3