Balancing motherhood and my education
Hang on for a minute...we're trying to find some more stories you might like.
Life as a full-time student has always been challenging. Going back to school as a mother with two young children is even more difficult. There is, however, a gratifying feeling, knowing that I am choosing to better myself for my sons.
My junior year at San Jose State University, I suddenly found that I was expecting my first child. In that moment everything changed for me as a student. I decided to withdrawal from the college and start a family.
I now have two beautiful, intelligent, hilarious boys whom I adore with all my heart. Their names are Nico, 4, and Noah who just turned 3. They are full of energy and keep me very busy.
Motherhood is the most rewarding thing that ever happened to me. My entire life changed for the better when I had them. The joy, laughter and love my children bring to me is priceless. They make me incredibly happy and I am blessed to be their mom. The unconditional love and bond between a mother and her children are unbreakable. To me, they are the definition of true love.
As much as I cherish motherhood, it's hard work. These little human beings depend on me for everything and anything. I am responsible for their health, diet, grooming, potty training, education, social skills, growth and development, playdates, appointments, sports, meltdowns, and everything in between. There is an endless list of what goes into raising young children. People without children can not even begin to comprehend how much goes into being a parent.
Now that my sons are both in preschool, I'm back in school. Getting back into the swing of things after five years has definitely been demanding.
The biggest obstacle is finding the time to study, and work on assignments. I strategically map out my days with them, so that I have the time to get school work done. When they go down for a nap is the best time to get to work.
Once they're awake, they're recharged and ready to go. I usually take them to the park or on a hike to tire them out and enjoy the evening with them. After cooking dinner, feeding and bathing them, it's time for bed. And when they're finally asleep, I read, study and complete assignments until about 1 a.m.
Our day starts all over again at 6:30 a.m. I'm up before the boys, so I get dressed and pack their lunches for school. After a quick breakfast I drop them off at preschool, where they attend two days a week.
I have those two days to get 15-units worth of school work and studying finished. The second I pick up my children from preschool, I devote myself to them as a mother.
Between school and raising children, I rarely have a social life. I often get invitations to go out with friends and classmates. I have to decline because I am in Sonoma County without my family to help watch my kids. I can't begin to tell you how many friendships and relationships have vanished since I returned to school.
The emotional aspect of being a mother, on top of fulfilling my academic goals can be overwhelming. As a mother I must have an incredible amount of patience for my children. Managing two toddlers so close in age and being a full-time student has totally tested my patience. Some days I am so exhausted and tremendously stressed out and there are some days I don't even feel human.
"Mom guilt" is a real deal. There are so many occasions that I go to sleep heartbroken because of what I could've done better. There was a time I took my kids to the local park. Nico and Noah were playing with other children while I was catching up on my reading for the week. I was so deep in my reading I didn't hear another child's mother reprimanding my son for a conflict that happened on my the playground.
She was wagging her finger, screaming accusations at my kids. I did not appreciate the words, tone and gestures she thought was okay to do to another person's children. I furiously rushed over to the nasty woman to stop her from scolding them. The looks of confusion and embarrassment on their faces is still vivid my my mind. I was unquestionably livid. I let her know how rude and inappropriate she was for the harsh tongue-lashing she thought was ok to do to my kids. To this day, the mom guilt affects me.
So as you can see, juggling school work and being a mom is not as simple as people may think. It's a balancing act that I'm still trying to master.
I remember another night when Nico and Noah wouldn't go to bed. They were both throwing the most intense, relentless tantrum, and I had an extremely important debate the next day for my speech class.
I begged and pleaded for them to calm down so that I could prepare for my speech. After half an hour of pleading with the two of them, I had to walk away. Abruptly, I accidently I slipped and fell on one of their Hot Wheels that was lying on the ground. There I was flat on my back, crying my eyes out, praying to God for mercy.
I broke down and surrendered to the overload of stress, tension and anxiousness. To my surprise, they stopped their screaming and hollering to help me up. They gently kissed my forehead, hugged me tight and gave me the sweetest apology and crawled into bed where they finally drifted off to sleep.
It's a memory I'll never forget and a constant reminder that what I am doing for our family will be worth it.
Despite all the hardships and challenges that come with being a student with children, I feel humbled by this opportunity to accomplish my academic endeavors. I have strong motivation from my sons to succeed. They are my inspiration to be the best student and mother I can.
When I get overpowered by the stress, I remind myself I'm doing this for their future. This is my second and last chance to teach my children the importance and power of education. I want to teach my sons to never give up, that they can reach their ambitions and dreams, no matter what barriers you are faced with. As their mom and a student, I aim to be a role model that anything is possible through perseverance, courage and determination.
It's been a year and a half since my first semester at Santa Rosa Junior College. In the fall, I will transfer to Sonoma State University as a English literature major. I've met wonderful professors and amazing friends here at SJRC, and I will forever appreciate my time here on this campus.
I look forward to my future as a student at SSU and I am ready for whatever comes my way. It's been a long, laborious journey so far but I am grateful for my experience. To all the other mothers reading this, I am proud of you and keep going!

About the Writer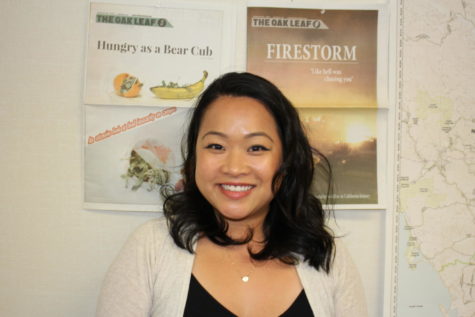 Terry Meunruakham, Staff Writer
         My name is Terry Meunruakham. I was born and raised in San Jose, California. Shout out to the Bay Area! In 2011, I attended San Jose State...