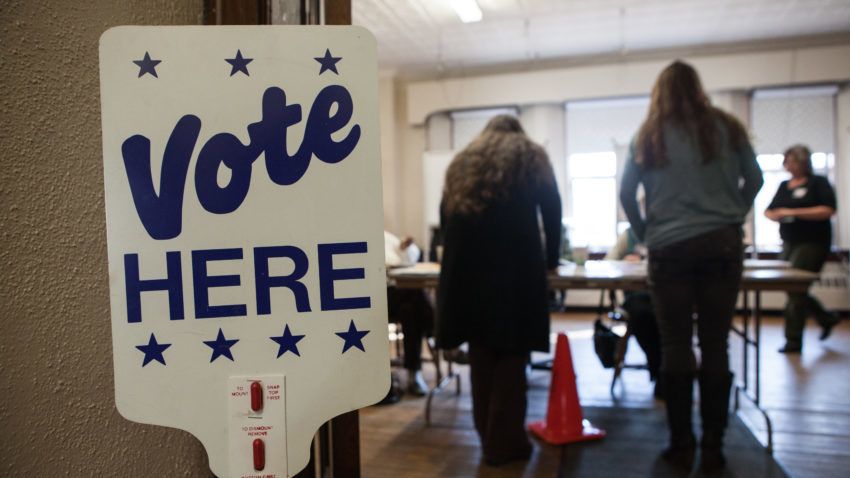 Courtesy of Boston.com
"We are the only advanced democracy that makes it deliberately difficult for people to vote," said President Barack Obama in an interview with the student newspaper at Rutgers University.
Every four years we are subject to our civic duty to choose our nation's leader. This duty ensues in an intense and controversial campaign process coming to a head on Nov. 8.
Students should be aware of the role they play in our society and government, especially when it comes to the election process. The Campus Vote Project estimates the student demographic of young adults makes up 21 percent of the eligible voting population.
Statistics Brain Research Institute states more than 200 million Americans are eligible to vote, and only slightly over 100 million are actually registered. Just 69 percent of those registered say they will vote in the 2016 presidential election. According to their research on voting turnout statistics, the top reason cited for not voting is scheduling conflict.
Santa Rosa Junior College continues to have classes proceed as normal on election day. Although this day only comes once every four years, no leniency is given to students to allow them to make it to the polls.
Madison Leighty, an SRJC student, reflects on having classes on election day. "It's a right all citizens have. We should have the chance to vote," she said. "We should have the day off to exercise our most important right. It should be like any other holiday."
Leighty said she felt Nov. 8 should be like any other national holiday because it gives people the chance to change the nation.
Pew Research Center found the United States is trailing behind many other nations in voter turnout. The U.S. saw only a 53.6 percent turnout in 2012 whereas Belgium had one of the highest turnouts at 87.2 percent.
During the primary election on June 7, 2016, out of the total number registered voters in Santa Rosa (254,104 residents) only 64.9 percent participated, according to the County of Sonoma Registrar of Voters.
Out of that 64.9 percent of registered voters, only 15.1 percent, or 38,296 ballots, were cast at the polls rather than a mail-in ballot. The rise of mail-in ballots suggest it is difficult for some to make it in person when an election day is placed on a weekday.
An alternative to making Nov. 8 a national holiday would be to switch our Election Day with Veterans Day, which is observed on Nov. 11. Martin Wattenberg, a journalist for The Atlantic, suggested we could combine the two days and create Veterans Democracy Day.
Simon Isaksson, a Swedish international student at SRJC and  political journalist, is disappointed the college isn't giving their students the day off to go and cast their votes at the polls for this upcoming presidential election.
"The only way for a democracy to fully work is if people can fully participate," Isaksson said. "If the JC gave their students time off to go and vote, it would send a message that voting is something important. You wouldn't even know that there was a huge election coming up, because there is no sign of it on campus."
According to the Pew Research Center, in Sweden 82.6 percent of registered voters participated in the 2014 presidential election compared to 53.6 percent in the United States 2012 election.  This fact did not surprise Isaksson. "In Sweden, election day is always on a weekend, compared to weekdays in the U.S., so students never have a problem with school interference, which allows them to make it to the polls."
The closest polling location to SRJC is the Steele Lane Community Center, which is a 13 minute walk from campus.
However, each registered voter is designated to a specific polling location depending on their address. If a student would like to cast a vote at the Steele Lane Community Center, but is registered and on the roster of a different polling location, that student would be subject to vote with a provisional ballot.
"If you vote in the wrong polling place, you will likely not receive a ballot with all the contests in which you are eligible to vote," according to the "Frequently Asked Questions" portion of the Registrar website concerning polling locations.
According to the County of Sonoma Registrar of Voters website, polls will be open in Santa Rosa from 7 a.m. to 8 p.m. Many students juggle school and part-time or full-time jobs.
Universal Suffrage was intended to grant everyone an equal opportunity in the voting process. This should not, and cannot, be hindered by social background or status.
Therefore, as students we should be allowed to have a pardon from classes so we can fulfill this duty. We should be able to participate fully in the live coverage and analysis of the day's events.
SRJC President Dr. Frank Chong gave no comment on the issue by press time. As Obama pushes for election day to become a national holiday, SRJC students have classes as planned on this year's 2016 Presidential Election.