"A'ho" echoed all over the Santa Rosa Junior College campus Oct. 9 as Indigenous people gathered from all across California, the Americas and the world to help reclaim Indigenous Peoples' Day and celebrate their culture.  
Through scattered showers and brief spells of sunlight, the SRJC community gathered on campus to celebrate Indigenous Peoples' Day and, as event organizer and behavioral sciences instructor Brenda Flyswithhawks said, "remember who we are and where we came from."
After an opening prayer, Dr. Flyswithhawks presented a traditional welcoming robe to SRJC President Dr. Angélica Garcia and an elder blanket to humanities and religious studies instructor Dr. Mary Churchill. 
Every speaker and every performance was met with an "A'ho" from those in attendance. Although there are many Native American languages across even more tribes, the "A'ho" serves as an almost universal affirmative, similar to "amen" for certain religious people. It can also be spelled "Ohooo" and pronounced without the"A". The "Ohooo" spelling is more common among local tribes and others around California. It's meant to express gratitude and agreement, two sentiments repeated frequently throughout the four-hour long celebration.
Although the day formerly known as Columbus Day carries a grim history, speakers did much more looking ahead toward the future than recounting the horrors of the past. 
Lorelle Ross, vice chair of the Federated Indians of Graton Rancheria, stressed the importance of reclaiming artifacts and ancestors' remains owned by college campuses throughout the state.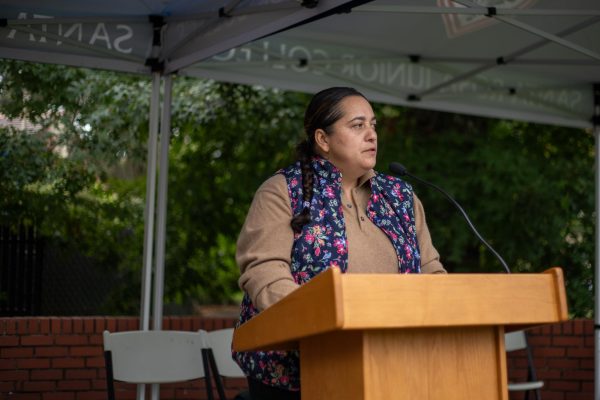 "In 2021, the auditor of the state found that the UC and state colleges overwhelmingly failed to return and inventory the collections of our ancestors and cultural items required under law," she said.
In June, an audit found that the California State University system possessed more than 700,000 Indigenous artifacts and has only returned 6% of them to tribes, despite a 33-year-old federal law requiring their return. 
Ross suggested employing a "never give up" mentality and implored those in attendance to not remain complacent. "There is still work to be done for our ancestors," she said. 
Locally based groups of Native community members performed ceremonies on the grass, Danza Xantotl de Santa Rosa and the Sonoma County Youth Pomo Dancers ended up actually dancing through some rain. Danza Xantotl de Santa Rosa is made up of SRJC students, staff and alumni. They called their final dance the friendship dance and invited people from the crowd to join in their circle and hold hands. 
Along with the dance groups, the event also had the Native Resistance Drum Group sing a few songs for the crowd. The songs didn't have lyrics a non-Indigenous person would know the meaning of, but the emotion in the singers' voices told the whole story.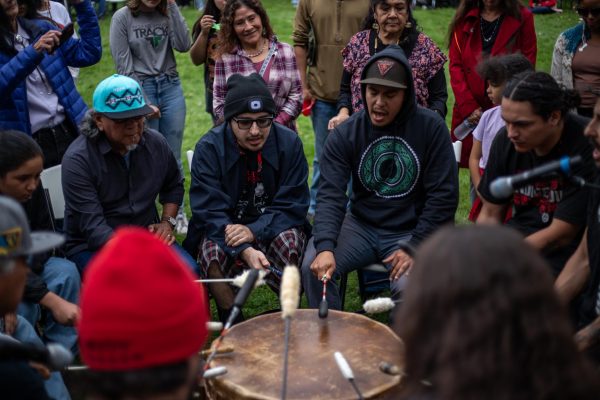 Adam Villagomez, leader of the drum group, introduced every song and explained the meaning behind each one. One was about the power youth has to continue traditions and bring back the old ways, another was about honoring women and everything they do. Some of the crowd stepped up to huddle around the group as they sat and sang while playing their single drum, a few even joined in with the group's singing.
Attendees could sample Native American foods like frybread, corn and Indian tacos. Students on campus for their classes stopped by for lunch and kept the Indian taco line long for the whole event. 
Despite all the joy and celebration and gratitude shared for one another, several speakers wanted to make sure those in attendance understood there is still much work to be done both at the community level and in terms of federal legislation. The first Indigenous Peoples' Day celebration on SRJC's campus took place in 2016.  The holiday wasn't formally recognized by a sitting U.S. president until Joe Biden did so in 2021.
Erika Luna Hernandez Ramirez, one of the students who helped write the resolution to establish Indigenous Peoples' Day at SRJC, spoke to those in attendance about the importance of culture. Now an SRJC alumni and the co-executive director of the Indigenous Healing Center, she continues her work for Indigenous people.
"We believe that culture is our first medicine," she said.
Attendees could peruse dozens of booths with information about organizations from both inside and outside the Sonoma County area, including the Alliance for Felix Cove, the Inter-Tribal Student Union and the SRJC Multi Cultural Museum. 
The Inter-Tribal Student Union, a relatively new organization at SRJC, is looking to add new members, both Native students and non-Native students who are allies to the cause of improving representation of Indigenous students at the college. 
ITSU co-President Jacob Elliot said he hopes the group can make more Indigenous students "feel confident and proud of their culture."
Even though the day was a holiday, SRJC was still open for classes. When asked about the possibility of getting Indigenous Peoples' Day as a recognized day off for SRJC, Dr. Flyswithhawks said it was something she is working on.
California also has a Native American Day that falls on the fourth Friday of September, but Dr. Flyswithhawks wants to make sure Indigenous Peoples' Day gets the same recognition and classification. 
A silver lining of the campus staying open was that students passed through the event all day, which improved the turnout and got more eyes and ears on the event. 
"We are Indigenous people and that gives us strength," Ross said during her speech. "We are all students of life, there is education to be learned from our elders and our community."