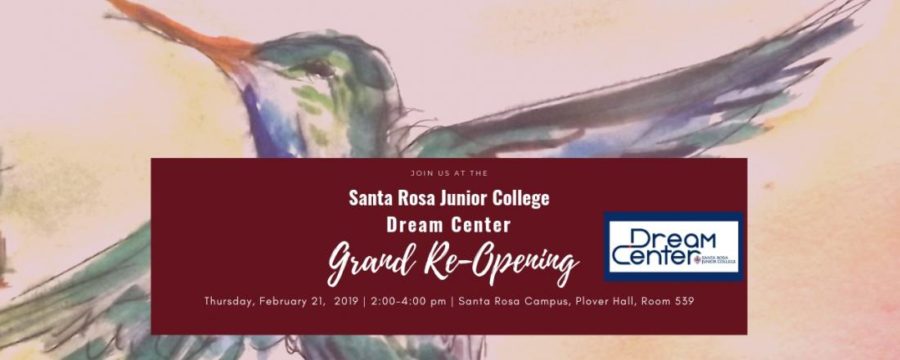 Courtesy of SRJC Dream Center
The Santa Rosa Junior College's Dream Center is celebrating its re-opening from 2-4 p.m. on Feb. 21 at the Santa Rosa campus in Plover Hall room 539 and will now offer free legal services as part its expanded features.
This February SRJC's Dream Center went under expansion and will begin a new relationship with Vital Immigrant Defense Advocacy and Services (VIDAS), which provides free legal advice and other services to undocumented students.
This new partnership with Vidas "will likely emerge as a cornerstone in best practices for Community College Dream Centers," according to the Dream Center page on the SRJC website.
"[The event] is going to be about reintroducing the space to the community," said Dream Center Coordinator Alma Valverde.
The new location intends to provide a safe environment for undocumented students, acknowledging the struggles these types of students go through in higher education, according to the SRJC website.
The college also intends to provide special programs for undocumented students. Like the Undocumented Student Week of Action, which the California Community Colleges Board of Governors declared would be a week of advocacy and activities to build awareness about undocumented students, with the first one taking place Oct. 15-19 in 2018.
SRJC President Dr. Frank Chong or Vice President of Student Services Pedro Avila will give a short speech at the event, according to Valverde.