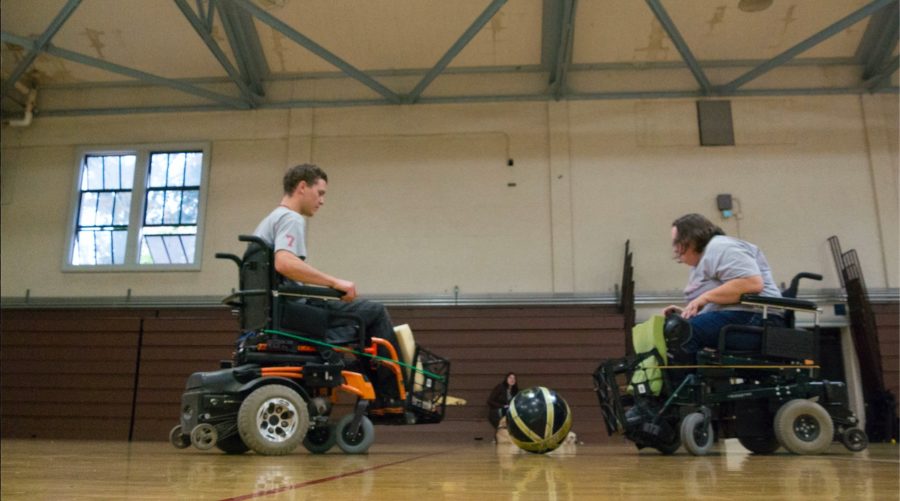 Tom Rivas
Ian Kinmont sped down the court and back before practice started. His wheels uttered a steady growl as he moved. His face was serious.
Satisfied with the conditions, Kinmont got things going.   
"If you spin to the right, you're more likely to kick the ball out of bounds, so turn towards the goal box," he directed his players.  "That was perfect. One more round and we'll have a scrimmage."
Kinmont, a 24-year-old student, is the president and coach of the Rolling Bears Power Soccer club at Santa Rosa Junior College. Power soccer is an internationally recognized sport designed for people of all ages and genders who use a power wheelchair.  
Kinmont, who has cerebral palsy, has played since he was 14 and is a standout player for his club, the Berkeley Shockers. He found love for the sport playing under the United States' top coach and he's brought his enthusiasm to the Rolling Bears, which is the only club of its kind at a California college.  
Kinmont's interest in power soccer rose when his coach Chris Finn represented Team USA in power soccer's first World Cup in 2007 in Tokyo.  Finn led the United States to victory there and at the 2011 World Cup in Paris.   
Finn is the only coach Kinmont has ever known, and Kinmont has won multiple tournament MVP awards to go with a 2014 national championship with the Berkeley Crushers under his tutelage. 
But Kinmont doesn't have World Cup aspirations of his own, as a coach or as a player. His goal is to help power soccer grow.
"I just want to help other people learn to play power soccer well.  I like to see people improve on their skills," Kinmont said. "It makes me feel happy."
When the Crushers moved up a division, Kinmont chose to play with the newly formed Shockers so he could help newer players.  
"He's on an actual team that travels. To bring that culture to Santa Rosa and SRJC is really beneficial for our students," said club advisor Nick Rogers. "We are very fortunate."   
Hanging out with his peers is a big perk too.  "I met a lot of my friends [playing power soccer]," Kinmont said. 
Access to team competition means a lot to members of the Rolling Bears because power soccer is one of the only sports designed for people who use a power wheelchair.  
"Oh it feels great. It feels like you're normal again," said Karen Washburn, a third-year member of the club. "I lost a leg in 2011 and just was looking for something fun to do."
While you don't have to be an everyday wheelchair user to play power soccer, most players are disabled and need a wheelchair off the court as well as on.
Washburn's physical education instructor recommended the Rolling Bears to her because she likes to go fast in her non-powered chair.  
"It's nice that you can come out and pass the ball and go fast and score goals and meet a group of people and have people cheer for you," Washburn said. "You just kind of belong again."  
Finding opponents for the Rolling Bears, however, has been difficult. The club needs more chairs equipped with metal foot guards that assist with kicking and safety.  For now the team uses makeshift guards made of plastic crates with foam against their legs for comfort. 
"We have been raising money.  Almost all of the players now have metal foot guards," Kinmont said. "Once we get those then we'll be able to play [more] teams."
Another challenge the Rolling Bears face is they're the only club of its kind at a California college, according to Blaze Baril. Baril is a family friend of Kinmont and helped start SRJC's club in 2013.  He does not use a power wheelchair in daily life but occasionally fills in at team practices and helps referee. 
"I think it's his biggest passion in his life and his biggest focus, so it's really cool that he's been able to bring that to people," Baril said.     
Bob Pete has been a member of the Rolling Bears for two years. As a younger man he stayed active by swimming and playing tennis, now the physical education student can achieve that feeling again.
"It's great; it means a hell of a lot," Pete said.  "Otherwise I'd be home watching TV. It's really fast. You're winging around, having a good time."
Kinmont and Rogers want to help more students. 
"There are so many disabled people in this area that could benefit from this and we're always looking for more players to come and join the club," Rogers said.  "I think it's an amazing sport."
Kinmont's vision for the future is a Sonoma County club that's open to everyone, not just students.  Sonoma residents are welcome on Kinmont's Berkeley team, but not everyone can get to Berkeley for practices and games can be as far away as Sacramento and Fresno.    
"I can hardly wait until they bring [a team] to this area," Washburn said.  "I think that would be really great because a lot of us don't drive."
And there are other issues besides transportation. Large tournaments have trouble accommodating thousands of wheelchairs, and players have to pay their own way. The last national tournament was cancelled due to budget and space issues, according to Kinmont.  
"Finding a facility to play soccer in is still a hassle unfortunately," he said.
But you can still find the Rolling Bears practicing in SRJC's Tauzer Gym every Friday at noon.
"I think this is a place where they can come and be themselves and really have fun," Rogers said from practice. "We always leave here feeling great."
Thanks to Kinmont, students who use wheelchairs can play a team sport for reasons everyone recognizes: camaraderie, fun, competition and escape.  
"Ian's an excellent coach," said Shawna Bynum, a four-year club member. "He brings us out of our shell."