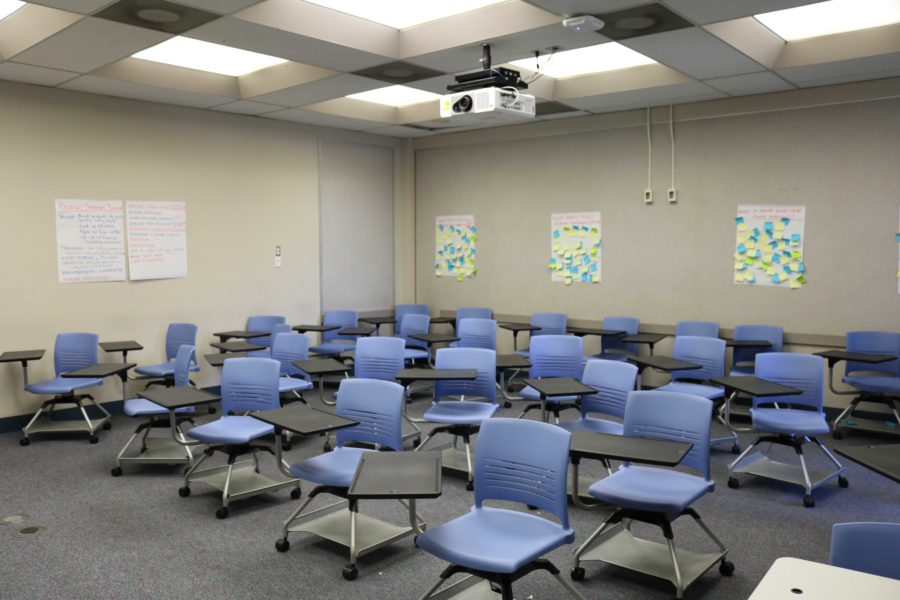 Arthur Gonzalez-Martin
This fall, Santa Rosa Junior College premiers eight new demonstration classrooms on its Santa Rosa and Petaluma campuses.
The new classrooms are strategically scattered throughout different locations, including Emeritus, Race and Maggini buildings in Santa Rosa, and the Richard W. Call building in Petaluma.
As the college's centennial approaches, the college is focusing attention on the need for upgrades to both campuses. The new classrooms will be renovated with funds from the Measure H bond that passed in November 2014.
The need to turn around and strain in your seat to converse with classmates may be a thing of the past. The new classrooms include individual desks on wheels, portable group tables, LED lights that dim for presentations and more whiteboards for faculty and students. The new seating is constructed with flexibility in mind. Brand new carpet and new projectors are also part of the plan.
"[The seating] is one of the things we're considering. It's an important feature," said development coordinator Mary Sandberg.
"Next spring there will be upgraded projectors that will be replacing the older models. Faculty and students will be able to project directly onto the whiteboard instead of a screen," said Mike Roth, manager of the instructional computing department.
Results from a student and faculty survey show that 55 percent strongly agree the rooms configure easily and support methodologies and learning style.
"The desks are super comfortable and I love the cup holders they have," said student Ryan Jimenez.
Plans for more upgrades using the Measure H bond are in development, and are part of the facilitated master plan.
"There are always plans for upgrading," Roth said. "There is a lot of unknown and these things take time."