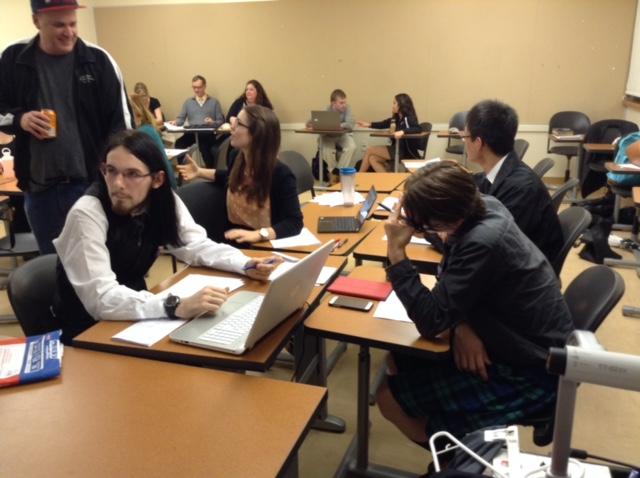 Courtesy of Justin Webster
The nationally ranked Santa Rosa Junior College forensics team continued domination of the collegiate debate circuit after it was crowned champions of the Chabot Gladiator Invitational in Hayward Jan. 29.
The SRJC debate team is ranked No. 3 in the country and No. 2 amongst community colleges nationwide.
Hal Sanford, director of the SRJC forensics department, attributes the group's success to "invaluable team coaching and group preparation."
Sanford spoke of the team's dedication to excellence. "We have had a lot of intelligent people, but this team is able to discipline that intelligence with hard work," he said.
In the open division parliamentary debates, Kevin McDermott-Swanson and James Rogers decimated the field of orators, finishing the tournament unbeaten.
Virginia Kerr and Bailey Farren argued their way into the semifinals, and in the novice division Bear Cub standouts Lanea Florence and David Shen advanced to the semifinals.
Kerr attributed the group's success to their dedication and cooperation. "I've never been with a group of students more accepting and encouraging of one another," she said.
Debate topics range from U.S. immigration policy to the winner of this year's Super Bowl. Kerr said harmony is crucial and the Bear Cubs have been singing their victory song for all to hear.
In parliamentary debate, the topics are heard 20 minutes before arguments begin, then the entire team develops and arranges cases during "prep."
McDermott-Swanson, who received an award for speaking excellence, addressed the team's effectiveness. "The primary reason SRJC has been so successful is because we are able to share information more quickly and effectively than other teams during prep," he said.
The SRJC forensics team is more than a bunch of smart students who can articulate and win trophies.
McDermott-Swanson said, "I have made more lifelong friendships on this team than in any other class…and I think faster."