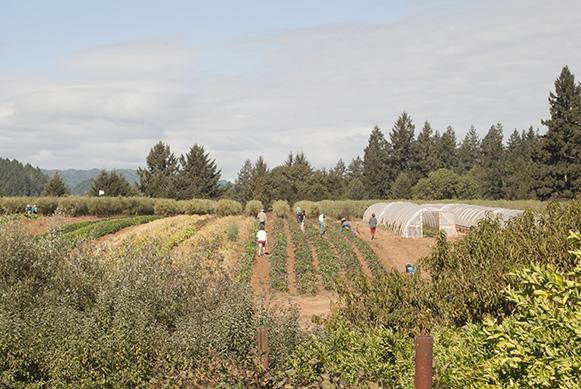 Brooks Blair
As the first community college in the state to receive a National Science Foundation grant to promote sustainability and sustainable agriculture education, Santa Rosa Junior College is ahead of the game.
"That's our mantra. Everything we do here is sustainable," said Ganesan Srinivasan, dean of agriculture, natural resources and culinary arts. "If you're not sustainable it's very difficult for a small farmer to survive here."
SRJC is the only community college with a certificate program in sustainable agriculture. It is one of our fastest growing programs. We live in a region where organic farming and sustainable practices are the norm, not the exception, so it's not surprising students are interested in learning about these practices.
Starting with an intro to sustainable agriculture, classes involve organic practices, composting and certification. Classes are a mix of entry level students and established farmers who want to learn new techniques.
Sonoma County wants 100 percent of its vineyards to be completely sustainable by 2020. The 84-acre vineyard and winery on Shone Farm is already there. They're reducing water, chemical and energy use by using recycled water on the vineyard and using wood from their own forest on the farm.
Shone Farm has planted 150 acres of forest, teaching forestry students and park management. All lumber taken from the forest is used for fencing and other projects on the farm, so it's all recycled. The Tiny House Club is even working on its first house from lumber harvested on the farm.
SRJC's cafeteria gets a lot of its food from Shone Farm and all waste coming from it and the culinary café goes back to Shone Farm where they can do the composting. They use drip irrigation, so the plants receive just how much they need as opposed to flat irrigation.
Srinivasan has future plans to go far more into solar in the fall, although he has already bought a solar powered electric cart for taking visitors around the farm and plans to put some solar changing stations in. Most of the produce grown on the farm (all organic) goes towards the Shone Farm Community Supported Agriculture, although quite a bit supplies both the culinary café and sometimes the cafeteria.
In a perfect world, Robert Ethington, dean of student affairs and engagement programs, sees a bike/pedestrian bridge between Coddingtown and Elliot, something the city is looking into, a pedestrian/bike only Elliot Avenue and a shuttle between the Petaluma campus and the Santa Rosa campus.
Members of the SRJC Sustainabilty Collaborative have created the Green Print Project, a plan to help create a culture of sustainability on campus. The plan details 18 objectives to be completed by 2018, ranging from aligning water, food and waste with the best sustainable practices, to assuring green building and sustainable facilities to implement sustainable SRJC lectures and events.
They also plan on establishing sustainable transportation improvements, increasing community outreach and collaboration. The collaborative is not only trying to increase the visibility of this plan and the brand which is a sustainable SRJC, they're focusing on making a sustainable life a little easier for students.
The collaborative is hosting a "Transportation Innovation Forum" on Sept. 23, attended by SMART Train, the Bike Coalition, Santa Rosa City Transit, Sonoma County Transit and the Sonoma County Transit Authority. The forum will focus on what they can do to make students feel more encouraged to either ride their bike or take the bus, rather than drive their car.
Another proposal the collaborative is working on is the Real Food Challenge, getting SRJC's food service vendors to agree to certain criteria for the food they serve, such as humane regulations and local, organic and fair trade.
One of the college's goals going forward is creating a culture of sustainability. The SRJC Sustainability Collaborative, comprised of 23 students, faculty and administration, is hoping the Green Print Project is a plan for how we can get there.