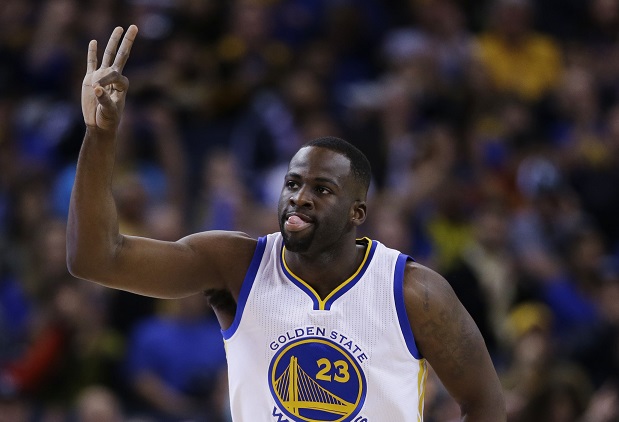 Courtesy of Inquirer.net
The Warriors will return to the NBA Finals this season thanks to a huge contribution from the best player on the team: Draymond Green.
He is listed at 6 feet 7 inches and about 230 pounds, but you wouldn't know it from the way he plays. Whether playing power forward or center, Green dominates. He takes advantage of any mismatch using his speed, 7-foot wingspan and mental toughness. Whether he is shutting down Anthony Davis in the first round of the 2015 playoffs, making Timofey Mosgov chase him around on offense or switching to LeBron James and Kevin Love on defense in the finals, Green always comes out on top.
Green prides himself on his defensive prowess, narrowly losing the 2015 Defensive Player of the Year award to San Antonio Spurs' Kawhi Leonard. He never backs down from someone bigger than him and it's rare to find a player capable of escaping him. His ability to switch on and defend any player on the court gives the Warriors an edge no other team has.
Green's influence on the Warriors shows the most in their small-ball lineup. When the Warriors take out Andrew Bogut, put Andre Iguodala at small forward, slide Harrison Barnes to power forward and Green moves to center, he plays like no one else in the league.
His teammates and coaches from high school to the NBA continually praise him for his work ethic, team play, unselfishness and motivation. Even after defeating the Cavaliers in the NBA finals last year, Green found a way to fire up his team to start the season with a 24-game winning streak, and as of now, an NBA-leading 49-5 record.
Before entering the league in 2012, selected by the Warriors with the 35th pick in the second round, Green played with a chip on his shoulder. He waited for schools to recruit him out of high school because he was viewed as an undersized power forward, and initially committed to Kentucky until Michigan State finally offered him a scholarship. He did the same at the NBA draft as he watched every team pass over him until the Warriors selected him with their second pick. Green worked hard and quickly proved he is much more than an undersized power forward.
I am not disparaging Stephen Curry in any way; he is the greatest shooter of all time and the best player in the league. But Curry is not the most important Warriors player; that's Green's role.
Green leads the Warriors by example, averaging 14.2 points, 9.6 rebounds and a team-leading 7.3 assists this season. He has improved in almost all areas and leads the league with 11 triple-doubles.
His impact shows up off the floor. He is the heart of the Warriors, his attitude and confidence sets the tone every game before they even step on the court.
Green is easily the most confident on and off the floor. He has earned a reputation as the league's greatest trash talker, replacing perhaps the greatest ever in Kevin Garnett. He always knows exactly what to say in front of the cameras, while Curry and Klay Thompson fumble their way through interviews. Green has already become a post-game interview star, and doesn't need an adorable 3-year-old girl to do it.
Curry is one of, if not the most impressive players to step foot on an NBA court this century. He shoots the ball better than any player ever, handles the ball among the game's best and can close a game better than anyone today. If Curry has a rough shooting night, there is a plethora of the league's most talented players to back him up.
But if Green misses a game, they lose their swagger, their key to the 'death lineup' and most importantly, they lose their heart. That is why Green is the Warrior's true MVP.