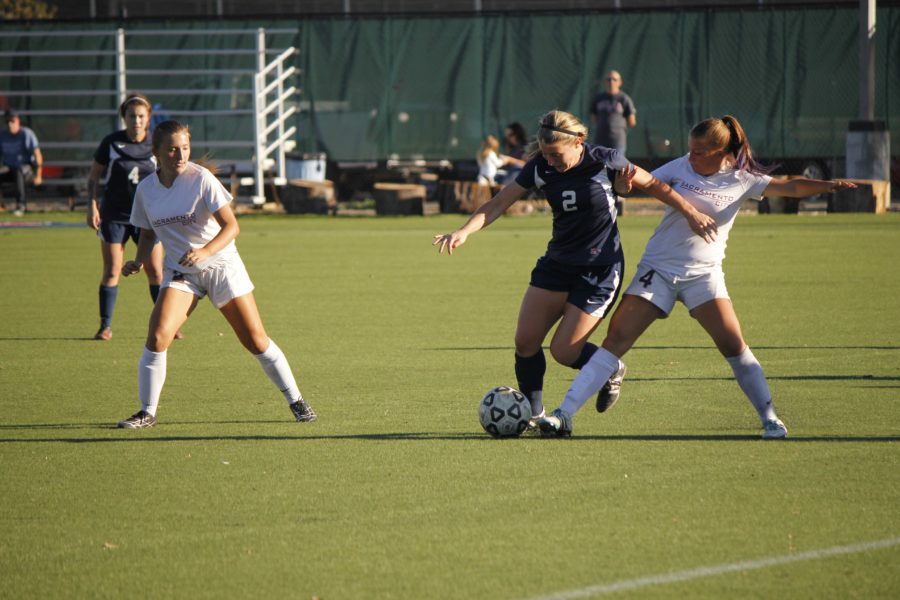 @Benjamin_Farren
Both Santa Rosa Junior College soccer teams experienced major success in the regular season,
but lost in the California Community College Athletic Associations Northern California playoffs.
In the second round of the NorCal playoffs the women's soccer team won in epic fashion.
The Bear Cubs defeated Evergreen Valley College 3-2, winning in penalty kicks.
In what was a tight defensive game, both teams found the back of the net within the first
15 minutes of the match, and failed to score the rest of regulation.
Within the first three minutes of overtime, Evergreen Valley took a 2-1 lead. Then in the
final seconds of overtime, on a corner kick, Nikki Elliot found
Holle Depina who headed the ball into the net to tie the game and send it into penalty kicks.
With a strong defensive hold by goalkeeper Ali Miller during penalty kicks, the Bear
Cubs outscored Evergreen Valley to secure the victory. But the women's soccer team undefeated
season came to an end in the third round of the NorCal playoffs when Modesto Junior College defeated
the Bear Cubs 2-1 Nov. 28. The Bear Cubs were one win away from playing in the CCCAA state championship game.
As for the men's soccer team, in the first round of the NorCal playoffs they cruised to victory
against Mendocino College, defeating them 5-1.
In what started as an even game, the two teams entered the second half tied at one. The
Bear Cubs erupted for four goals in the second half to run away with the game. Five different
Bear Cubs scored in an overall team effort victory.
In the second round of the NorCal playoffs, the Bear Cubs did not see similar offensive success as
they did the round before. Santa Rosa suffered a crushing 3-2 defeat to Lake Tahoe Community
College in the second round of the NorCal playoffs.
Despite both teams losing tough battles in the playoffs both men and women's soccer had incredible
regular seasons and set up success for next year's teams. Both teams were loaded with freshmen, so it
would be no surprise if next season's teams reach the same mark as this season or possibly win the
NorCal playoff championship.